Relief for JNU students
Students will be allowed to register for the current semester by paying their hostel fees at the old rates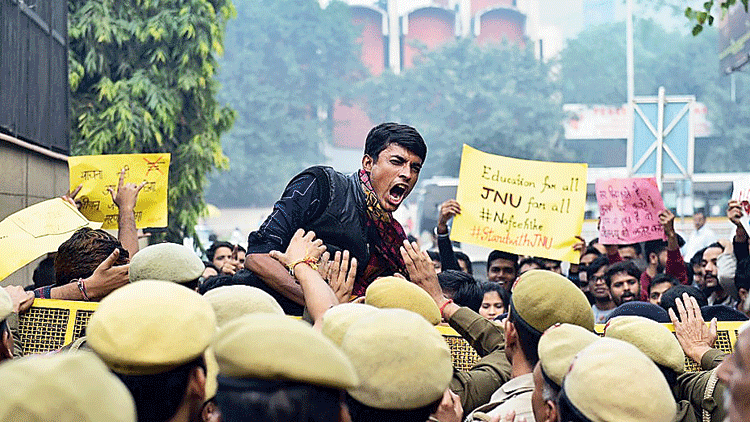 A JNU student at a protest over the hostel fee hike outside the UGC office at ITO on November 13, 2019
(PTI)
---
New Delhi
|
Published 24.01.20, 09:18 PM
|
---
Delhi High Court on Friday ordered the JNU administration to allow students to register for the current semester by paying their hostel fees at the old rates, handing the students' union a shot in the arm.
The students have been on strike for three months after changes, which included a fee hike, were made to the hostel manual. The strike has continued despite concessions to an undefined category of "below poverty line" students, the temporary withdrawal of a new category of fees, and a mob attack on the strikers and teachers earlier this month.
Friday's court directive came on a plea from students' union office-bearers against the changes.
"However, since I am told that nearly 90 per cent of the students have already registered and have paid their fees as per the new manual, insofar as the remaining students are concerned, they will be permitted to register qua the Winter-Semester 2020 as per the provisions prevailing prior to 28.10.2019…. The students who fall in this category will get themselves registered within one week of the receipt of a copy of this order," the court said.
"The aforesaid directions have been passed in the hope that both sides will engage in constructive dialogue and break the prevailing logjam."
The next hearing is on February 28.
During the hearing, Justice Shakdher had said: "The government cannot get out of education.... The government has to fund public education.… (The) responsibility to pay salaries cannot be on the students.… Someone has to find the funds."
Akhil Sibal, the students' counsel, had argued that the changes to the hostel manual had been made without consulting the students' elected representatives, and that the BPL category had been left undefined.
Additional solicitor-general Pinky Anand said the human resource development ministry and the University Grants Commission should also be made parties to the case, to which the court agreed.
The court also said that all the benefits the old norms granted to students from the backward classes should continue for now.
A students' union statement said: "The JNUSU is grateful to the Hon'ble High Court for granting this relief. We wish to appeal to the student community to take registration at the old rates within the next week. We also wish to inform the administration that we have always been open for dialogue."