Realist Jaganmohan Reddy takes Andhra special status wish to Modi
The BJP is expected to try to dissuade Jagan from striking any alliance with the Congress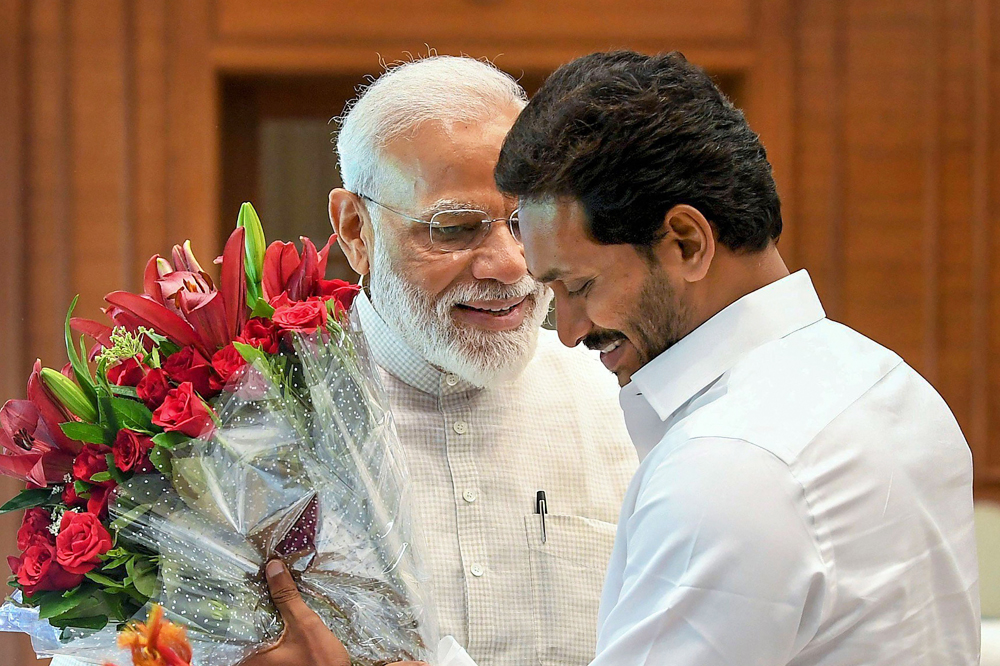 ---
---
Andhra Pradesh chief minister elect Jaganmohan Reddy met Prime Minister Narendra Modi and BJP chief Amit Shah in Delhi on Sunday to seek the special category status for his state and establish political bonding with the saffron party.
Jagan was accompanied by the Andhra chief secretary and newly elected MPs of his party.
He submitted a memorandum to the Prime Minister, seeking the special category status for Andhra Pradesh after bifurcation of the state and formation of Telangana.
Ahead of the results, it was widely speculated that if the the BJPled NDA fell short of majority, Jagan's YSR Congress and Telangana's ruling Telangana Rashtra Samithi could extend support.
"Had the BJP been limited to 250 seats, we wouldn't have had to depend so much on the central government. But now, they don't need us," Jagan told reporters after the meeting, underlining his dependence on the Centre. "We did what we could do and told him (Modi) of our situation," he added.
"Had an excellent meeting with Andhra Pradesh's CM designate @ysjagan. We had a fruitful interaction on several issues pertaining to AP's development. Assured him all possible support from the Centre during his term," Modi tweeted.
Jagan's YSR Congress bagged 151 of the state's 175 seats, reducing Chandrababu Naidu's TDP to just 23 seats, and won 22 of the state's 25 Lok Sabha seats.
The BJP doesn't need the support of Jagan's MPs. But, given the saffron party's drive to squeeze the Congress further, the BJP is expected to try to dissuade Jagan from striking any alliance with the Opposition party.
Jagan's father, the late Y.S. Rajasekhara Reddy, was a Congress chief minister. After his father's death, Jagan floated his own regional party.
Special category for Andhra Pradesh was the chief poll plank of Jagan. The Modi government has been contending so far that new rules made only hill states eligible for the status.