RBI has given us clean chit in FDI violation case: NewsClick to Delhi High Court
In a related case of money-laundering, another bench of the HC extended till September 2 the protection to the news website from coercive action by the ED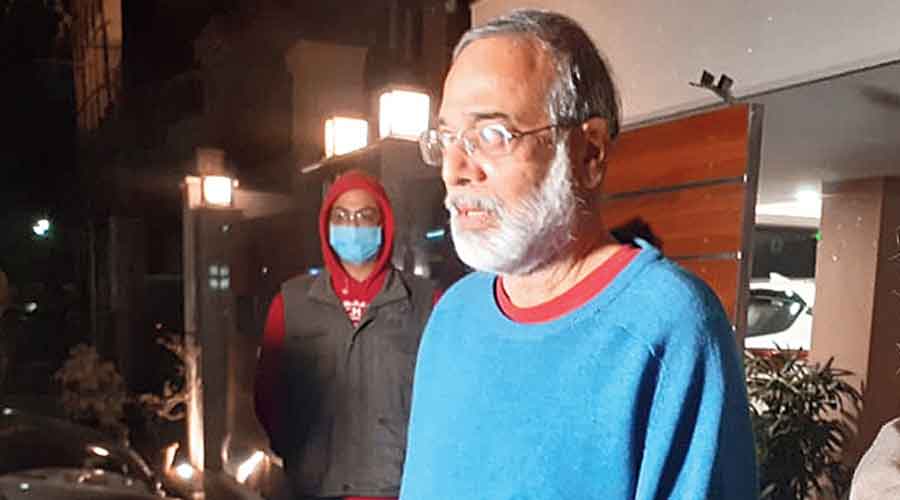 Prabir Purkayastha.
File photo
---
New Delhi
|
Published 30.07.21, 03:43 AM
|
---
Delhi High Court on Thursday agreed to record findings that NewsClick, a news website that extensively covered the farmers' protest, said was a clean chit to it from the Reserve Bank of India over allegations of criminal breach of trust, cheating and criminal conspiracy in receiving foreign direct investment.
In a related case of money-laundering, another bench of the high court extended till September 2 the protection to NewsClick from coercive action by the Enforcement Directorate, after chiding the agency for "dilly-dallying".
The ED had searched the NewsClick office and homes of its functionaries for five days in February to investigate alleged money-laundering through an FDI deal.
The income-tax department recently questioned its 71-year-old editor-in-chief Prabir Purkayastha for five hours for alleged tax evasion related to the same foreign investment.
The investigative news website also faces a Rs 100-crore defamation suit from the Adani group.
An FIR by Delhi resident Sobhan Singh alleges the company violated FDI rules by receiving Rs 9.59 crore from a defunct US-based firm, Worldwide Media Holdings LLC, in 2018. NewsClick has said that this investment was received before the FDI cap of 26 per cent for digital media was imposed in 2019.
At a hearing on Thursday of a writ petition seeking the quashing of last year's FIR by Delhi police's economic offences wing against the company, NewsClick's counsel asked Justice Yogesh Khanna to record the key point in a status report given to the website by the police.
Senior advocate Dayan Krishnan's demand came after the additional standing counsel for the Delhi government, Avinder Singh, had sought a fortnight's adjournment saying the police needed to file a status report.
Realising that the status report had not been filed in court, Krishnan said: "I don't know what mischief is happening in the department…. I have been served with the status report on email."
Singh responded: "That was done without it being a final report. If it was done, I apologise."
An electronic copy of the status report from assistant commissioner of police Anil Kumar, viewed by The Telegraph, says: "During the course of investigation reply from RBI has been received where in it is mentioned that as per the Form FCGPR (Foreign Currency-Gross Provisional Return) submitted, the foreign inward remittance, was under automatic route and there was no delay in issue of shares as well as reporting, as per the extant FEMA (Foreign Exchange Management Act, 1999) regulations in case of M/s PPK New Click Studio Pvt Limited is concerned."
Justice Khanna agreed to Krishnan's request and ordered: "The learned senior counsel for the petitioner submits they have already been supplied copy of the status report duly signed by ACP Anil Kumar on 26.07.2021 stating inter alia no cognisable offence is made out per reply of the Reserve Bank of India. The status report be filed and placed on record within two weeks from today. Any discrepancy in status report(s) may be pointed out."
The next hearing is on August 23.
Another Delhi High Court bench on Thursday heard three pleas by NewsClick, including a demand for a copy of the enforcement case information report (ECIR) from the ED.
NewsClick's counsel Kapil Sibal complained the ED was yet to comply with the high court's order to give the ECIR to his client.
Failing to get a clear reply from ED prosecutor Anil Mahajan on when the ECIR would be given, Justice Mukta Gupta said: "Prosecution can't take up this dilly-dallying stand."
Justice Gupta then extended the protection against coercive action.
Earlier this month, several media outlets had published reports hinting that NewsClick was guilty, and a TV channel had flashed the names of even junior serving and former employees. The BJP had claimed that the foreign funds were meant for propaganda against Prime Minister Narendra Modi.
The website had said in a statement on July 18: "The selective leaks from ED regarding their investigation, which is already under challenge before the court, reflect the inherent weakness in their own investigations and the course that it will take in the courts.
"Since the matter is already in the courts, NewsClick does not believe that it should participate in a media trial. It is unfortunate that the BJP, the ruling party, also sees fit to air such unfounded allegations."