RLD to team up with Mayawati and Akhilesh
Time to join hands with forces that are against the BJP, says Jayant Chaudhary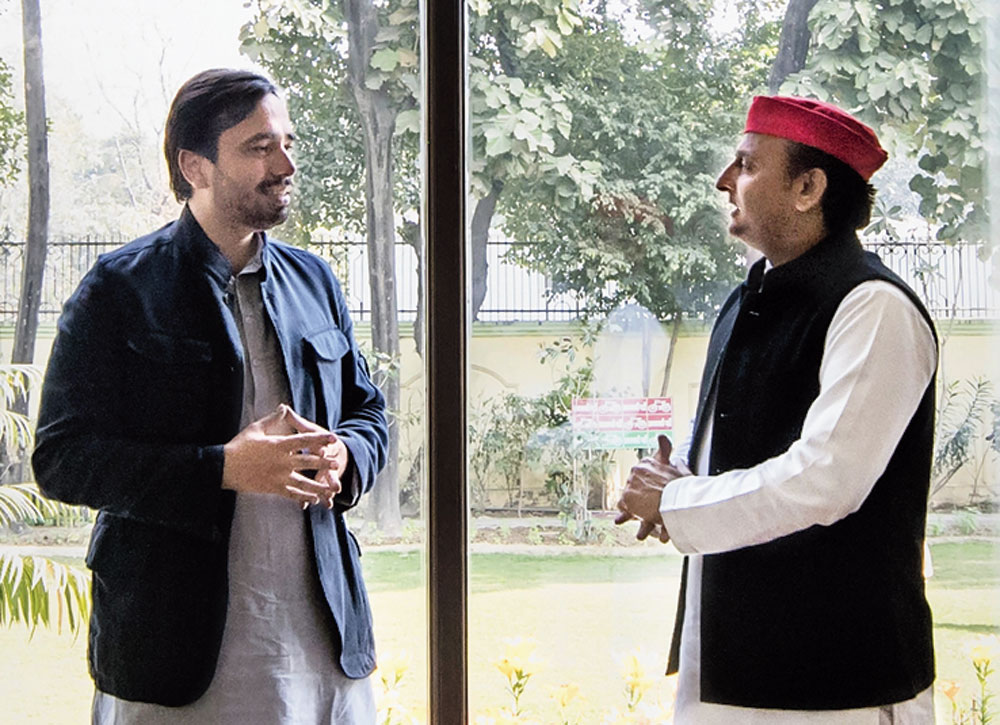 Jayant Chaudhary meets Akhilesh Yadav in Lucknow on Wednesday.
(PTI)
---
Lucknow
|
Published 16.01.19, 09:37 PM
|
---
Rashtriya Lok Dal leader Jayant Chaudhary on Wednesday said his party was all set to be a partner in the Uttar Pradesh alliance between the Bahujan Samaj Party and the Samajwadi Party and work on the common goal of defeating the BJP.
"We will together remove the BJP from power," Jayant, vice-president of the RLD and son of party founder Ajit Singh, said after a one-and-a-half-hour meeting with Samajwadi chief Akhilesh Yadav.
"The time is ripe to join hands with those forces which are against the communal BJP," he added.
Jayant stressed on the importance of having a cordial relationship with "like-minded" parties.
"I discussed several things with Akhilesh in a good atmosphere and decided to fight together against the anti-farmer ruling party. Akhilesh is flexible," he said, asked if there was still hope for the RLD to get the number of seats it wants in the alliance. "Seat is not important. What is important is good relationship with like-minded parties."
The RLD, which enjoys substantial support of the Jat community in western Uttar Pradesh and farmers in the region, wants six seats in the alliance that former rivals BSP and the Samajwadi formalised earlier this month for the heartland's 80 seats.
BSP boss Mayawati and Akhilesh had last week declared their parties would contest 38 Lok Sabha seats each from the state in the general election, sidestep Congress pocket boroughs Rae Bareli and Amethi, and leave the remaining two seats for possible allies.
They had not mentioned which party would get these two unidentified seats.
Sources in the BSP and the Samajwadi have, however, been claiming the two parties were free to accommodate friendly outfits from their share of 38 seats each.
"Akhilesh is ready to give six parliamentary seats in Mathura, Baghpat and Muzaffarnagar to the RLD. He may announce his final decision after a meeting with Mayawati and his father and Samajwadi patron Mulayam Singh Yadav. Mulayam is of the view that the demand of Chaudhary Ajit Singh, the RLD chief and father of Jayant, should be accepted, a senior Samajwadi leader said but asked not to be named.
The Samajwadi and the BSP had both supported RLD candidate Tabassum Hasan in the Kairana bypoll in Muzaffarnagar district last year.
Hasan had won the Lok Sabha by-election, defeating her nearest rival from the BJP.