Punjab polls: Congress announces Charanjit Singh Channi as CM face
The party leader didn't invoke caste while making the announcement at a rally in Ludhiana but tried to expand the catchment area by describing him as 'poor'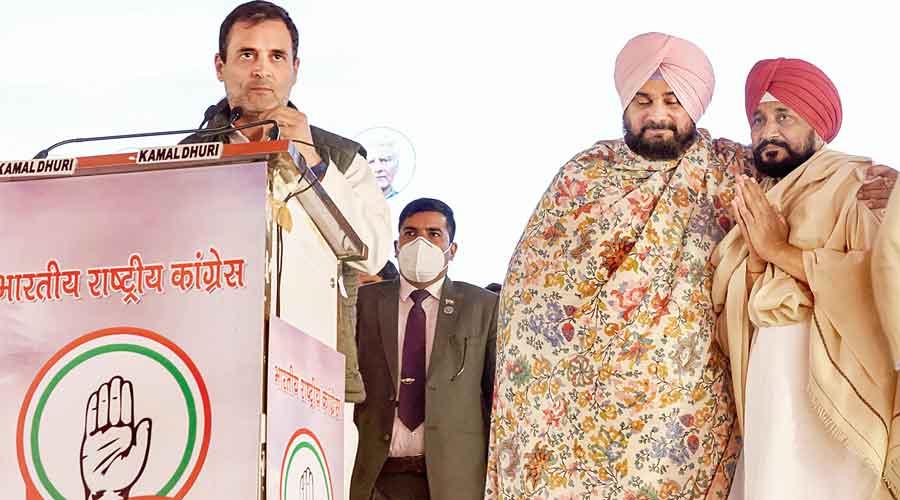 Rahul Gandhi addresses an election rally in Ludhiana on Sunday as Charanjit Singh Channi (extreme right) and Navjot Singh Sidhu look on.
PTI Photo
---
New Delhi
|
Published 07.02.22, 12:53 AM
|
---
Rahul Gandhi on Sunday declared Charanjit Singh Channi the chief ministerial candidate in Punjab, averting any risk of upsetting the narrative the Congress has built by appointing the first Dalit chief minister in a state that has the highest concentration of Scheduled Castes in the country.
Rahul didn't invoke caste while making the announcement at a rally in Ludhiana but tried to expand the catchment area by describing Channi as "poor".
"It is not my job to choose the chief minister of Punjab. I asked the people of Punjab, party workers, Congress candidates, Congress Working Committee members and all of them said the chief minister should be from a poor family. He should understand poverty," Rahul said.
It would have anyway been difficult for the Congress leadership to dump Channi before the election despite the pressure mounted by state unit chief Navjot Singh Sidhu, whose rebellious posturing has triggered apprehensions in the run-up to the February 14 Assembly polls.
Sidhu had publicly vowed to abide by the high command's decision but continued to flaunt his muscles, arguing that he alone had the credentials and vision to uproot the mafia and establish clean governance.
Rahul too conceded that picking one from "several diamonds" was a difficult task, but said the people of Punjab had made it easy for him by stressing background.
"Channi comes from a very poor family. He has risen through struggle. Did you ever notice arrogance in his behaviour after he became chief minister?" Rahul said.
"Have you ever seen (Narendra) Modi-Yogi (Adityanath) helping people on the streets? They won't because they are emperors. Channi isn't here for power. He wants to serve people, to change Punjab."
The announcement was followed by a show of unity on the stage, with Sidhu greeting Channi and party veteran Sunil Jakhar, the third contender for the top post.
Rahul took care to hug both Sidhu and Jakhar to ensure that neither felt slighted. He praised all three leaders and hoped they would work together to change Punjab.
He also rationalised their earlier outbursts, saying: "Some leaders spoke out but we don't take it as indiscipline. We are flexible and want to hear all views."
Rahul took care to humour Sidhu by dwelling on his perseverance, determination and honesty.
"Do you know when I met Sidhu first? Even Sidhu doesn't know. At a cricket match at Doon School, I was sitting outside and the opposite team's opening bowler was Navjot Singh Sidhu. He took six wickets and flattened the Doon team," he said.
"Then the opening batsman was also Sidhu. He scored 98. He became a cricketer, a commentator, a comedian and then a politician."
Sidhu hailed Rahul as a decisive leader and thanked the MP for appointing him Punjab Congress chief.
"I don't want anything but your love. Sidhu is not hankering for posts. I want to change the lives of the people of Punjab," he said.
Jakhar said Rahul had demonstrated the courage of his convictions by appointing Channi, a poor man, to the top post. "Even now, whatever you decide will be acceptable to us."
Channi thanked Rahul, Sidhu and Jakhar and sought their support ahead of a "very difficult battle".
"I cannot do it alone — that is beyond my capacity. Sidhu's model will be implemented. I shall take guidance from Jakhar," he said.
Channi vowed never to buy any property in his or his wife's name. "I will not do any wrong, will never earn illegal money."
Unless Sidhu revolts, Channi's elevation can pay electoral dividends in a state where 34 per cent of the population is Dalit.
Channi questioned the Opposition's narrative of badlav (change), arguing his ascent to power had already signalled change.
"Change has already happened. I got merely three months. Give me an opportunity to serve for five years, and I shall offer transformative rule," he said.