Rahul Gandhi compares farmers' protest to Champaran Satyagraha
'British were 'company Bahadur' back then, now Modi-friends are the same'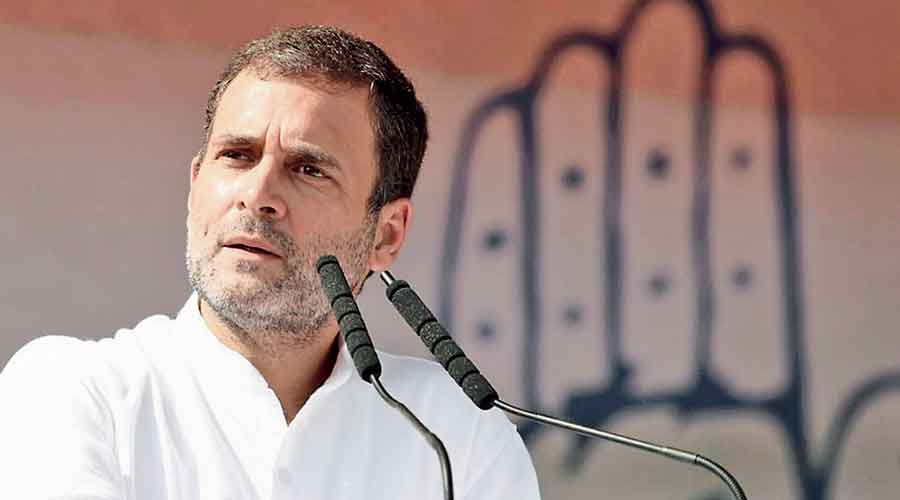 India is going to face a Champaran-like tragedy, Congress leader Rahul Gandhi said in a tweet on Sunday.
File picture
---
New Delhi
|
Published 03.01.21, 01:43 PM
|
---
Former Congress president Rahul Gandhi on Sunday drew comparisons of the ongoing farmers' protests against the three agri laws with the Champaran agitation during the British Raj. He called every farmer-labourer part of the current movement a 'satyagrahi' and said they will take their rights back.
"The country is going to face a Champaran-like tragedy. British were 'company Bahadur' back then and now Modi-friends are 'company Bahadur'," the Congress leader tweeted in Hindi.
"But, every farmer-labourer of the movement is a 'satyagrahi' who will take back their rights," Gandhi said.
Mahatma Gandhi in 1917 led the Champaran Satyagraha, which is considered as a major event in India's independence movement.
It was a farmer's uprising that took place in Champaran district of Bihar during the British colonial period when the farmers protested having to grow indigo with barely any payment for it.
The Congress has been seeking the repeal of the three new farm laws, alleging that they will ruin farming and the farmers. The Congress is also supporting the farmers' agitation against the legislations.
After the sixth round of formal negotiations on Wednesday, the government and farm unions reached some common ground to resolve protesting farmers' concerns over rise in power tariff and penalties for stubble burning, but the two sides remained deadlocked over the main contentious issues of the repeal of three farm laws and a legal guarantee for minimum support price (MSP).
The farmers, picketing the national capital's borders for the past 38 days, made it clear their movement would remain peaceful and that there would be no going back. They added that they had lost faith in the Prime Minister's words.
"Either repeal the three central farm acts or use force on us to evict us. The time has come for decisive action here and we have chosen January 26 because Republic Day represents the supremacy of the people and also because we would have demonstrated patiently and peacefully at Delhi's borders for two full months in extreme weather conditions by then," the coordination committee of the Sanyukta Kisan Morcha (SKM) said on Saturday.