Pain 'emperor cannot see'
Rahul Gandhi attacks Narendra Modi on runaway prices
Congress leader recalls how PM used to get emotional while talking about struggle of women cooking on stoves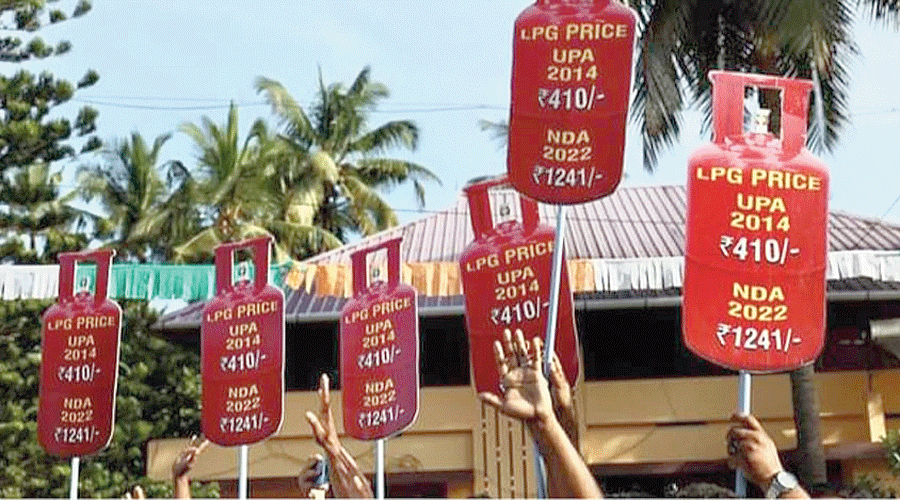 Placards highlighting the increase in cooking gas prices line a stretch of the Yatra route in Thrissur on Saturday. The placards say "LPG price UPA 2014 Rs 410. NDA 2022 Rs 1241."
The Telegraph
---
New Delhi
|
Published 26.09.22, 02:25 AM
|
---
Rahul Gandhi has hit out at Prime Minister Narendra Modi saying: "The emperor can't see the poor people in front of his rich friends."
The Facebook comment came in the context of the placards lined up on Saturday along one stretch of the Bharat Jodo Yatra in Thrissur, highlighting the savage increase in cooking gas prices.
"Photographs speak. This is not the picture of Kerala alone but manifests the pain of the entire country," Rahul wrote, recalling how, before becoming Prime Minister, Modi used to get emotional while talking about the struggle of women cooking on stoves.
"But what's the truth now? In the last eight years, (the) cylinder that sold for Rs 410 is now available for Rs 1,100, more in some states," the Congress leader added.
"Mahngai aam janata ke seene par tandav kar rahi hai (Inflation is dancing over the chests of the ordinary people). People are struggling for two meals a day. The less said the better about the poor. The emperor, anyway, can't see the poor people in front of his rich friends."
The skyrocketing prices of essential commodities has been one of the motivations for the Bharat Jodo Yatra, but the BJP has so far chosen not to engage with the Congress on the subject while locking horns with it on trivial issues.
Addressing a gathering at the end of Saturday's leg of the walkathon, Rahul had said: "The Prime Minister often asks, what has the Congress party done in 70 years? We, at least, never (brought in) this kind of prices and unemployment."
Rahul added: "People are struggling to buy essential commodities. We gave (the LPG) cylinder for Rs 410 and now Modi gives (it) for Rs 1,100. Look at the rates of petrol and diesel. And this at a time when there are no jobs.
"I am meeting young boys and girls who are acutely worried about their future. They plan to go abroad for livelihood. I have no problem if people go abroad, but if they are forced to go to foreign countries because they can't get jobs here, that is unacceptable."
On Sunday, Rahul wrote a Facebook post saying: "The BJP is asking, why is the Congress doing Bharat Jodo Yatra? The common people are expressing their pain through these placards. The BJP's 'costly days' have broken their back.
"They work hard to run their families with great difficulties. The BJP government is conspiring to snatch whatever they had; be it their livelihood or their assets. We have embarked on this journey to fight for the people's cause, to ensure that the apathetic government pays heed to their concerns.
"The massive response we are getting, the number of people who are joining the Yatra and their unity, will shake this arrogant government. Mahngai se nata todo, Bharat Jodo (Break away from inflation, bring India together)."
The Yatra got much bigger on Sunday evening as it proceeded towards Cheruthuruthy in Kerala.