Raghuvansh Prasad Singh letters fake, says RJD
The party accused chief minister Nitish Kumar and his Janata Dal United of hatching a conspiracy for the sake of votes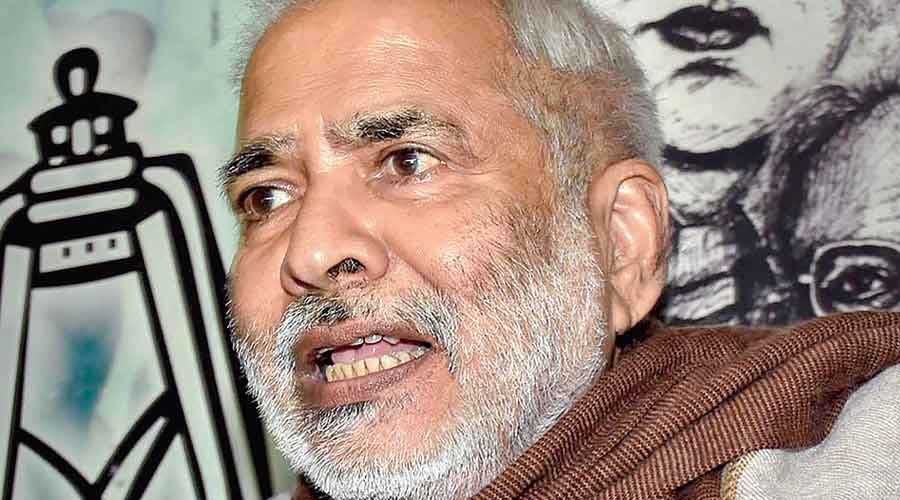 ---
|
Patna
|
Published 15.09.20, 02:23 AM
---
The Rashtriya Janata Dal on Monday described as fake the letters purported to have been written by former Union minister Raghuvansh Prasad Singh three days before his death, asking how he could have written them when he was critically ill.
The party accused chief minister Nitish Kumar and his Janata Dal United of hatching a conspiracy for the sake of votes.
Raghuvansh's family cited his resignation and refused to allow his body to be taken to the office of the RJD, the party he had been associated with since its inception in 1997, in Patna and went straight home after arrival from Delhi.
Raghuvansh had been the RJD's second most popular leader, after Lalu Prasad, but had of late been feeling sidelined.
"All the letters attributed to Raghuvansh babu are fake. They are a conspiracy hatched by Nitish and his party for garnering votes belonging to the Rajput caste. They got this done by his son by assuring him that he will be made a member of the legislative council," RJD chief spokesperson Bhai Virendra said.
A few Congress leaders made similar allegations and raised doubts about the letters.
Congress Rajya Sabha member Akhilesh Prasad Singh, who had previously been in the RJD, said: "I had met Raghuvanshji at AIIMS Delhi recently. He was criticising Nitish and Prime Minister Narendra Modi's governments and praising Laluji. It can't be that he goes to the ICU and writes such letters. It seems he was forced to write them."
Raghuvansh passed away at AIIMS, Delhi, on Sunday from post-Covid complications. He had contracted the novel coronavirus in June and had recovered from it. He had resigned from the post of RJD vice-president at that time but remained in the party. He fell ill in early August and was shifted to AIIMS for treatment.
On September 10, he purportedly wrote a resignation letter from his hospital bed and sent it to the RJD chief. Replying to the letter, Lalu had said Raghuvansh was not going anywhere and that they would talk once he got well.
A day later, Raghuvansh purportedly followed up with three letters to Nitish and one to the state water resources minister raising certain demands.
The former Union minister's handwritten note listing feudalism, nepotism, casteism, selling of seats and improper distribution of party positions as the reasons he left the RJD was released on social media on September 12 before he was put on life support.
All the letters and notes were handwritten and bear the date September 10.
Raghuvansh is survived by his wife, two sons who are engineers — one in Delhi and another in Hong Kong — and a daughter who is a journalist with a television channel. He had kept his family members away from politics and was seen as a leader who did not use his position for the benefit of his kin.
Meanwhile, the ruling alliance has attacked the Opposition for casting doubts on Raghuvansh's letters.
Information and public relations minister and JDU leader Neeraj Kumar said: "The RJD leaders are making shameful comments to save their face. It is a known fact that he was neglected and sidelined in his own party. If he did not write the letters then why did Lalu respond to his resignation? At least give him the due respect after his death."
BJP spokesperson Nikhil Anand said the RJD had proved that it had "no respect for sincere and honest leaders when they are alive and cast aspersion on them after their death. Raghuvansh babu's curse is going to destroy the party".
Sources said the RJD was upset by Raghuvansh's note in which he criticised the problems in the party because his words carried a lot of weight. With Assembly elections round the corner, this could increase friction in the party at a time eight of its legislators have joined the JDU. The socialist leader's words can also lead to an erosion of the influential Rajput votes, a close-knit caste from which he hailed. The Rajputs comprise around 6 per cent of the electorate.
The RJD also did not like the way Prime Minister Narendra Modi talked about fulfilling the last wishes of the former Union minister and Nitish's assurance to do the needful. The comments by the two top leaders, combined with the support of their parties to get the death of actor Sushant Singh Rajput investigated, were seen as yet another attempt to consolidate caste votes in their favour.