@priyankagandhi: Following 7, followed by 1.27 lakh
Priyanka Gandhi attracts 1.27 lakh followers in Twitter debut, without a single tweet till midnight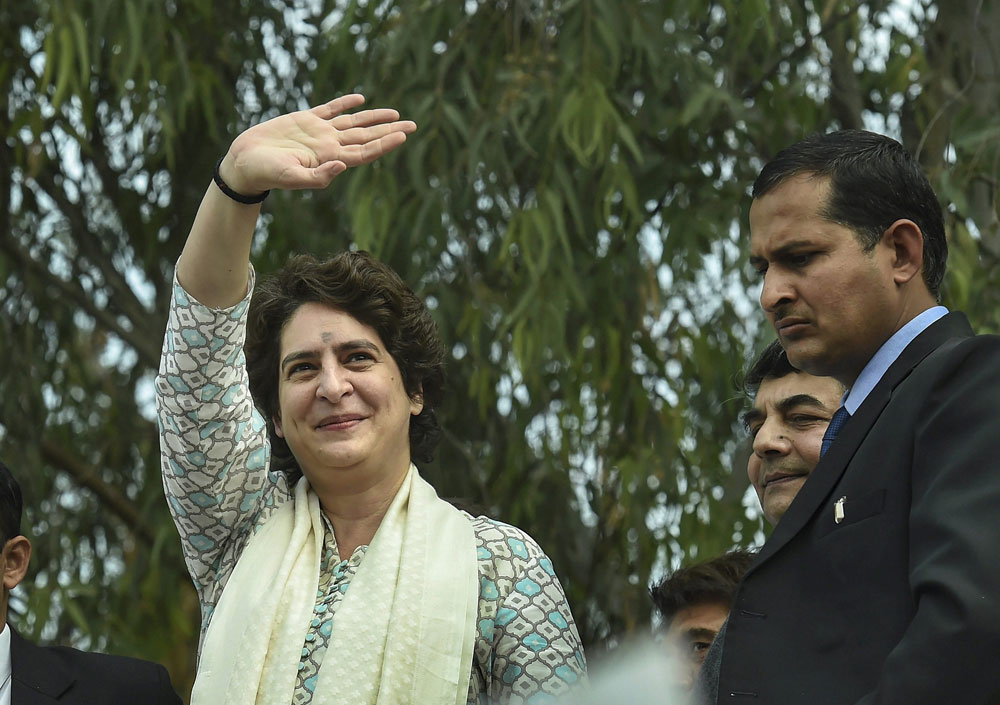 Priyanka Gandhi Vadra during a roadshow in Lucknow on Monday.
PTI
---
New Delhi
|
Published 11.02.19, 10:11 PM
|
---
When Priyanka Gandhi Vadra's Twitter account was unveiled on Monday noon, many Congress leaders quietly checked who she was following.
She followed only seven users: brother and party chief Rahul Gandhi, Jyotiraditya Scindia, Randeep Singh Surjewala, Ahmed Patel, the Congress party, Ashok Gehlot and Sachin Pilot.
The official Congress Twitter handle announced Priyanka's arrival by 12 noon. Within minutes she had attracted over 5,000 followers. At midnight, the number had reached 1.27 lakh, a stunning response by any standard.
BSP boss Mayawati, a political veteran who joined Twitter a few days ago, has barely crossed 76,000 so far.
Although she has mentioned her full name — Priyanka Gandhi Vadra — her Twitter handle gives her account name as @priyankagandhi.
Priyanka hadn't tweeted anything till midnight but some Congress activists were actively campaigning on social media to egg supporters on to ensure that her following crossed one million in 24 hours. While Rahul had taken a long time in reaching that milestone, their mother Sonia Gandhi hasn't joined Twitter yet.
Rahul has 8.47 million followers at present and follows 206 people, including Priyanka — recently appointed party general secretary in charge of eastern Uttar Pradesh.
The Congress chief follows most senior party leaders, including party chief ministers and most state unit presidents, apart from global figures like Bill Clinton, Hillary Clinton, Barack Obama, Donald Trump and Emmanuel Macron.
He also follows senior Opposition leaders such as Sharad Pawar, H.D. Kumaraswamy, Sharad Yadav and Lalu Prasad, BJP MP Shatrughan Sinha, celebrities like A.R. Rahman and Swara Bhasker, industrialist Ratan Tata and Google CEO Sundar Pichai.
Party insiders analysed the choice of users Priyanka had begun with, debating why Rajasthan chief minister Gehlot and his deputy, Pilot, were among the seven, ahead of other important leaders.
While Surjewala made it to the list as the party's communications head, Patel's supremacy in the party is unquestionable. Scindia is general secretary in charge of western Uttar Pradesh. Rahul, however, was the first person she followed.
Many senior leaders are now eagerly waiting for Priyanka to expand the list of users she follows.
Although Priyanka has been put in charge of merely half a state, there is no denying that she is seen as the most important political asset in the party along with Rahul.
Party leaders hope she would be able to create greater interest among the masses than Rahul because of her charisma and resemblance to grandmother Indira Gandhi. The entire party is, however, relieved to see her in a complimentary role instead of as Rahul's replacement.
On Monday morning, before they left for Lucknow, Priyanka and Sonia came to Rahul's residence from where they proceeded for the airport. Sources said both the siblings took their mother's blessings before leaving.
At the Lucknow road show, the crowd came primarily to see Priyanka, although it was Rahul who did the talking. The response thrilled Congress leaders as organising such a crowd in Uttar Pradesh, a weak spot for decades, has not been easy. Leaders from Uttar Pradesh said they were encouraged by the participation of a large number of common people.
It is too early to say how prepared the organisational machinery is to capitalise on the goodwill. But there was unanimity among senior leaders and independent observers that the Congress had the potential to make an impact in the state that sends 80 MPs to the Lok Sabha.