Priyanka blames Modi of destroying hard work done by previous govts
The Cong leaders also replied to a general allegation by Mayawati and Akhilesh that there was little difference between the policies of the BJP and the Congress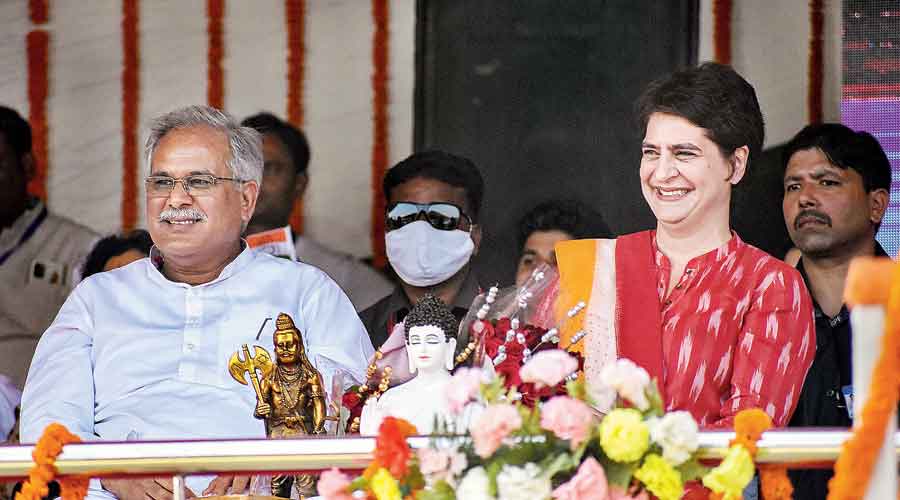 ---
Lucknow
|
Published 01.11.21, 12:31 AM
|
---
Priyanka Gandhi Vadra on Sunday said the Narendra Modi government had destroyed in seven years the hard work done by previous governments across 70 years.
"They ask you what the Congress did in 70 years. I can tell you that they have destroyed in just seven years the hard work past governments did over 70 years," the Congress general secretary told a large rally in Gorakhpur, chief minister Yogi Adityanath's hometown.
"We delivered the railways and airports. They are selling these off to private entities, destroying the country's economy."
The Champa Devi Park, the venue of the rally, can accommodate over one lakh people. It was packed for Priyanka's meeting.
Modi has repeatedly claimed at home and abroad that his government has in seven years accomplished more than what its predecessors did in seven decades, suggesting that virtually nothing good had happened in India before he assumed power in 2014.
Priyanka also replied to a general allegation by Bahujan Samaj Party president Mayawati and Samajwadi Party chief Akhilesh Yadav that there was little difference between the policies of the BJP and the Congress.
"The BSP and the SP say the Congress is hand in glove with the BJP. I want to tell you that I would prefer death to leaning towards the BJP. We shall never have any truck with the BJP," Priyanka said.
"The Congress has been fighting a lone hand against the BJP government's anti-people activities. The rising prices have destroyed people's lives. Petrol costs more than Rs 100 a litre and the price of the domestic (cooking gas) cylinder has touched Rs 900 to Rs 1,000. I want to ask how you are coping in this situation."
Priyanka targeted Adityanath, saying his "criminals and his police are attacking the public".
"(Union home minister) Amit Shah said in Lucknow two days ago that ever since the BJP came to power in Uttar Pradesh, one had to search for a criminal with a binocular. I want to tell him to put on his glasses so he can see the minister standing beside him whose son mowed down farmers in Lakhimpur Kheri," she said.
Ajay Mishra Teni, Union minister of state for home, had shared the dais with Shah on Friday at an event in Lucknow where the Union home minister praised the law-and-order situation under Adityanath's rule.
Teni's son Ashis Mishra has been arrested on murder charges after a convoy of cars led by his father's Thar jeep, with Ashis allegedly in it, ploughed into a crowd of protesting farmers and crushed four to death in Lakhimpur Kheri on October 3. Teni had threatened the agitating farmers a few days earlier.
Pariyanka said that while the 11th-century spiritual leader Guru Gorakshnath preached unity, Adityanath was working against unity.
Gorakshnath was the disciple of Machchendra Nath, founder of the Nath sect. Adityanath is the current head of the Nath sect and mahant of the Gorakhnath temple, believed to have been established by Gorakshnath.
Priyanka ended her speech with the cry: "Guru Machchendra Nathji ki jai, Guru Gorakshnathji ki jai."