Prime Minister wanted, not Ram bhakts
According to trust members, some 200 VIPs would be at the event, along with Modi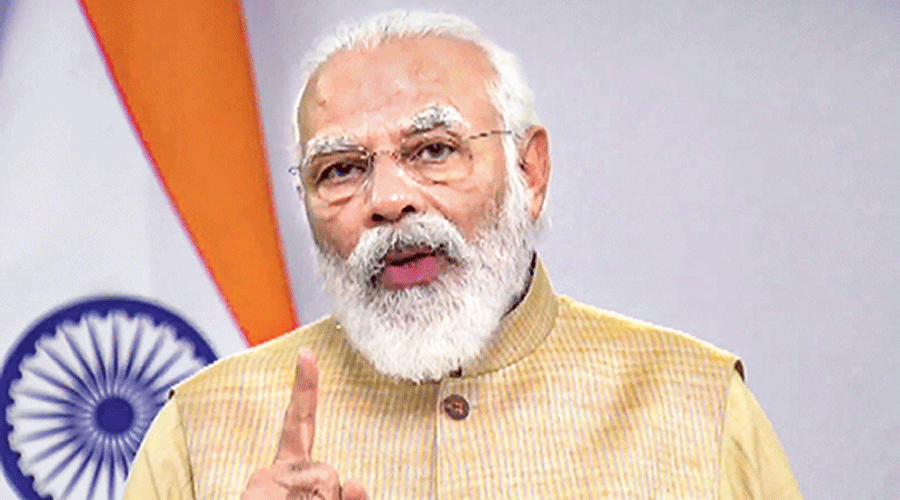 ---
---
The trust tasked to oversee the construction of the proposed Ram temple in Ayodhya on Wednesday emphasised the importance of Prime Minister Narendra Modi attending the August 5 bhoomi pujan but advised ordinary "Ram bhakts" to stay away.
It's "highly important" that Modi comes for the foundation stone-laying ceremony, the Shri Ram Janmabhoomi Teerth Kshetra Trust said in a statement at a time the Prime Minister's presence is yet to be confirmed.
The statement appealed to "Ram bhakts" not to come to Ayodhya citing the Covid-19 pandemic, thus unwittingly flagging its haste in organising the "bhoomi pujan" (site worship) that many have linked to political motives.
"To ensure that the construction of the Shri Ram Janmabhoomi Mandir starts at the earliest, it was highly important that Hon'ble Prime Minister Shri Narendra Modi Ji comes to Ayodhya for Bhoomi Pujan," the statement, issued in English and Hindi, said.
Trust general secretary and senior VHP leader Champat Rai posted a video showing him reading out the statement in its Hindi version.
"However, due to the situation arising out of the current Covid-19 pandemic, it was impossible to have public participation at the site," the statement said.
It urged the "Ram bhakts" to watch the bhoomi pujan live on Doordarshan and other TV channels. Roadside TV screens have been installed across Ayodhya for the ceremony, with the trust saying that physical participation at the event would be restricted to maintain social-distancing norms.
According to trust members, however, some 200 VIPs would be at the event, along with Modi.
Many have criticised the decision to hold the event in the middle of a raging epidemic. Among them is estranged BJP ally and Maharashtra's Shiv Sena chief minister Udhhav Thackeray, whose party had participated in the temple agitation. Uddhav has advised that the ceremony be held through videoconferencing.
Covid-19 cases have been soaring in Uttar Pradesh, and many fear that the bhoomi pujan will attract thousands to Ayodhya despite the trust's appeal.
It's widely believed that the hurry in kick-starting the temple construction — a core ideological issue with the BJP —owes to a plan to give shape to the shrine before the 2022 Uttar Pradesh polls and complete it before the next general election in 2024.
Building the temple is likely to take three to three-and-a-half years, trust members believe.