Arvind Kejriwal insulted Indian flag, complains Prahlad Patel
Union minister feels the Tricolour, two of which are placed in the formation of a cross sign behind the Delhi CM, has a higher proportion of green than permitted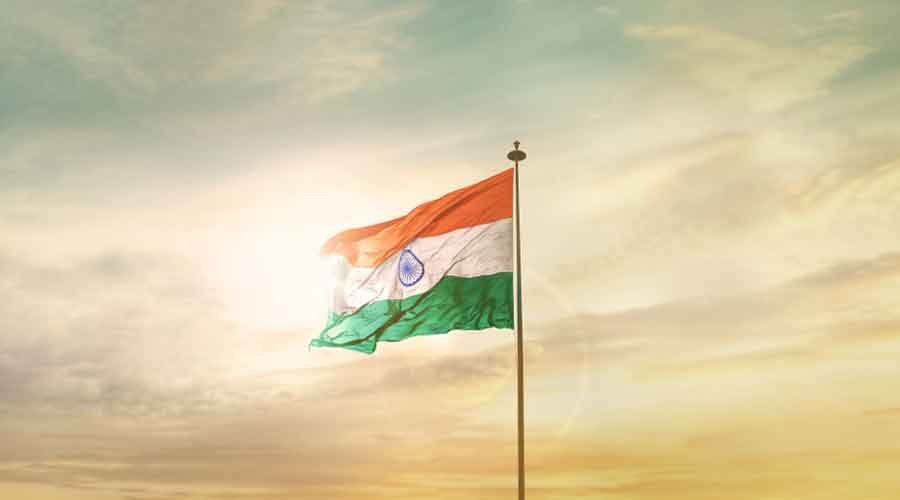 What may have caught Patel's gimlet eye appeared invisible to lesser mortals, many of whom saw in the minister's objection another attempt by the government to divert attention from the horrors of the pandemic that a thoroughly unprepared Centre has struggled to tackle
Shutterstock
---
Hosur
|
Published 29.05.21, 01:30 AM
|
---
India is in the throes of a humongous tragedy and there is unprecedented anger at the Centre for failing its people. At such a moment, trust a minister in the Modi government to split hairs on, not the pandemic, but the colour composition of the national flag that forms the backdrop of a chief minister's media interactions.
Prahlad Patel, the Union minister of state for culture (independent charge), has written to Delhi lieutenant governor Anil Baijal complaining about the insult to the Tricolour inflicted by chief minister Arvind Kejriwal during his daily webcasts. Patel feels the Tricolour, two of which are placed in the formation of a cross sign behind Kejriwal, has a higher proportion of green than permitted.
What may have caught Patel's gimlet eye appeared invisible to lesser mortals, many of whom saw in the minister's objection another attempt by the government to divert attention from the horrors of the pandemic that a thoroughly unprepared Centre has struggled to tackle. Some spied a sinister angle too, given the colour green's association with Islam and the BJP's track record of communalising issues for political gains.
In a letter to Baijal on Friday, Patel wrote: "The manner in which the flag has been installed appears to be used for decoration. The middle white portion appears to be reduced and seems like it has been added to the green part, which is not in accordance with the rules given in 1.3 of Part 1 of the Flag Code of India notified by the Union home ministry."
Patel, who has expressed righteous indignation at the purported insult to the flag, appeared oblivious to the pertinent points raised by Kejriwal at the webcasts. Over the past week, Delhi has not been able to offer vaccines to the younger population because of shortages and the chief minister has been making desperate appeals to the Centre to import vaccines.
Neither Kejriwal nor Baijal has officially reacted to Patel's outburst.
Political scientist Ajay Gudavarthy of JNU told The Telegraph: "This appears to be another diversion from the pandemic for which people are deeply disturbed, especially in BJP-ruled states like Uttar Pradesh which go to the polls next year…. These gimmicks may have worked in the past, but to think they will work now when the establishment is pushed to the wall is foolish."
Sociologist Deepak Mehta of Ashoka University told this newspaper: "It is a tried and tested ploy to demarcate green, Islam, Muslims and jihad as the enemies. It has worked in the past and they are looking for a space for it to catch fire again…. The letter itself is lame but cumulatively with all the other things being said like attacking people for beef or love jihad, it will build them up for the UP polls…."