Govt misusing court as political shield
Farmers Protest: political laws can't be lobbed to SC, say protesters
The agitators have repeatedly refused to implead themselves in the case despite the apex court offering them the option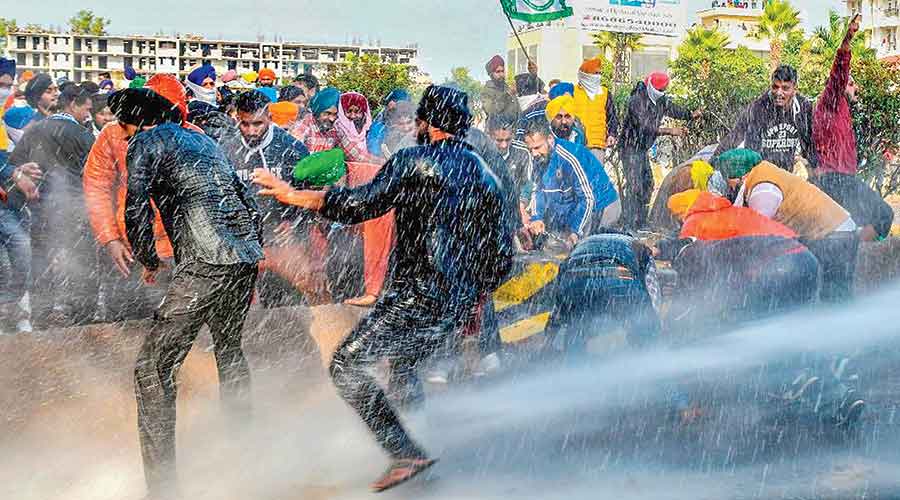 ---
---
The All India Kisan Sangharsh Coordination Committee on Sunday said the "Supreme Court does not and cannot have any role" in resolving the deadlock over the new farm laws, adding that their enactment reflected a political decision to place corporate interests over those of farmers.
The AIKSCC, which had given the "Dilli chalo" call that brought protesting farmers to the capital's borders in November-end, said the government was lobbing the ball to the courts because it found itself unable to stand up to the corporate houses and repeal the laws.
The AIKSCC position is: "The Modi government is shirking the political responsibility of solving the crisis of its own making.... It is misusing the Supreme Court as a political shield."
The farmers suspect that some of the petitions on the crisis that the apex court is to hear on Monday were filed at the prodding of a government that had found the protesting unions steadfast in their resolve not to seek judicial intervention.
At the farmer leaders' last meeting with central government interlocutors on Friday, ministers had suggested the unions go to court to resolve the issue as there was no question of the Centre repealing the three laws.
The farmers had rejected the court route early on during the agitation, and have made it clear they would continue with their movement till the laws are repealed, whatever the court verdict.
The protesting farmers have repeatedly refused to implead themselves in the case despite the apex court offering them the option. Only the eight farmer unions that have been sent notices will respond but no one will voluntarily implead themselves, Hannan Mollah of the All India Kisan Sabha said.
The Sanyukta Kisan Morcha (SKM), the larger banner under which the protests are being held, has decided to continue intensifying the movement and create pressure points in other states similar to those around Delhi.
It has also decided to get farmers from all the states to join the protests at Delhi's borders to "bust the propaganda" that the movement is Punjab-and-Haryana-centric.
The SKM has also issued an appeal to the protesting farmers not to take their own lives. Suicides have become a daily occurrence at the protest sites, and the union leaders are trying to keep the protesters' hopes high so that they do not act in desperation amid the government's stalling tactics.
The focus will shift to the courts this week, with Monday's hearing preceding the next farmer-government meeting by four days.
The SKM, however, has given a call to celebrate Lohri on Wednesday by burning copies of the three farm laws.