Pipped by Yogi in UP race, now J&K boss
Fruit of loyalty after setbacks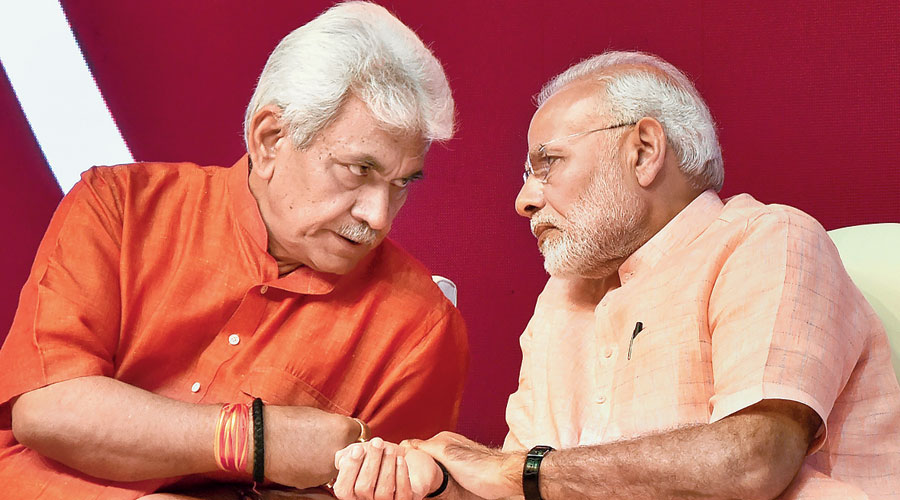 Manoj Sinha with Narendra Modi in 2018.
File picture
---
New Delhi
|
Published 07.08.20, 04:45 AM
|
---
Former Union minister Manoj Sinha, who was believed to have missed the Uttar Pradesh chief minister's chair by a whisker in 2017 before losing the 2019 Lok Sabha polls, has been appointed the new lieutenant governor of Jammu and Kashmir.
For the 61-year-old dhoti-kurta-wearing heartland politician, the posting has come as a complete surprise, people close to him said.
Sinha's appointment suggests the Narendra Modi government is more comfortable with a politician in the Srinagar Raj Bhavan than a bureaucrat. The previous lieutenant governor, IAS officer G.C. Murmu, resigned on Wednesday and is expected to be appointed comptroller and auditor-general.
Sinha had been licking his wounds since losing in last year's general election from Ghazipur, which borders the Prime Minister's constituency of Varanasi, despite a Narendra Modi wave.
He had been disappointed in his expectation of returning to the Union ministry through the Rajya Sabha route, given his performance in the first Modi government as minister of state for communications (independent charge) and railways, and his past RSS association.
Now, after more than a year of fruitless wait, he suddenly finds himself in charge of the troubled Valley.
"He (Sinha) never expected to be appointed lieutenant governor, that too for the key Union Territory of Jammu and Kashmir," an associate said. "But he is happy and excited."
Sinha rushed to Srinagar on Thursday to take charge of his new job.
The three-time Lok Sabha member had won Modi's trust as a minister who did his job discreetly and sincerely. It's this quality that, people close to him say, had made him the front-runner for the chief minister's post in Lucknow when the BJP secured a big victory in the 2017 Assembly polls.
Sources close to Sinha claimed he had been tipped from the top to prepare for the hot seat. Sinha had quietly left Delhi and begun offering prayers in temples in Varanasi, a city where he had cut his political teeth as a student leader.
Suddenly and mysteriously, the saffron-clad monk Adityanath emerged on the scene and Sinha, the no-nonsense politician, lost out to the strident Hindutva hard-liner.
Last year, an unfavourable caste combination ruined his chances in the general election despite voters in Ghazipur lauding him for his development efforts as Union minister.
Sinha's unwavering association with the RSS-BJP ideology now seems to have helped him bounce back.
Sinha had been with RSS student wing Akhil Bharatiya Vidyarthi Parishad at Banaras Hindu University, from where he earned his BTech and MTech degrees, in the early 1980s. He had been elected students' union president at BHU.
In the early 1990s, he secured a place in the BJP national council. He won the Ghazipur Lok Sabha seat in 1996, 1999 and 2014.
"We feel that the Srinagar assignment is a temporary one. His bond with the people of Ghazipur is too strong and he will return when the next Lok Sabha polls are held," one of his confidants in Ghazipur said.