Only through govt, says US pharma giant
Pfizer's Covid vaccine fine print
Without govt procurement, it will not be available for public use in India because the US-based pharmaceutical company is currently selling only to governments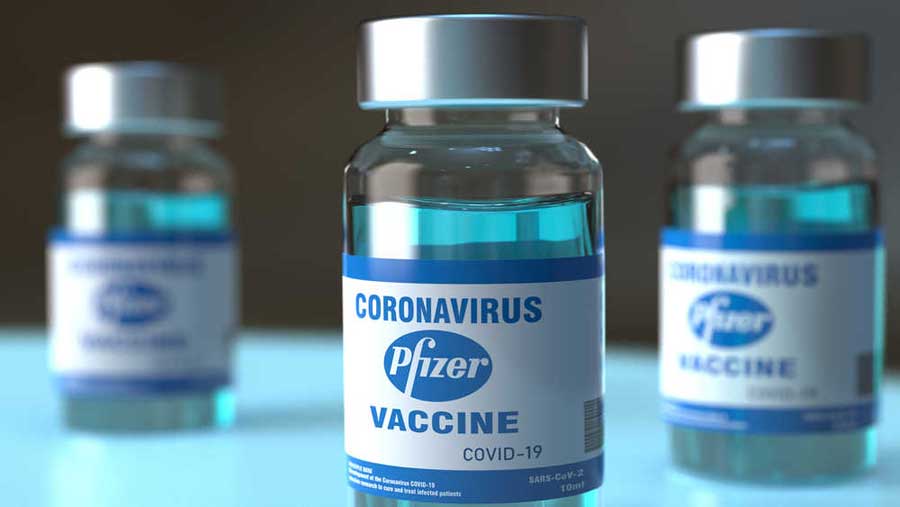 ---
New Delhi
|
Published 07.12.20, 02:52 AM
|
---
Pfizer has signalled its desire to introduce its Covid-19 vaccine in India but asserted that the product would be available only through the government under its global policy to refrain from private sales during the current pandemic phase.
The US-based pharmaceutical company has sought from India's drug regulatory agency an emergency use authorisation (EUA) for the vaccine that has shown 95 per cent efficacy in protecting people from Covid-19 and was approved last week for public use by UK regulators.
Pfizer's application to the Central Drugs Standard Control Organisation (CDSCO), the regulatory agency, is the first EUA submission for a Covid-19 vaccine in India and implies a potential addition to the bouquet of vaccines that the Indian government hopes to use in its vaccination campaign.
But the application comes amid uncertainty over whether the government will procure the Pfizer vaccine — if the CDSCO grants EUA approval — with some health officials having indicated that the Pfizer vaccine would be hard to use in India because of its ultra-low-temperature requirements: minus 70°C during transport.
Without government procurement, the vaccine will not be available for public use in India because Pfizer is currently selling only to governments. "During this pandemic phase, Pfizer will supply this vaccine only through government contracts based on agreements with respective government authorities and following regulatory authorisation or approval," a Pfizer spokesperson told The Telegraph.
Pfizer has offered to help in distribution through specially designed temperature-controlled "thermal shippers", in which the vaccines can be maintained at minus 70°C for 10 days unopened.
Once the shipper is opened, and if it's being used for temporary storage at a vaccination centre, the vaccine can be used for 30 days with re-icing every five days, the company said. The vaccine can be stored for five days at temperatures between 2°C and 8°C in the standard refrigeration units available in hospitals across India.
A senior health policy adviser to the government told this newspaper on Sunday that the Pfizer vaccine appeared "difficult to accommodate" given India's public health infrastructure and the low temperature requirement. "The EUA is an independent regulatory decision -– any company can file for EUA," the official said.
The company declined to specify the likely cost of the vaccine for India or how many vaccine doses it could offer India in the early months of 2021. A company spokesperson also declined comment on a report from a health organisation in the US that Pfizer's vaccine would cost about $19.50 per dose.
Pfizer and its collaborator BioNTech, a Germany-based biotechnology company, have said they have a production capacity of 50 million doses during 2020 and 1.3 billion doses during 2021. But Pfizer already has orders from several countries, including Australia, Canada, the European Union, Japan, Peru, Qatar, the UK and the US.
The Union health ministry had earlier this year indicated that wanted to vaccinate around 250 million people from priority groups such as healthcare workers and other vulnerable people, with 500 million vaccine doses, by July 2021 and was looking at all possible candidate vaccines.
A vaccine from AstraZeneca-Oxford manufactured in India by the Pune-based Serum Institute of India is expected to become the second to seek EUA approval. A Serum official has indicated that the company would apply for EUA later this month, citing clinical trial results from Brazil and the UK.
India is also evaluating three other vaccines through clinical trials -– two home-grown candidate vaccines and Russia's Sputnik V. "Between Serum and the two home-grown candidate vaccines, all of which we expect will work with variable efficacy, India will have about 800 million doses in 2021," said Shahid Jameel, a senior virologist and director of the Trivedi School for Biosciences at Ashoka University. "Supply will not be a problem."