Research carried out on over 114,000 Covid patients
Oxford & Pfizer jabs prevent death from Delta variant: Research
A new study from Scotland is the first to measure across an entire country vaccine effectiveness in preventing deaths from the variant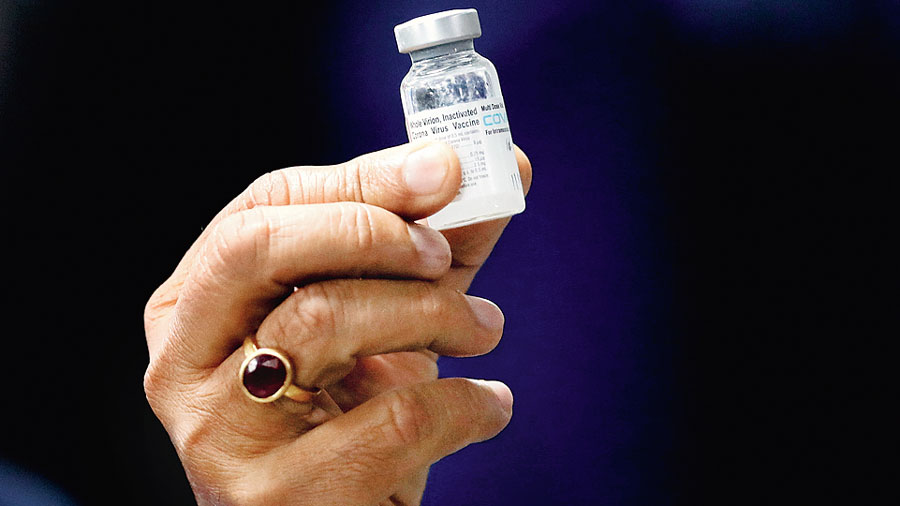 ---
New Delhi
|
Published 21.10.21, 01:30 AM
|
---
The Covid-19 vaccines from Oxford-AstraZeneca and Pfizer-BioNTech offer strong protection against death from the Delta variant of the coronavirus, researchers said on Wednesday reporting the first full-country data on mortality from Scotland.
The researchers who analysed the outcomes of over 114,000 Covid-19 patients have found that the Oxford-AstraZeneca vaccine is 91 per cent effective and the Pfizer-BioNTech vaccine is 90 per cent effective in preventing deaths in double vaccinated people.
Multiple earlier studies have already suggested that Covid-19 vaccines are able to protect people from severe disease and death even though the highly contagious Delta variant — that emerged in India and fuelled the country's second wave — can also cause infections in vaccinated people.
The new study from Scotland is the first to measure across an entire country vaccine effectiveness in preventing deaths from the Delta variant that has spread worldwide and accounted for 99.5 per cent of the infections in Scotland.
The researchers at the University of Edinburgh and collaborating institutions analysed vaccination status and survival in 114,706 who tested positive for Covid-19 between April 1 and August 16 this year among 5.4 million people in Scotland.
Among the 204 casualties, they found no deaths among fully vaccinated people aged between 16 and 39 years, but 17 deaths among unvaccinated people in this age group. In people 40 years or older, they recorded an overall vaccine effectiveness of 91 per cent for the Oxford-AstraZeneca vaccine and 90 per cent for the Pfizer-BioNtech vaccine.
"It is reassuring to see that vaccination offers such high protection from death very shortly after the second dose," Aziz Sheikh, a respiratory medicine specialist and director of the University of Edinburgh's Usher Institute. Sheikh and his collaborators have described their results in a paper in the New England Journal of Medicine on Wednesday.
The Oxford-AstraZeneca vaccine, called Covishield in India and produced by the Serum Institute of India, is one of the two main vaccines used in the country's vaccination campaign.
Over 876 million Covishield doses have been administered in India among a total of 995 million.
The Indian Council of Medical Research had earlier this year initiated a similar study across hospitals in 11 cities to determine real-world vaccine effectiveness. The results are expected to emerge within the next two weeks, a researcher associated with the Indian study said.
Health researchers say the findings from Scotland reinforce the urgency to complete full vaccination of the population through double doses, as already underlined by multiple earlier studies from India and other countries.
Nearly 74 per cent of India's estimated 944 million adults had received one dose of a Covid-19 vaccine by Wednesday afternoon, but only around 292 million (30 per cent) people are fully vaccinated with two doses.
A hospital-based study in Delhi had earlier this year indicated that a single Covid-19 vaccine dose does not protect people from severe disease, highlighting the need to accelerate second doses.
But limited vaccine supplies, which health experts have attributed to poor advance planning and investments by the Centre, have not allowed India's vaccination campaign to adopt a pace that the country's vaccine delivery infrastructure could support.
A medical adviser to the vaccination campaign had said earlier this year that the available vaccine delivery infrastructure could easily have supported the administration of 10 million doses per day. But the campaign has administered on an average less than 6 million doses daily through October.