Opposition away, 7 bills rushed through Rajya Sabha in 3 hours
In most debates, members' participation was sparse and minister's reply brief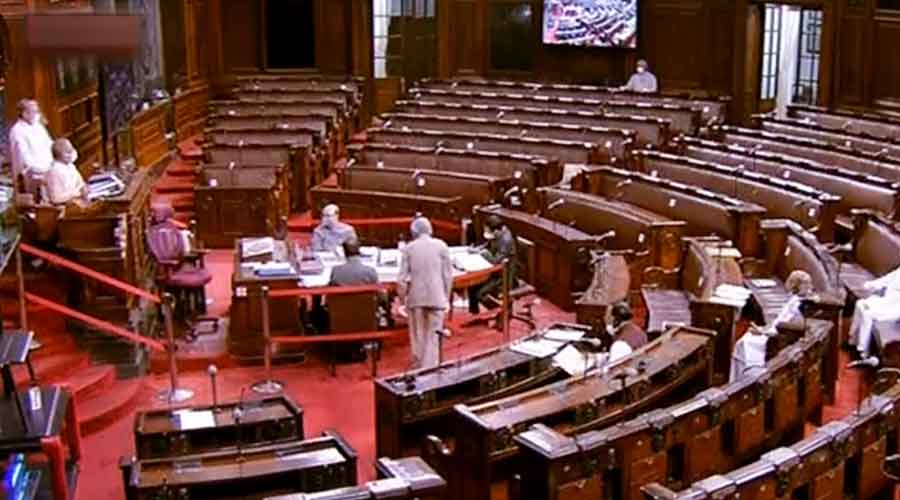 ---
---
The Rajya Sabha on Tuesday passed or returned as many as seven bills in three hours with most Opposition parties boycotting the business.
The Upper House approved the Indian Institute of Information Technology (IIIT) Laws (Amendment) Bill, Essential Commodities (Amendment) Bill, Banking Regulation (Amendment) Bill, Companies (Amendment) Bill, National Forensic Sciences University Bill, Rashtriya Raksha University Bill and the Taxation and Other Laws (Relaxation and Amendment of Certain Provisions) Bill. Some of the bills had already been passed by the Lok Sabha.
Opposition parties like the Congress, Trinamul Congress, DMK, RJD, CPM, Shiv Sena, CPI and the Aam Aadmi Party were absent in the House in protest against the suspension of eight MPs.
Each bill was discussed for less than 30 minutes. Apart from the BJP and its allies, leaders of a few parties that are seen to be friendly to the NDA government — such as the Biju Janata Dal, YSR Congress and the Telugu Desam Party — were present.
Since most Opposition members were absent, the number of speakers for every bill was reduced. Nobody demanded any division of votes, an instrument sometimes exercised by Opposition parties while bills are passed by voice votes. On each bill, each speaker was allowed two minutes to speak.
The IIIT bill refers to award of Institution of National Importance (INI) status to five IIITs. The Essential Commodities (Amendment) Bill aims to remove cereals, pulses, oil seeds, edible oil, onion and potato from list of essential items. The government had passed an ordinance in June.
Minister of state for home Kishan Reddy moved the National Forensic Sciences University Bill and the Rashtriya Raksha University Bill. The Forensic University Bill seeks to upgrade the Gujarat Forensic University to an INI, a status that will enable greater funding for research.
The Rashtriya Raksha University in Gujarat will also enjoy the INI status and focus on defence studies.
NIA takes over violence probe
The National Investigation Agency on Tuesday took over the investigation in two cases pertaining to violence in Bangalore on August 11 night and named Social Democratic Party of India (SDPI) leader Muzamil Pasha for "instigating the mob" over an alleged derogatory social media post by the relative of a Congress MLA.
Three persons were killed after police opened fire to quell a mob on rampage in DJ Halli and adjoining areas.