On Diwali, Narendra Modi warns of India's 'prachand jawab'
The Prime Minister is celebrating Diwali with Indian troops at Rajasthan's Longewala post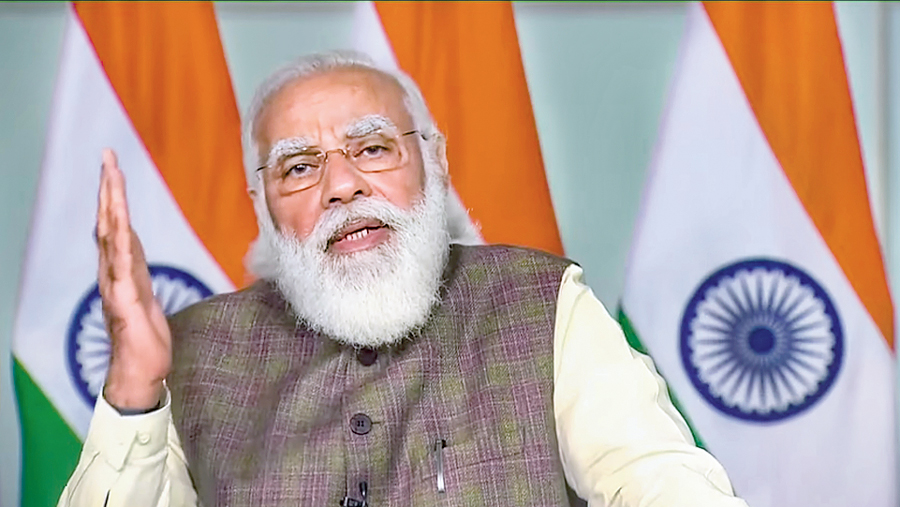 ---
|
Jaipur
|
Published 14.11.20, 01:29 PM
---
Prime Minister Narendra Modi on Saturday, like every other Diwali, spent the day with Indian soldiers, addressing troops at Rajasthan's Longewala post, where he said that if proved, India will give its enemies 'prachand jawab'.
Without taking name, but clearly indicating China, Modi said that 'expansionist' forces are bothering the entire world at the moment, describing their approach as a "distorted mindset" that belongs to the 18th century.
"India today believes in the policy of understanding others and making them understand but if an attempt to test it is made, then the country will give a fierce reply," he said.
"The country has the capability and political will to give a befitting response to those who challenge it", the PM added.
"India has become a forceful voice against forces of expansionism," he said, while also taking a dig at Pakistan. Referring to the air and surgical strikes carried out by Indian soldiers against terror camps in the Imran Khan-led country, Modi said that the army has taken down "sponsors of terrorism" in their home.
"No force in the world can prevent our soldiers from protecting our borders", he said, adding that "India has shown that it has strength and the political will to give a befitting reply to those challenging it," Modi asserted.
The PM's strong message came at a time when Indian troops are engaged in a month-long conflict with their Chinese counterparts at Eastern Ladakh.
Modi also stressed on the significance of having a strong capability and said that despite advanced international equations, vigilance is the path to security. "Alertness leads to happiness and peace is the prize of having strength."
The Prime Minister also assured that 130 crore Indians support the country's soldiers and pay respect to their sacrifices. "History of the world tells us that only those nations have remained safe and advanced who had the ability to take on invaders," he said, adding that their valour has got better of all adversities, in every sector.
Making reference to the government's efforts to restart the economy completely amid its efforts of battling the coronavirus pandemic, Modi said, "Your sacrifices teach the country discipline and sense of service."
"The world now knows that India will not compromise with its interests even one bit," he added.
Modi said, while referring to his act of spending Diwali with soldiers ever since he assumed office, that being with the troops strengthens his purpose of protecting the country even more.
He recalled the time when the Longewala post had witnessed the fierce 1971 battle with Pakistan and paid tributes to a hero of the battle, Brig Kuldeep Singh Chandpuri. The PM said that in his endeavour, the soldier has become a "rashtra deep".
"Pakistan opened the front on western border to divert the global attention but our forces gave them a befitting reply," he said.
"The war was also an example of exemplary coordination among Army, Navy and Air Force", Modi said.
Pakistan was defeated by India in the war, which led to the freedom of Bangladesh.
Narendra Modi has been visiting Army posts every Diwali ever since he became Prime Minister in 2014. Last year, he visited Rajouri, and before that, Uttarakhand and Gurez in 2018 and 2017.