Omar Abdullah appeals for peace
People should keep their emotions under control, he said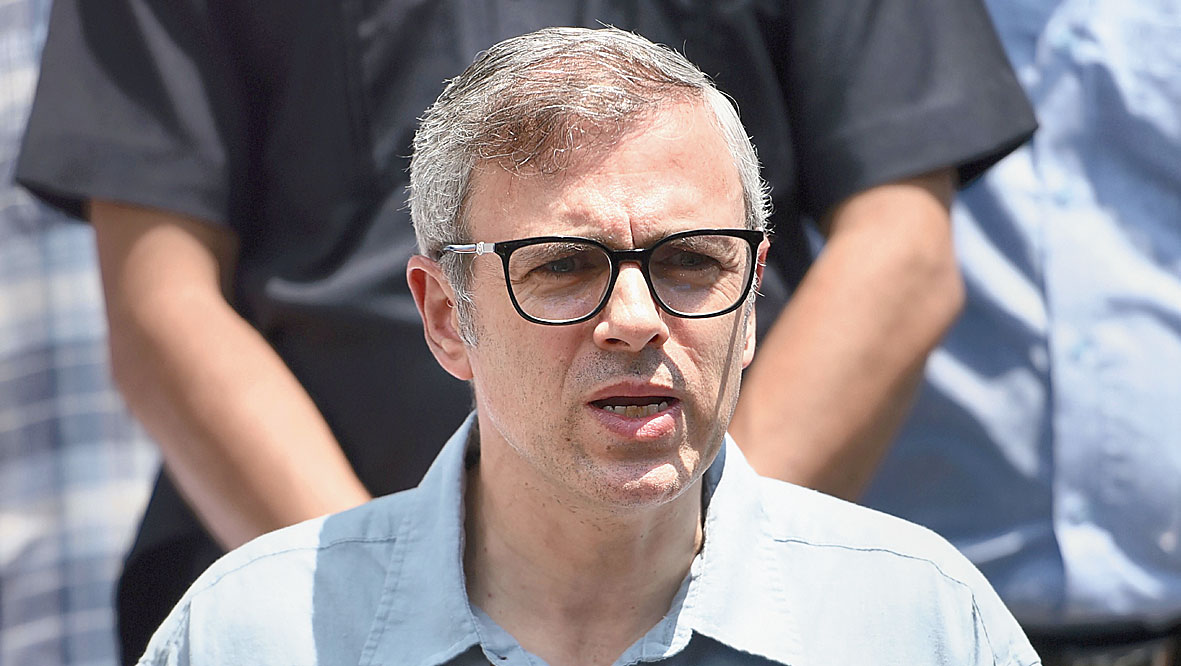 Omar at the news conference in Srinagar on Saturday.
(PTI)
---
Srinagar
|
Published 03.08.19, 08:19 PM
|
---
Former chief minister Omar Abdullah on Saturday asked Kashmiris to maintain peace and thwart those who try to take the law into their own hands, becoming the first Valley politician to attempt to calm tempers and counter the narrative that pro-India leaders are fuelling unrest.
Omar, who is the National Conference vice-president, told a media conference: "People should keep their emotions under control. Some people want to take the law into their own hands and come on to the roads to disturb peace to achieve their goal. We should not allow them to succeed in their goal. I request all people to deal with the issue coolly and calmly." The comments were seen as a reference to the pro-azadi camp.
Omar and other leaders from Kashmir's pro-India camp are facing allegations that they are to blame for the gathering storm over the perception that the Centre wants to strip the state of its special status.
State BJP president Ravinder Raina on Saturday accused leaders of the National Conference, People's Democratic Party and the Congress of making "deliberate attempts" to trigger panic in the Valley.
The NC has also been accused by rival parties of hurting the cause of unity in Kashmir.
The NC chose to lead a delegation to Prime Minister Narendra Modi recently and did not join an all-party team that met governor Satya Pal Malik on Friday night, angering its rivals.
Omar met the governor on Saturday and claimed that Malik had accused him and other pro-India parties of spreading rumours. He said he gave an account to the governor of how and why an uncertainty was prevailing in the Valley.
The authorities have said the massive troops build-up in Kashmir and Friday's advisory to tourists and Amarnath yatris to leave were related to intelligence inputs about a possible surge in militant violence. Most residents, however, fear "something big" is being planned.
"The fact is we want to know the truth but we are not getting the truth from anywhere. When we talk to officers about what is happening, they say they don't know, but (add that) something is cooking. When we ask them what is this 'something', they say something is there," Omar said.
"You ask one officer, he says it will happen tomorrow, ask another he says it will happen a day after. Some say it will happen in five days," he added.
The former chief minister said a series of government orders, particularly the travel advisory, had created panic, forcing people to thronging petrol pumps and shops for fuel and eatables.
Omar said the governor had assured the leaders that the troops build-up and the other orders were not a precursor to scrap Article 35A, which gives exclusive land and job rights to the people of the state.
"Governor sahib said no preparation was being made for such an announcement. He also said a proper statement on it will be issued to satisfy people, but we want that on Monday the Centre should come out with a statement in Parliament that will explain what was the requirement for yesterday's order to end the yatra and take tourists out," he said.
Omar said the governor's was not the final word on Jammu and Kashmir but the government of India's was.
"Therefore, more than what the governor tells us publicly, I definitely would like to hear from the government that there is nothing people have to worry about," the leader said.
The NC vice-president said the promises made by New Delhi about Jammu and Kashmir's special status was "not time-bound".
"We were not told that you have accession and after 70 years the conditions on which the accession was done will be changed. The conditions on which the accession took place have to prevail till eternity," Omar said, vowing to defend Articles 370 and 35A.
Omar spoke of his meeting with the Prime Minister earlier this week. "We came out satisfied from that meeting. I can't accept that within 24 hours such a statement (travel advisory) will be made. We got no indication from the Prime Minister about any danger for which the yatra had to be cancelled and tourists sent home," he said.
Omar urged the Centre to recognise that it was not in the government's interest to have a "restive" and "unsettled state".
Governor Malik later defended his decision to issue the travel advisory, saying it was aimed at ensuring the safety of the pilgrims.
He said the state administration had no knowledge of any plans to change constitutional provisions.
"Therefore, no panic should be created by unnecessarily linking this security matter with all kinds of issues. A pure security measure is being mixed up with issues with which it has no connection," Malik said.