Journey ends for migrants, misery continues
No water or food for workers in Bihar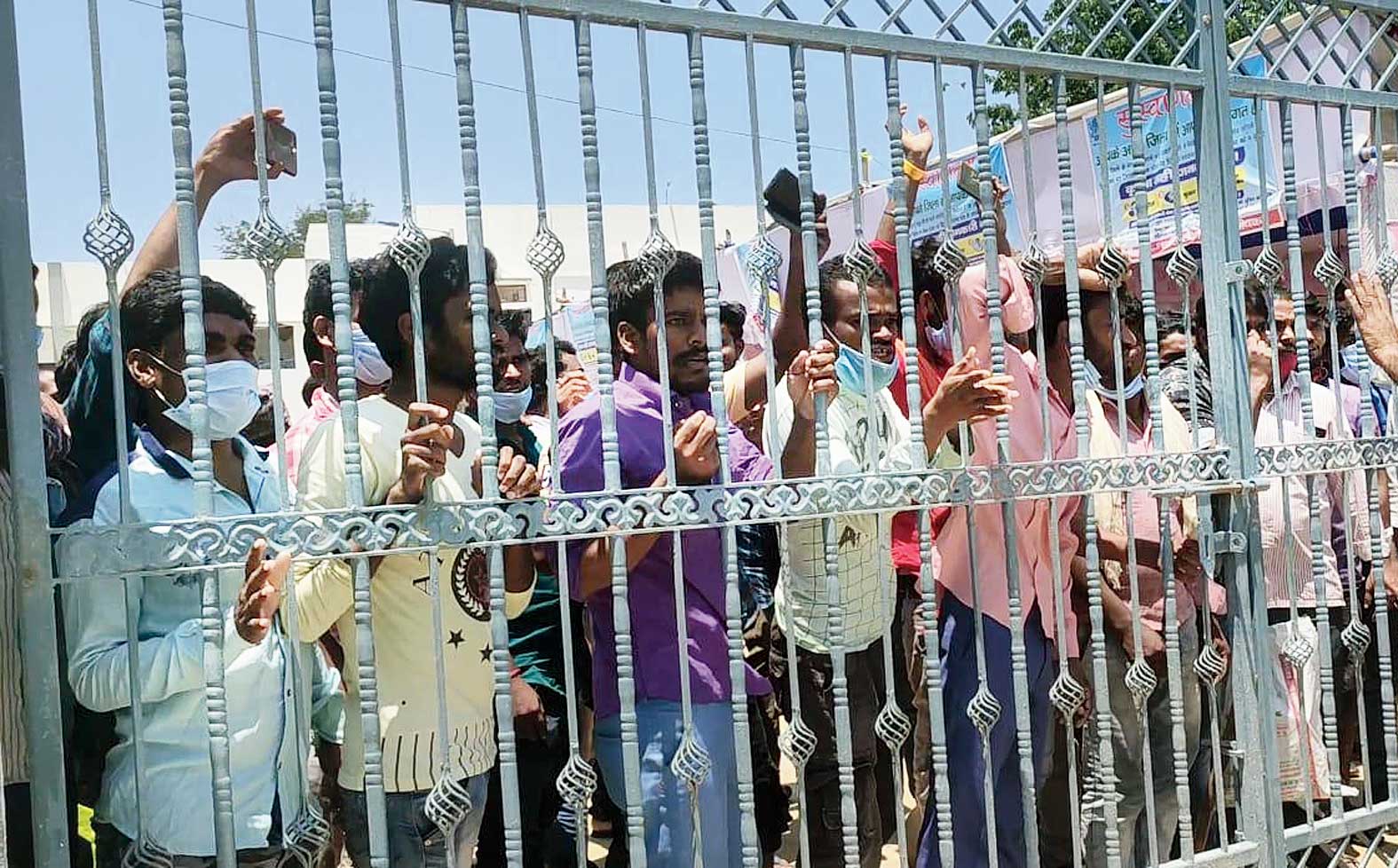 Migrant workers who have returned from Kerala protest in Nawada, Bihar, on Wednesday over lack of food and drinking water.
Picture by Sanjay Choudhary
---
Patna
|
Published 07.05.20, 12:10 AM
|
---
Hundreds of migrants quarantined at several centres across Bihar since returning from Kerala and other states erupted in anger on Wednesday after going without food and water through the night and at some places without electricity in the sweltering summer heat.
The protests broke out in at least half a dozen quarantine centres in different districts as lack of basic facilities piled on the misery of the migrants who had travelled hundreds of kilometres by train from the southern state before being transported by buses for 21 days of isolation.
One man's anxious words summed up the mood. "We are afraid how we will survive 21 days in quarantine," wondered Muhammad Shahabuddin, a migrant worker now in quarantine at a transit camp at an industrial training institute (ITI) in Nawada town, 120km from Danapur.
The transit camp was one of the facilities where protests broke out on Wednesday. The migrants, who had arrived last night and been kept at the camp for onward movement to quarantine centres in their respective blocks, lost their cool and rushed towards the locked main gate when they did not get drinking water and food till midday.
"We arrived yesterday (Tuesday) at Danapur railway station and were sent to Nawada in buses last evening. We were not given food last night. Drinking water was also not made available. It is almost noon and we have not been given anything to eat," Shahabuddin told local reporters.
Other persons at the transit camp complained about toilets without water, dirty rooms and no electricity, which meant an uncomfortable night after a long, tiring journey.
Nawada district magistrate Yash Pal Meena and additional district magistrate Om Prakash did not take calls. But superintendent of police (SP) Hari Prasath S. admitted delay in providing food to the migrants.
"The workers arrived last night and could not move further to their blocks. There was some delay in providing food to them in the morning, but I guess they all got it around 10.30am," the Nawada SP told The Telegraph.
Similar complaints about delay in food and poor arrangements also came in from another quarantine centre at Hisua block in the district.
Protests broke out at a quarantine centre at Ratanpura in Bhagwanpur block of Vaishali district where migrants who have returned from different states demonstrated for hours.
"You can just imagine the arrangements by the fact that it is summer and there is no drinking water for us here. Food is such that only cattle can eat it. No breakfast is being given. We tried complaining to the officials present here, but they are not paying any attention," Amit Kumar, one of the migrants at the Ratanpura centre, said.
In Banka town, in Banka district, a large number of migrant workers who had returned from Kerala and Rajasthan were just dropped by bus unattended at 2am on Wednesday. They were loitering around without food and water when a couple of good Samaritans gave them sattu (roasted gram flour).
Lack of food was the common thread in the protests that broke out on Wednesday. At Athmalgola in Barh in Patna district, quarantined migrant workers said they had been given just four pieces of bread.
Asked about the fiasco, a Patna district administration official told this newspaper: "Around 75 persons suddenly arrived at the centre, so there has been some delay in providing food to them. Such things happen on the first day. Things will normalise from tomorrow."
Bihar's disaster management department (DMD) is in charge of all the quarantine centres in the state but how unprepared the authorities are has become clear with so many complaints coming in from almost all corners.
An inspection in a district late last month had revealed the extent of the lack of preparedness. Sheohar district judge Tribhuwan Nath found in an inspection that kitchens were not functioning at quarantine centres.
Chief minister Nitish Kumar on Tuesday evening held an all-party meeting through video link over how to tackle the coronavirus challenge in the state and sought the views of leaders from various parties.
Tejashwi Prasad Yadav, leader of the Opposition Rashtriya Janata Dal, suggested the chief minister venture out to take stock of the preparations.
Nitish, who has been holding review meetings with top officials almost daily, pointed out that he was not moving around because of the regulations and curbs on movement to check the disease from spreading.
"When the situation improves, I will certainly go out to see things," Nitish told Tejashwi. "At that time I will request you also to accompany me."