Naveen gives Odisha model schools 10-year road map
Focus to be on making Adarsha Vidyalayas centres of excellence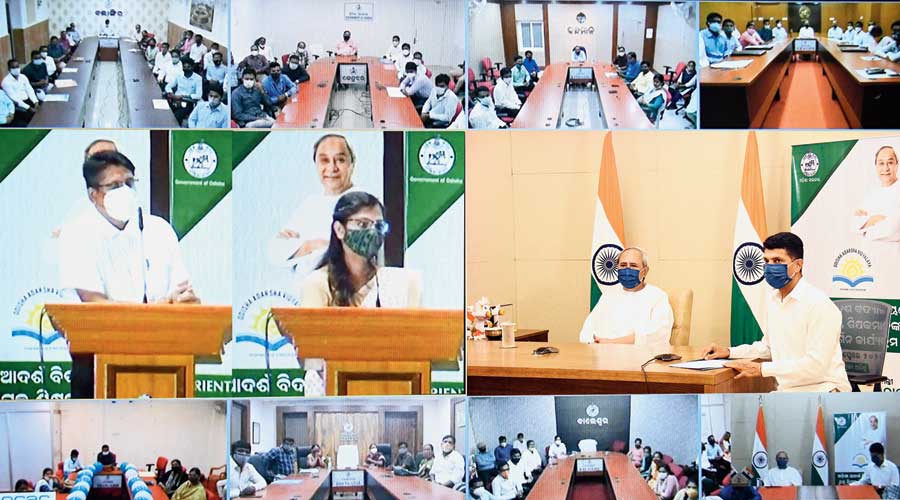 ---
Bhubaneswar
|
Published 07.09.21, 12:27 AM
|
---
The Odisha government has come up with an ambitious 10-year plan for the state-run Odisha Adarsha Vidyalaya scheme (Odisha Model School scheme).
The road map will focus on making model schools centres of excellence in studies so that students stop migrating to English medium schools run by private bodies.   
The state had earlier announced 15 per cent reservation for students in the state-run engineering and medical colleges who pass out from government schools. The 314 model schools across the state will be given achievement targets for the next 10 years. They will also be asked to promote yoga, sports and healthy living.
As per the announcement of chief minister Naveen Patnaik on the occasion of Teacher's Day on Sunday, Odisha Adarsha Vidyalayas (OAVs) will be made talent centres and will ensure that at least one student can crack one of the national entrance examinations each year. OAVs aim to impart free quality education in English through the CBSE curriculum to students from Class VI to Class XII especially in rural and semi-urban areas.
Minister Samir Ranjan Dash told The Telegraph: "The chief minister has a vision for the students.
He wants the overall development of the personality of each student. Earlier, the students had a complex about reading in Odia medium schools. Now they will overcome that complex and can be at par with the students of the English medium schools.
We will convert all the 8,000 government-run high schools into model schools in a phased manner."
Meanwhile, all the high schools in the constituency of Naveen — Hinjili — have been refurbished and turned to model schools.
According to the road map, all OAVs will have green campuses and comply with net zero emission standards by 2025.
In order to make the students aware that blood is precious and it saves lives, all OAVs will be asked to conduct at least one blood donation camp in collaboration with Rotary and Lions' Club this year, subject to Covid rules and regulations by the government.
The state has also decided that each OAVs will conduct a mock UN session to highlight global issues and interconnections in sustainable climate planning.
Besides, OAVians will carry out community service of "each one teach one" to gain practical experience in the field of education.
In order to meet the rising demand of skilled people in Odisha as several industrial houses including ArcelorMittal are going to set up industries in the state. The government has decided to set up skill centres in the schools. "Skilling in schooling to be promoted for the needy," said officials.
Besides, every OAV will have an interactive and dynamic web page that will be a source of learning and expression for the teaching and student community. They will also be asked to publish a monthly newsletter namely OAVS NEWS/OAVians.
On the occasion of the Teacher's Day on Sunday, Naveen laid the foundation stone for construction of Adarsha Vidyalaya on the outskirts of Bhubaneswar. The school will come up with a budget of Rs 100 crore and it will be developed as a centre to provide quality education to the meritorious students. 
The schools will enroll 1,000 students with 500 each for Class IX and Class X.
The students will be selected from 314 model schools in the state. It will have 26 classrooms and eight science laboratories. Two hostels, one for girls and another for boys, will be set up on the premises.
Earlier in July 2019, Dash had visited Delhi Schools to see the transformation made by Delhi chief minister Arvind Kejriwal.
However, Dash maintained the state government had nothing to do with Delhi government's transformation on schools.
"We had inspected their schools. But our planning to transform the education sector has not connected to the Delhi model," he said.
Initially, the schools will function from a rented house from academic year 2022-23. "We will ensure that the school buildings are completed as soon as possible," Dash said.