Finally, someone makes Delhi police flex muscle
Congress rolls out protests as Rahul appears before ED for questioning
Party leaders allege that cops have prevented them from reaching even their headquarters to express solidarity with their former president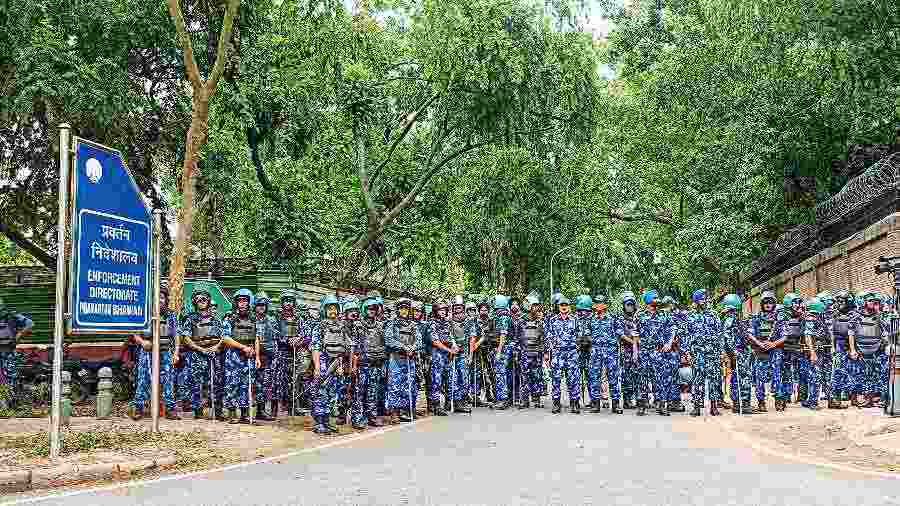 The Rapid Action Force stands guard outside the Enforcement Directorate office in New Delhi on Monday.
PTI photo
---
New Delhi
|
Published 14.06.22, 04:03 AM
|
---
The national capital looked like a war zone on Monday with the Congress launching massive street protests after the police prevented its leaders from marching with Rahul Gandhi to the Enforcement Directorate office, where he was to depose in the National Herald case.
Congress leaders and workers erupted in anger, asserting that holding a peaceful march was their democratic right. They alleged that the police barricading across the city had prevented them from reaching even their party headquarters to express solidarity with their former president.
Former finance minister P. Chidambaram tweeted he was lucky to get away with only a suspected hairline fracture. "When three big, burly policemen crash into you, you are lucky to get away with a suspected hairline crack. Doctors have said that if there is a hairline crack, it will heal by itself in about 10 days. I am fine and I will go about my work tomorrow," Chidambaram said.
When three big, burly policemen crash into you, you are lucky to get away with a suspected hairline crack!

Doctors have said that if there is a hairline crack, it will heal by itself in about 10 days

I am fine and I will go about my work tomorrow

— P. Chidambaram (@PChidambaram_IN) June 13, 2022
Rahul was questioned from 11.30am to 2.30pm before a brief lunch break, during which he drove to meet his ailing mother Sonia Gandhi in hospital. The second round of questioning began around 4pm and continued till around 10pm. Rahul has been asked to report back for questioning on Tuesday.
Congress communications chief Randeep Surjewala said Chidambaram was brutally attacked and that his glasses fell off when the police pushed him. Rajya Sabha member Manish Tewari was shoved to the ground and he too suffered fractures, the party said.
Others were detained at several police stations.
Congress general secretary K.C. Venugopal and party Lok Sabha leader Adhir Chowdhury, held at Tughlaq Road police station, lodged formal complaints of police brutality.
While the BJP accused the main Opposition party of taking to the streets to defend corruption by the Gandhis, the Congress alleged a political vendetta and a conspiracy to crush critics of the Narendra Modi government.
Monday's confrontation is expected to worsen the already bitter relations between the BJP and the Congress.
The case relates to alleged financial irregularities in the Congress-promoted Young Indian Private Limited which owns the National Herald newspaper, published by Associated Journals Limited.
Hundreds of Congress workers were stopped in various parts of Delhi. Those able to reach the party office, including members of Parliament and the Congress Working Committee, wanted to march with Rahul to the ED office, less than 2km away. But the police had barricaded the entire area.
Congress leaders were allowed to accompany Rahul for a while on Akbar Road before he was asked to proceed alone in a vehicle.
Senior leaders — including the Rajasthan and Chhattisgarh chief ministers, Ashok Gehlot and Bhupesh Baghel, as well as Digvijaya Singh and Chidambaram — pleaded with the police to allow at least five of them to accompany Rahul.
Some party workers began climbing the barricades, prompting the police to use force to stop them.
Venugopal, former Uttarakhand chief minister Harish Rawat and over a half-dozen other party leaders were taken to Tughlaq Road police station while hundreds were held in other police stations through the day.
Priyanka Gandhi Vadra visited the Tughlaq Road police station to meet the Congress leaders held there. Other party leaders remained on the streets.
Digvijaya, Mallikarjun Kharge, Gehlot, Jairam Ramesh, Gourav Gogoi and some others were taken in a bus to a police station near the Haryana border and let off after a few hours. The group at Tughlaq Road police station was released late in the night.
Most of the Youth Congress workers, who were more aggressive than the rest, were loaded onto buses and taken away.
Senior leaders and workers alike complained they were given no food or water, and that the injured were not allowed medical care.
Surjewala said the police "atrocities" on Congress leaders continued through the day, with life-threatening attacks on Venugopal and Shaktisinh Gohil.
Describing Modi's attitude as "cowardly," Surjewala said: "Is this how you behave in a democracy? Dictators fear the truth. They fear being questioned. That's why Modi is conspiring to silence Rahul Gandhi.
"He is using his pet agencies to do this job. The police force has turned the Congress headquarters unreachable. Is a peaceful march illegal in the Modi regime?"
Protests were held in many cities including Mumbai, Calcutta, Ahmedabad, Lucknow, Patna, Jaipur, Raipur, Chandigarh, Ranchi, Jammu and Srinagar.
As the BJP accused them of lacking faith in the rule of law and trying to pressure the central agencies, Congress leaders underlined that Rahul had been answering the ED's questions for hours and asserted the protests were against the politics of vendetta, not the investigation.
Baghel said in the evening: "Leaders of every Opposition party are targeted. There have been several instances of cases against Opposition leaders accused of massive corruption being put in the cold storage after they joined the BJP."
He added: "The plot was to suppress, silence the Opposition."
Gehlot alleged the Prime Minister was either reluctant or unable to deal with the people's real concerns. "Ab bakhsho desh ko (Now, spare the country)," he appealed to Modi.
He added: "Modi is animated by the passion to create a Congress-mukt Bharat. He won't appeal against violence and reassure the nation. He won't address concerns on economy, prices and jobs. Instead, he will run bulldozers and send summons to Opposition leaders. They have made a mockery of governance."
Gehlot disclosure
Gehlot added: "I wrote to the chiefs of the central agencies — CBI, ED, income-tax — requesting a meeting. I told them I wanted to convey what the people thought about the agencies; how low their credibility had fallen.
"I wanted to tell them as a chief minister and a citizen what would happen to the country if these vital agencies acted in a biased manner… under political pressure. I started getting calls for a meeting. But they all backed out later, saying they would come to meet me in Jaipur."