'Putin has got to stop this war and end killings'
Modi calls for immediate ceasefire in Ukraine
In Denmark, Modi invites Danish companies, pension funds to invest in Indian infra sector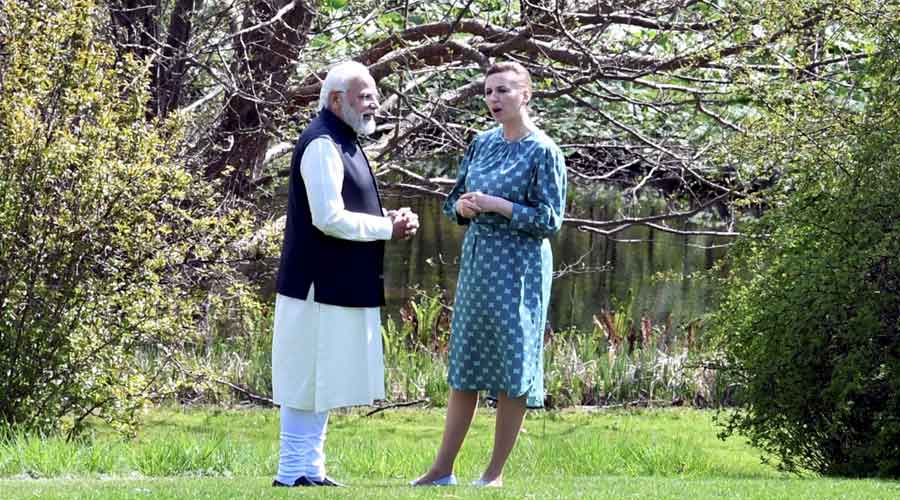 Prime Minister Narendra Modi interacts with Prime Minister of Denmark Mette Frederiksen, at her residence in Copenhagen, Denmark
PTI Photo
---
Copenhagen
|
Published 03.05.22, 05:41 PM
|
---
Prime Minister Narendra Modi on Tuesday appealed for an immediate ceasefire in Ukraine and return to the path of dialogue and diplomacy to resolve the crisis, even as his Danish counterpart Mette Frederiksen hoped that India will use its influence over Russia to end the war.
The two leaders discussed the Ukraine crisis and several regional and global issues including increasing trade relations and cooperation in the field of mitigating the impact of climate change during their bilateral talks at the Danish Prime Minister's official residence in Mareinborg near here.
We appeal for an immediate ceasefire in Ukraine and return to the path of dialogue and diplomacy for resolving the crisis, Modi told reporters here.
Frederiksen hoped that India will influence Russia on Ukraine and asked Russian President Vladimir Putin to "stop this war and end the killings".
My message is very clear that Putin has got to stop this war and to end the killings. I, of course, hope that India will influence Russia also in this discussion, she said.
In a joint statement issued after the talks, the two Prime Ministers expressed serious concern about the ongoing humanitarian crisis in Ukraine.
They unequivocally condemned civilian deaths in Ukraine. They reiterated the need for an immediate cessation of hostilities. They emphasised that the contemporary global order has been built on the UN Charter, international law and respect for sovereignty and the territorial integrity of states, it said.
The two leaders also discussed the destabilising effect of the conflict in Ukraine and its broader regional and global implications and agreed to remain closely engaged on the issue.
Modi expressed the hope that the negotiations on the India-European Free Trade Agreement will be concluded as soon as possible.
We have also emphasised a free, open, inclusive and ruled-based Indo-Pacific region, the prime minister said.
Modi noted that more than 200 Danish companies were operating in India and were benefiting from the ease of doing business and comprehensive economic reforms.
India's infrastructure sector and green energy industry present immense opportunities for investments to Danish companies and Danish Pension Funds, he said.
Earlier, Frederiksen was at the airport to receive Modi. She extended a warm welcome to Modi at her official residence in Marienborg overlooking the Bagsvaerd Lake.
The two leaders were seen chatting as they took a stroll on the expansive lawns of the 18th century country home located on a hilltop about 15 km from here.
Members of the Indian diaspora had turned up at the airport dressed in traditional Maharashtrian attire with a 'dhol-tasha' troupe in tow.
The two leaders appreciated the progress in restart of negotiations on the India-EU Trade, Investment and Geographical Indicators Agreements and called for a balanced, ambitious, comprehensive and mutually beneficial approach and an early and simultaneous conclusion.
They also welcomed the launch of the Trade and Technology Council between the EU and India underlining the importance of deep, strategic collaboration on cross-cutting issues related to trade, trusted technology and security.
The two leaders also recalled the India-EU Connectivity Partnership and agreed to support efforts towards its early implementation.
Modi also addressed the India-Denmark Business Forum and was scheduled to speak to the Indian diaspora in the Nordic nation. Modi was welcomed by Frederiksen upon his arrival at Marienborg, the official residence of the Prime Minister of Denmark, for talks.
"Conversations in Copenhagen aimed at boosting friendship. PM Frederiksen welcomed PM @narendramodi at Marienborg.@Statsmin," Prime Minister's Office tweeted.
Frederiksen gave a tour of her official residence to Modi and showed the painting he gifted her during her last India visit. It is a Pattachitra painting from Odisha.
Pattachitra style of painting is one of the oldest and most popular art forms of Odisha. It is the state's traditional art form.
It is Prime Minister Modi's first visit to Denmark, where he will take part in bilateral and multilateral engagements on Tuesday and Wednesday.
He had said in his departure statement that the visit will "provide an opportunity to review the progress in our unique Green Strategic Partnership' with Denmark, as well as other aspects of our bilateral relations.
India-Denmark: A Green Strategic Partnership' was established during a virtual summit in September 2020. This partnership was translated into a result-oriented five-year action plan during Prime Minister Frederiksen's India visit in October 2021.
Modi will also meet Queen Margrethe II.
He will also attend the India-Denmark Business Roundtable and interact with the Indian community in Denmark.
Over 200 Danish companies in India are actively engaged in taking forward 'Make in India', Jal Jeevan Mission', Digital India' and other key national missions.
More than 60 Indian companies in Denmark, mainly in the IT sector, are further cementing bilateral business-to-business ties.
Denmark is home to a robust Indian diaspora of 16,000 people.
Apart from the bilateral engagements with Denmark, he will also take part in the 2nd India-Nordic Summit along with Prime Ministers of Denmark, Iceland, Finland, Sweden and Norway where they will take stock of the cooperation since the First India-Nordic Summit in 2018.
"The Summit will focus on subjects like post-pandemic economic recovery, climate change, innovation and technology, renewable energy, the evolving global security scenario and India-Nordic cooperation in the Arctic region," Modi had said.
The summit will focus on economic engagement, green partnership and mobility and cooperation in the Arctic region.
"On the sidelines of the Summit, I will also meet the leaders of the other four Nordic countries and review the progress in India's bilateral relations with them," Modi had said.
"Nordic countries are important partners for India in sustainability, renewable energy, digitisation and innovation. The visit will help in expanding our multifaceted cooperation with the Nordic region," he added.
India's trade with Nordic countries stands at over USD 5 billion (2020-21) and a cumulative FDI of over USD 3 billion (April 2000- March 2021.
Modi invites Danish cos, pension funds to invest in India infra sector
Prime Minister Narendra Modi on Tuesday invited Danish companies and pension funds to invest in India's infrastructure sector and green industries.
Addressing media after his talks with Danish counterpart Mette Frederiksen, Modi said that over 200 Danish companies are already present in India and benefiting from the 'ease of doing business' initiative of the government.
"There are huge investment opportunities for Danish Companies and Danish Pension Funds in India's Infrastructure Sector and Green Industries," the Prime Minister said in a tweet. Danish companies are operating in various sectors like wind power, shipping, consultancy, food processing and engineering.
Prime Minister of Denmark Mette Frederiksen hosted Modi during his official visit to Denmark. Meanwhile, a India Denmark Joint Statement issued during the visit of Modi said the two Prime Ministers underlined the importance of bilateral trade and investments and stressed the need to maximise the potential of economic ties between the two countries.
"They affirmed that robust bilateral investments and trade flows through diversified, resilient, transparent, open, secure and predictable global supply chains would ensure economic security and prosperity of their peoples," it said.
The two leaders, it added, also welcomed Danish investments in India especially in the renewable energy, water, terminals and port modernisation and expansion, food processing and engineering sectors and India's investments in Denmark especially in the Information Technology sector.
"They noted that such investments have made India the country where Danish companies have the largest number of employees outside of Denmark," the statement said.
Further, both the leaders agreed that the opportunities created by the Green Strategic Partnership will likely lead to an upward trajectory in bilateral trade and investment.
"In this context, the two Prime Ministers welcomed the launch of the 'India Green Finance Initiative', which aims to contribute to financing green projects in India with the purpose of accelerating green growth and job creation in India," the statement said.
On multilateral cooperation, the two Prime Ministers reaffirmed their commitment to a rules-based international order, and a strengthened and reformed multilateral system.
Modi and Frederiksen confirmed their commitment to work towards reforming the UN, including the UN Security Council, to make it more effective, transparent and accountable.
Frederiksen reiterated Denmark's support for India's permanent membership of a reformed UN Security Council, the statement said.
Prime Minister Modi confirmed India's support for Denmark's candidacy for non-permanent membership of the UN Security Council for 2025-2026, it added. The two leaders also agreed to expand the cooperation on agriculture by a Joint Declaration of Intent establishing among others a Centre of Excellence on Dairy.
Modi arrived in Copenhagen from Germany where he held detailed bilateral discussions with German Chancellor Olaf Scholz and co-chaired the India-Germany inter-governmental consultations.
Speaking at the joint press meet with PM Frederiksen. @Statsmin https://t.co/3uGqLdLop7

— Narendra Modi (@narendramodi) May 3, 2022