Mann Ki Baat: Modi hails Sikh gurus, portrays Mughals as 'tyrants'
The PM has been using religious symbolism to woo the protesting farmers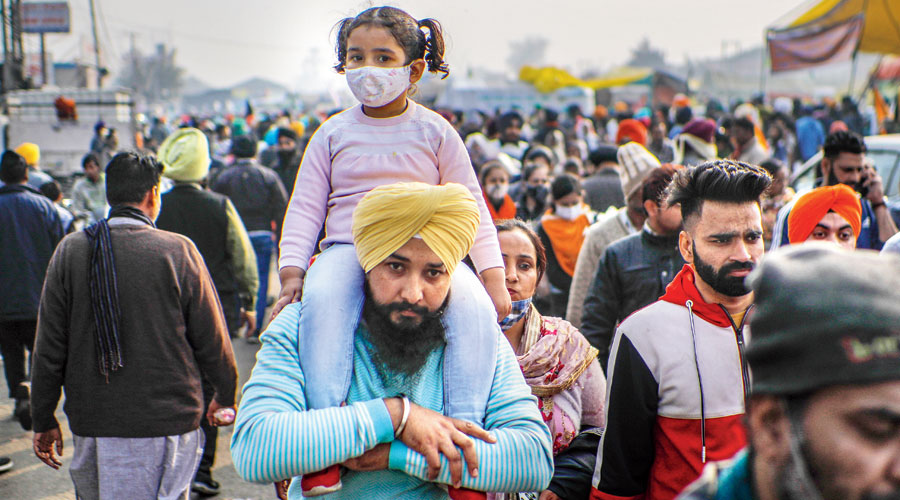 A farmer carries his daughter on his shoulders at the Singhu border
---
New Delhi
|
Published 28.12.20, 01:33 AM
|
---
Prime Minister Narendra Modi on Sunday said the sacrifices of Guru Gobind Singh and Guru Tegh Bahadur had helped keep the country's "culture" safe, as he hailed the Sikh gurus and portrayed the Mughals as "tyrants" in his monthly radio address Mann Ki Baat.
Modi had the previous Sunday visited the Gurdwara Rakab Ganj in Delhi to mark Guru Tegh Bahadur's martyrdom, continuing his outreach to the Sikh community even as he ignores lakhs of Punjab's farmers sitting outside Delhi in the severe cold for a month as they lead the protest against the new farm laws.
"On this day, the sons of Guru Gobind Singh, Sahibzade Zorawar Singh and Fateh Singh, were immured alive (inside a wall)," Modi said.
Both Guru Tegh Bahadur and Guru Gobind Singh, as well as the Sahibzade, had died at the hands of the Mughals. Modi said the Sikh gurus' sacrifice had helped protect the country's "civilisation and culture" from "tyrants" and "tormentors".
"The tyrants wanted Sahibzade to renounce their faith, abandon the teachings of the great Guru tradition," he said.
"During the immurement, as the stones began piling up, gradually raising the height of the wall... (with) death staring them in the face... they did not budge even a bit."
Modi added that Sunday was also the anniversary of the martyrdom of Guru Gobind Singh's mother, Mata Gujari.
"During this month, inspired by Shri Guru Gobind Singhji, many people sleep on the floor.... This martyrdom served towards the great deed of protecting our civilisation... and keeping the present fabric of the country intact," he said.
"About a week ago, it was the Martyrdom Day of Shri Guru Tegh Bahadurji too. Here in Delhi, I was blessed with the opportunity to visit Gurdwara Rakab Ganj to pay my obeisance."
It had been Modi's first visit to a gurdwara in Delhi since becoming Prime Minister in May 2014.
Modi has been using religious symbolism to woo the protesting Sikh farmers, aware of the community's reputation for grit and valour in battle.
Modi had paid extensive homage to Guru Nanak on his birthday last month, and the government recently brought out a booklet to highlight his "special relationship" with the Sikh community.
Critics have questioned Modi's wooing of Sikhs at a time his government has been stonewalling the protesters' demands to repeal the new farm laws and his party 
colleagues have been maligning the protesters as "Khalistanis".
Kashmir outreach
In his last radio address of 2020, Modi sought to connect with the people of Kashmir. He hailed the quality of "kesar" (saffron) grown in the Valley, urged Indians to buy only Kashmiri saffron, and flagged the GI (geographical indication) tag for the spice. 
He used the example to iterate his "vocal for local" and "Self-reliant India" slogans.