Nandankanan makes special arrangements to keep animals cool
While ice slabs and air coolers have been placed in animal and bird enclosures, they are also being regularly sprinkled with water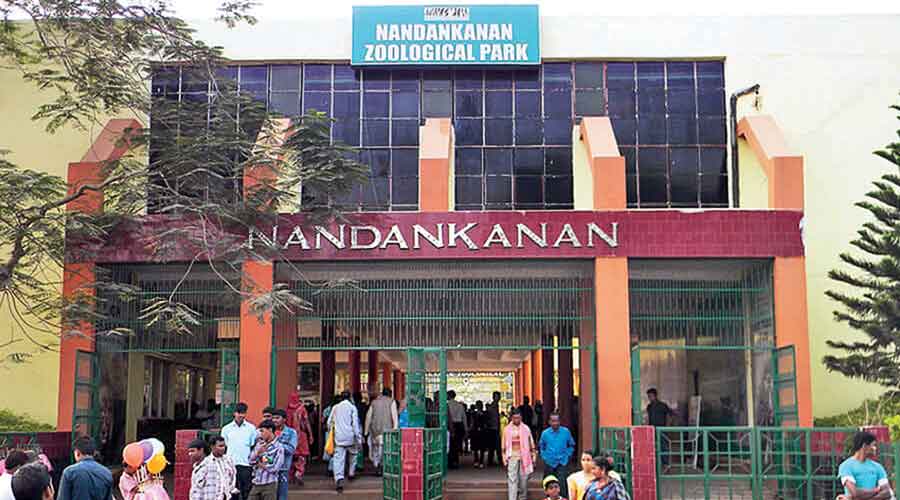 The Nandankanan
Telegraph picture
---
Bhubaneswar
|
Published 03.04.21, 12:30 AM
|
---
As the mercury keeps soaring above the 40 degrees Celsius mark in the Odisha capital on a daily basis, the authorities of Nandankanan Zoological Park have made special arrangements to keep the animals cool.
Bhubaneswar sizzled at 44.2 degrees Celsius on Wednesday. The temperature in the state capital and several other towns of Odisha has been touching 40 degrees on a regular basis this year.
In this backdrop, the Nandankanan authorities have launched a special drive to keep the park's menagerie both safe and cool during summer with the provision of fruits like watermelon, banana, sugarcane, apple, papaya and cucumber to ward off any possibility of dehydration.
While ice slabs and air coolers have been placed in animal and bird enclosures, they are also being regularly sprinkled with water.
"Ice cubes are being added in the water meant for animals such as tiger, giraffe and bear which are sensitive to heat," a zoo official said.
"Green shed nets are being put up near the nests of the birds to keep them cool. Similarly water is being sprayed inside the enclosures to keep the surroundings cool," said the deputy director of the zoo, Bimal Prasanna Acharya.
Coolers have been fitted especially in the enclosures of chimpanzees. "All the enclosures have been covered with hay stacks to keep them cool. Water is being sprayed on their roofs regularly," an official said.
Special care is being taken of animals such as monkeys, squirrels and birds which are prone to heat stroke, he said. Adequate water is being stocked in the artificial ponds for elephants to cool themselves, he added.
"Coolers have been installed in the enclosures where chimpanzees and Himalayan black bears are housed. We are adding Electral powder, ice and glucose to the drinking water of the animals," another official said.
"We have constituted a team comprising veterinary officials and the team inspects all the enclosures in the afternoon to monitor the health of the animals. Besides, we are keeping a watch on the movement of each animal through CCTVs," said Acharya.
The zoo, which is ranked among one of the best in the country, houses 3,812 animals and birds representing 160 species.