All 5,000 mosques in Kerala's lone Muslim-majority district of Malappuram have decided to stay closed indefinitely because the state is witnessing another spike in the coronavirus infection.
Islamic scholar and Malappuram district president of the Indian Union Muslim League, Panakkad Sayyed Sadiq Ali Shihab Thangal, told The Telegraph that eight Muslim denominations had met on Sunday after places of worship were allowed to reopen from June 9.
"Everyone immediately agreed to wait and not utilise the relaxation," Thangal said on Monday.
"There's a clear understanding among the mosque committees and religious leaders that all of us need to be more careful when cases are rising in Kerala."
Malappuram, where Muslims make up almost 75 per cent of a population of 40 lakh, has often been targeted by BJP leaders in an attempt to stigmatise the district.
After the brutal killing of a pregnant elephant in Palakkad district recently, Maneka Gandhi accused Malappuram of "intense criminal activity specially with regards to animals", and Union minister Prakash Javadekar too attributed the atrocity to Malappuram.
Kerala had flattened the infection curve, bringing the number of active patients down to 16, but has witnessed a steady rise in Covid-19 patients since the Centre reopened railway, air and land transport.
On Monday, the state had 1,174 active cases, over and above the 814 recoveries and 16 deaths.
Thangal cited chief minister Pinarayi Vijayan's statement that only 15 people per square metre — or a maximum of 100 people — would be allowed in any place of worship at a time.
He added that the state government had asked places of worship to maintain an entry register of devotees so that if any of them tested positive, the possible contacts could be traced quickly.
"A question that came up at our meetings with the mosque and mahallu (neighbourhood) committees was, what do we do if 101 worshippers arrive at the mosque?" he said.
"It will also be difficult to maintain a register to record each person who prays at the mosque."
Thangal added: "Even if we succeed in meeting all the requirements, we still have a larger responsibility to society. So we decided to keep the mosques closed."
Already on Saturday, the bigger mosques in Thiruvananthapuram and Kozhikode districts and Kochi city had decided to remain closed.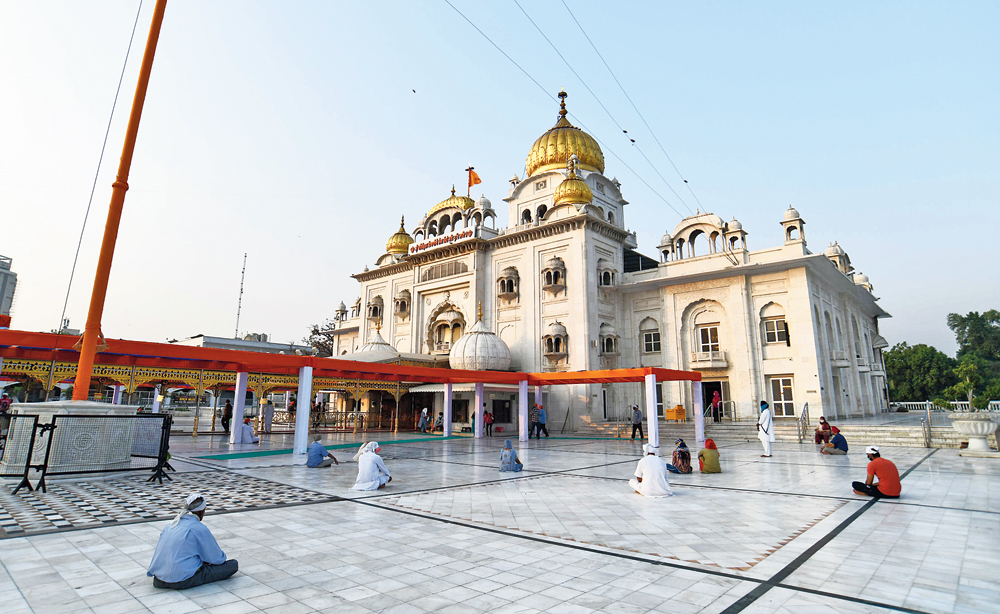 Devotees at Bangla Sahib Gurdwara in New Delhi on Monday, the day places of worship reopened after the lockdown. Picture by Prem Singh
The Congress had been vociferously demanding that the state allow places of worship to reopen.
But Hussain Madavoor, chief imam of the Palayam Juma Masjid in Kozhikode, said: "These decisions have to be based on the ground reality and not on political pressure."
He too cited the difficulty to register everyone. "Many people from other places come to our mosque. Around 4,000 come for Friday prayers," he said.
Up to 400 people pray five times on other days, he added. "None of the big mosques in the cities will open now, only a few in the villages will reopen on Tuesday," Madavoor said.
Madavoor's mosque had closed on March 18, days before the lockdown announced on March 24.
"We didn't open the mosque even for the holy month of Ramazan," he said.
M. Salim, general secretary of the mosque committee of the Palayam Juma Mosque in Thiruvananthapuram, among the first to decide to stay closed, said it would have been impossible to control entry.
"We didn't want to create a situation by denying entrance to anyone beyond 100," he said.
"Our mosque is in the heart of the city. We can't keep a check on people. Since mosques cannot refuse entry to anyone, we decided it would be better to remain closed."
Many temples and churches too have decided not to reopen immediately, among them the Shree Kadampuzha Bhagavthy Temple in Malappuram and the Sree Thirunelly Temple in Wayanad. The Nair Service Society temples will stay closed till June 30.
However, the Sabarimala temple will be open from June 14 to 19 — its next window. The Guruvayoor temple will reopen on Tuesday.
The Ernakulam-Angamaly Archdiocese of Syro-Malabar Church on Sunday decided to keep its churches closed till June 30. Several church bodies are meeting on Tuesday to decide whether to reopen.