Uttar Pradesh: More bodies found floating in Ganga
Corpses were found at three places in Ballia district on Tuesday night, local accounts suggesting a combined tally of about 40 bodies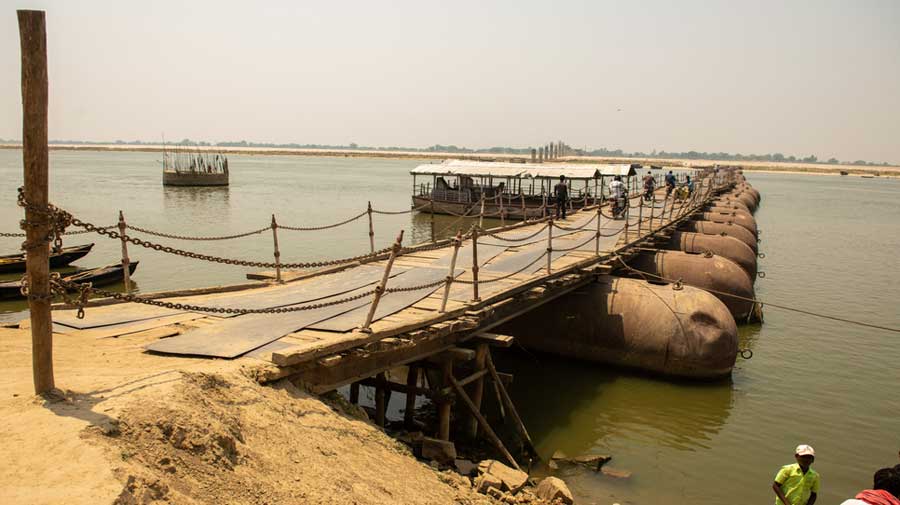 ---
Lucknow
|
Published 13.05.21, 02:52 AM
|
---
Bodies are being discovered floating down the Ganga at a new place by the hour, with local bureaucrats and ministers scrambling to claim the corpses came from elsewhere up the 2,500km river.
After Buxar on Monday and Ghazipur on Tuesday afternoon, corpses were found in the Ganga at three places in Ballia district of Uttar Pradesh on Tuesday night, local accounts suggesting a combined tally of about 40 bodies.
"Bodies were found in the Narahi area under the Ballia-Buxar bridge and were many days old," Ballia district magistrate Aditi Singh said.
Her statement implied the bodies had been thrown into the river further upstream — a claim also made by officials in Buxar (Bihar) and Ghazipur (Uttar Pradesh) and buttressed by a Bihar minister on Wednesday.
Varanasi, Prime Minister Narendra Modi's constituency, is just upstream from Ghazipur. The Ganga flows from Varanasi to Ghazipur and enters Buxar before turning and flowing into Ballia and then re-entering Bihar.
People in Buxar and Ghazipur have, however, said families are "immersing" bodies – mostly of Covid patients -- in the Ganga, unable to secure firewood or pay the bribes demanded by crematory staff. They have alleged that officials too sometimes dump the bodies of Covid patients in the river.
"The bodies were buried or cremated along the riverbank according to the condition of the corpses. We are probing from where they arrived," Singh said.
The more decomposed bodies are buried and the rest cremated, officials said, suggesting the pandemic had obliterated the smashan-kabristan (cremation ground-graveyard) religious distinction that Modi had drawn to polarise Uttar Pradesh voters during the 2017 Assembly poll campaign.
About a dozen bodies were found near Majhi Ghat in the Kotwa Narayanpur area and 17 near Ujiyari Ghat, both places in Ballia, on Tuesday night, local people told reporters.
Some three dozen bodies had been found in the Ganga in the Gahmar and Dildarnagar areas of Ghazipur on Tuesday, and over three dozen in Buxar on Monday.
Bihar water resources minister Sanjay Kumar Jha denied the Buxar bodies could have been local and sought a probe from Union jal shakti minister Gajendra Singh Shekhawat.