Modi Varanasi opponent's election bid scrapped
The EC cited an inconsistency in his papers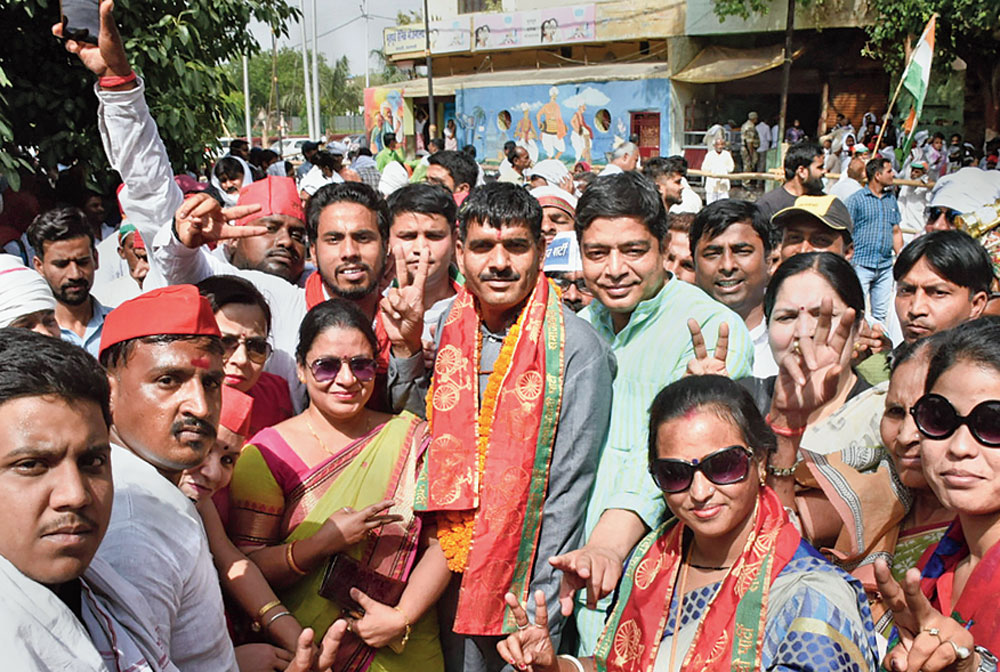 ---
Lucknow
|
Published 02.05.19, 01:00 AM
|
---
The Election Commission on Wednesday cancelled the candidature of mahagathbandhan nominee Tej Bahadur Yadav "Fauji" from Varanasi citing an inconsistency in his papers, prompting Opposition politicians to accuse Prime Minister Narendra Modi of using his clout to get a poll rival eliminated.
Varanasi returning officer Surendra Singh had issued a notice to Fauji on Tuesday asking him to explain within 24 hours a mismatch between his two sets of nomination forms and affidavits.
Fauji had first filed his nomination on April 25 as an Independent before repeating the exercise on April 29 as Samajwadi Party candidate.
"Both my nominations have been rejected. I'm talking to my supporters before taking a final decision whether to approach the Supreme Court," Fauji, fired from the BSF two years ago for protesting the quality of food for jawans, told The Telegraph over the phone.
The nomination forms have a column that asks candidates whether they had been sacked from government service for corruption or indiscipline. In his first form, Fauji had said "yes". In his second, he said "no" and wrote in the accompanying affidavit that the first "yes" was a mistake, because corruption or indiscipline were not the reason for his sacking.
Returning officer Singh had also asked Fauji to furnish a no-objection certificate from the BSF by 11am on Wednesday, which he failed to do.
Scores of retired or suspended army and paramilitary jawans who have been camping in Varanasi to campaign for Fauji were on a dharna near Singh's office on Wednesday evening, protesting Fauji's "harassment". All the suspended troopers had paid the price for protesting corruption and the exploitation of jawans by their superior officers.
Fauji had planned to contest as an Independent to "expose" Modi as someone who seeks votes in the name of the armed forces but lacks any concern for the ordinary jawan. But the Samajwadi Party dramatically announced him as its candidate on April 29, withdrawing Shalini Yadav as its nominee.
Although Fauji said he was yet to take the final decision on approaching the apex court, he said his lawyers in Delhi had rushed to move an application in the top court but couldn't manage it before the closing hours.
"The (poll panel) notice was served to me at 6.15pm on Tuesday and asked me to furnish a no-objection certificate from the BSF by 11am on Wednesday," Fauji told reporters in Varanasi.
"The commission asked the son of a poor farmer to go to Delhi to bring the certificate. I'm not an industrialist like Adani or Ambani — I can't hire a chopper…. Still, my lawyers are sitting at the Election Commission offices in Delhi and Varanasi, trying to get me cleared to contest."
He alleged that BJP spokesperson Sambit Patra and Union minister Dharmendra Pradhan were at the poll panel office in Delhi, "mounting pressure" on its officials "to cancel my nomination because I'm in a position to defeat Modi in Varanasi".
Fauji's candidature and its cancellation have spawned conspiracy theories. Shalini's aides and some political observers had alleged the Samajwadis had decided to field Fauji, a "weak candidate", as a goodwill gesture to Modi.
On Wednesday, some Samajwadi sources claimed the party had deliberately got Fauji to contradict his earlier nomination form to have him disqualified and thus hand Modi a "walkover".
Congress president Rahul Gandhi on Wednesday said that Samajwadi Party chief Akhilesh Yadav and ally Mayawati were afraid of Modi. He did not mention Fauji.
"Modi holds the remote control for Akhilesh and Mayawati. Modi knows their history; so they fear him. But I don't fear Modi because I don't have a history," he told a rally in Barabanki.
Aam Aadmi Party chief Arvind Kejriwal accused Modi of getting Fauji's nomination cancelled out of fear.
"Such instances are rare in history when a country's soldier feels compelled to challenge his Prime Minister. But this is the first time in history that a Prime Minister is so scared of a soldier that instead of contesting against him, he gets his nomination cancelled on technical grounds. You turned out to be very weak, Modiji. The soldier of the country has won."
Advocate Prashant Bhushan termed the poll panel move "totally illegal, as there's no bar (on) dismissed people from contesting".
Section 9 in the Representation of the People Act disqualifies those dismissed from government service for "corruption or disloyalty to the State" from contesting for five years. Fauji was dismissed on the ground of indiscipline.
Varanasi votes on May 19.