Modi trumps Uttar Pradesh caste maths
The Congress decision to contest separately also helped the BJP in more than half-a-dozen seats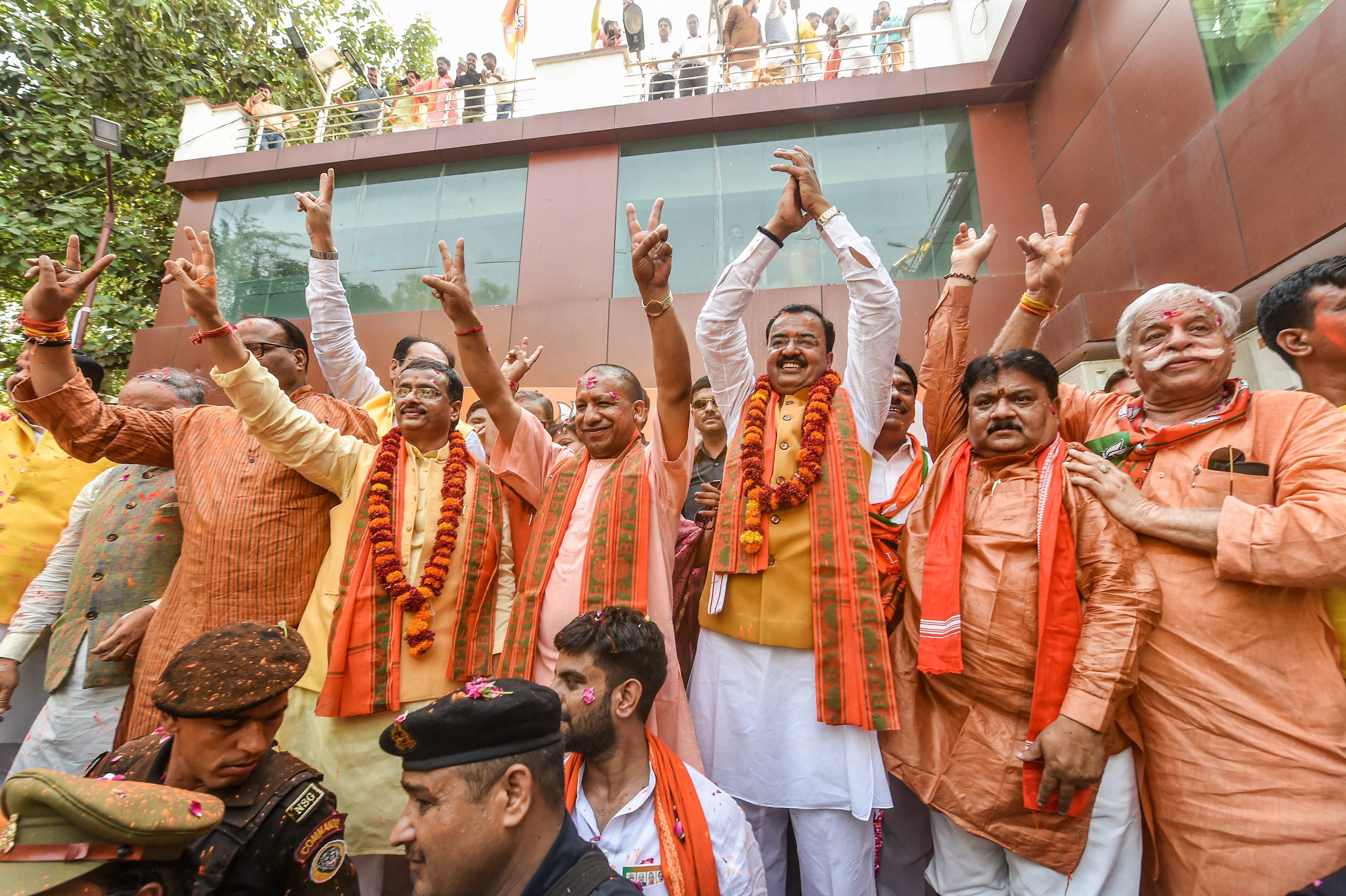 Uttar Pradesh Chief Minister Yogi Adityanath with his Deputies Keshav Prasad Maurya and Dinesh Sharma and others celebrate the party's performance in Lok Sabha elections, at BJP office in Lucknow, Thursday, May 23, 2019.
(PTI)
---
New Delhi
|
Published 23.05.19, 09:36 PM
|
---
The appeal of Narendra Modi pulverised the caste arithmetic of the Bahujan Samaj Party-Samajwadi Party-Rashtriya Lok Dal "gathbandhan" in Uttar Pradesh, and in over a half-dozen constituencies the Congress aided the process by playing spoiler.
By 9pm on Thursday, the "gathbandhan" — which many had hoped would halt the BJP in India's heartland — looked likely to end up with just 15 of the state's 80 Lok Sabha seats.
In terms of vote share, the BJP's performance has surpassed its 2014 showing when, with Mayawati and the Samajwadis contesting separately, it had had won 71 seats in the state while its allies had picked up two.
On Thursday, preliminary projections gave the BJP more than 50 per cent of the state's votes, just as party president Amit Shah had promised.
The gathbandhan did well only in those seats where the combined strength of their three vote banks — Jatavs (BSP), Yadavs (Samajwadis) and Muslims — was well over 50 per cent of the electorate.
The election results imply that Prime Minister Modi's plank of "muscular" nationalism, combined with his execution of certain welfare schemes such as cheap housing and toilets, have trumped the gathbandhan's caste calculations in many seats.
"Women and children from the Yadav and Jatav communities too defied caste politics and voted for the BJP because they were beneficiaries of Modiji's housing, toilets and Ujjwala (cooking gas) schemes," BJP spokesperson K.K. Sharma said.
The Congress decision to contest separately also helped the BJP in more than half-a-dozen seats by causing a division in the anti-BJP votes.
In Badaun, sitting Samajwadi MP Dharmendra Yadav was trailing because Congress candidate Salim Sherwani had cornered a chunk of the votes. Here the spilt in the Muslim vote could pave the way for a BJP victory.
Still, the biggest factor that continued the BJP's domination of India's most politically significant state seemed to be a strong undercurrent of belief, across castes, that there was no alternative to Modi. Or, as the BJP slogan went: "Ayega toh Modi hi (Modi alone can be Prime Minister)."