Modi govt critics support India's decision to contact Taliban
Yashwant Sinha, Mani Shankar Aiyar and others asked the govt to ensure that no political party exploited the situation in Afghanistan to polarise Indian society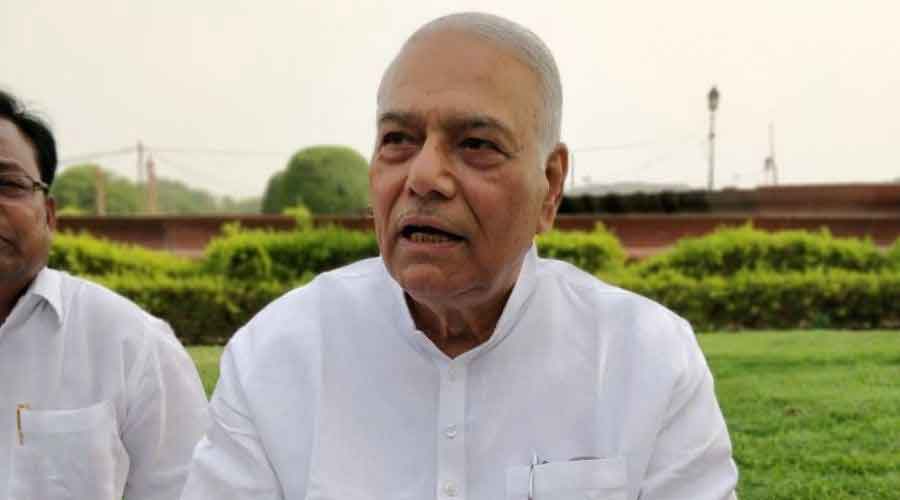 Yashwant Sinha
File picture
---
New Delhi
|
Published 02.09.21, 01:52 AM
|
---
India's decision to establish contact with the Taliban has drawn support from some of the Narendra Modi government's staunchest critics, such as former foreign minister Yashwant Sinha, Congress politician Mani Shankar Aiyar and retired IPS officer Julio Ribeiro.
They and others on Wednesday put their signatures to an appeal to the government to stay the course and ensure that no political party exploited the situation in Afghanistan to polarise Indian society.
Written in the form of an appeal from Indian friends of Afghanistan, the open letter said: "India should continue to engage with the Taliban to achieve the objectives set out in this appeal. We welcome the government's first official acknowledgement of its engagement with the Taliban in Doha and the positive assurances given by the latter."
It urged the government to ensure there was no discrimination on grounds of religion while providing shelter to Afghans who have been forced to leave their country.
"No political party should be allowed to use the developments in Afghanistan to communally polarise Indian society for electoral gains and any such attempts should be dealt with sternly," the letter said.
India had on Tuesday officially acknowledged its first contact with the Taliban after the Afghanistan takeover, saying a senior leader of the group had met the Indian envoy to Qatar at the Doha embassy.
In an appeal to the international community, the open letter said: "No country in the region should be excluded from, nor isolate itself from, collaborative efforts to bring peace in Afghanistan and promote national reconciliation and national reconstruction."
It added: "This requires India, Pakistan, China, Russia, Iran and other countries to evolve and implement a common strategy, in cooperation with the United Nations, USA, EU and other members of the international community."
While asking the international community to jointly shoulder the responsibility for rebuilding Afghanistan's war-damaged economy, the letter urged the Taliban to ensure that no terrorist organisation was given sanctuary.
The other signatories to the letter are former foreign minister Natwar Singh, former Delhi lieutenant governor Najeeb Jung, writers Vaidpratak Vaidik and Saeed Naqvi, retired diplomat K.C. Singh, Gandhian activist Sandeep Pandey, former Rajya Sabha member Majeed Memon, and the former aide to Prime Minister Atal Bihari Vajpayee, Sudheendra Kulkarni.