MLA: Scindia offered bribe
Singhar's accusation heated up the penultimate day of campaigning in Madhya Pradesh ahead of the November 3 by-elections to 28 seats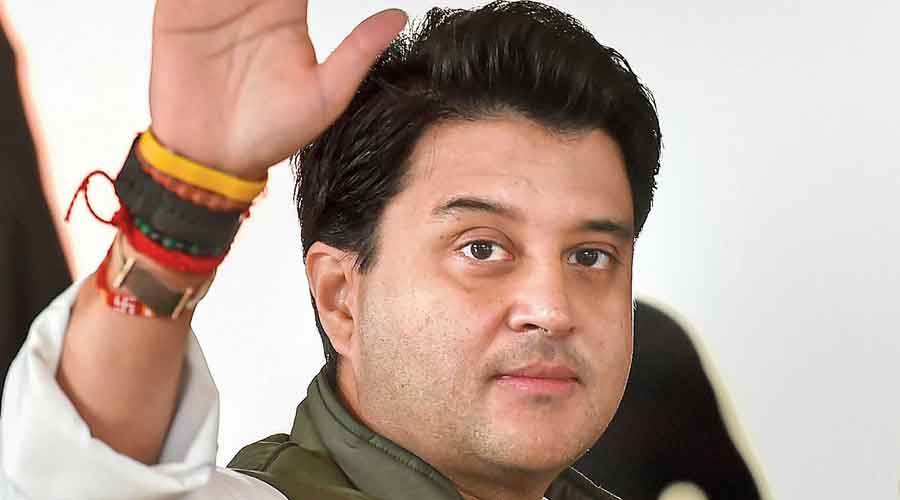 ---
New Delhi
|
Published 01.11.20, 12:44 AM
|
---
Madhya Pradesh Congress MLA Umang Singhar has alleged that Jyotiraditya Scindia offered him Rs 50 crore to join the BJP seven months ago when a series of defections caused a change of government in the state.
Singhar's accusation heated up the penultimate day of campaigning in Madhya Pradesh ahead of the November 3 by-elections to 28 seats, necessitated by the Scindia-led Congress defections that toppled the Kamala Nath government in March.
Singhar had first spoken about the alleged offer at a rally on Friday but not named anyone, prompting state BJP president V.D. Sharma to challenge him to name the person who had approached him.
"I didn't want to reveal the name but as the BJP chief is challenging me to name the person, I'm saying that it was Scindia who talked to me," Singhar said on Saturday.
"He told me there is no future in the Congress. He said given my financial condition, he would arrange Rs 50 crore. He claimed he had already discussed the matter with the BJP. This offer was made when the rebel Congress MLAs were (holed up) in Bangalore."
Singhar, a three-time MLA from Gandhwani in Dhar district, said the offer had included a ministry berth.
"I told Scindiaji I do a different kind of politics. I can't sell my ethics for power," he said.
Singhar claimed the BJP had already started working on a "Plan B" fearing a humiliating defeat in the by-elections. "The joining (defection) of Congress MLA Rahul Lodhi a few days ago is part of Plan B," he said.
The Congress held a news conference, declaring it would approach the Election Commission.
Former minister Jitu Patwari said: "Singhar is now on record saying Scindia made the offer. If the allegation is untrue, let Scindia file a defamation suit."
Several Scindia loyalists denied the allegation. A BJP delegation petitioned the state election commission in Bhopal, accusing the Congress of levelling baseless charges and demanding the strictest action against Singhar.