'Middle path' on education autonomy
According to Modi, the NEP is oriented to enable system to motivate youths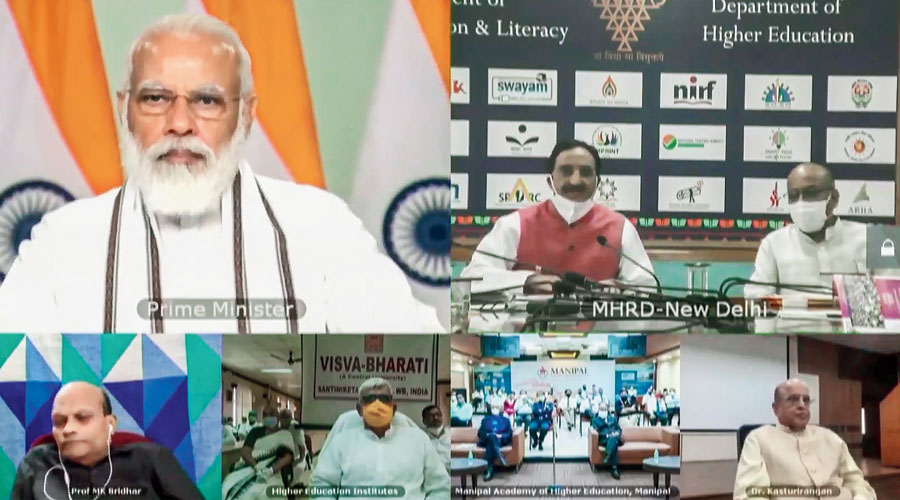 ---
New Delhi
|
Published 08.08.20, 02:32 AM
|
---
Prime Minister Narendra Modi has defined autonomy for academic institutions as a middle path between full government control and a sense of entitlement, while linking freedom to quality.
At the Conclave on Transformational Reforms in Higher Education under the National Education Policy (NEP), held through videoconference, the Prime Minister pitched for empowering higher educational institutions.
"And I know that when the question of empowering the institutions arises, the word autonomy follows. We know that autonomy bears several views. One believes that everything must be run under the control of the government with strictness. However, the other believes that institutions by default must get autonomy," Modi said.
"In the first approach, it shows a mistrust towards the non-government organisations; and on the other hand, the second approach treats autonomy as an entitlement. The path to good quality education lies in the midway of both the opinions. The institutions that strive for quality education must be rewarded with freedom. It helps in encouragement of building of quality and gives everyone an incentive to grow," the Prime Minister said.
The academic autonomy of institutions has come under scrutiny in recent years as the government, through higher education regulator University Grants Commission (UGC), has been issuing instructions on various issues, including topics for research.
Modi said the NEP would accelerate the process of granting autonomy to educational institutions.
The Prime Minister said that for years the education system had remained unchanged, leading to lopsided priorities where people had been focussing on either becoming a doctor, an engineer or a lawyer.
He said there had been no mapping of interests, abilities and demands. According to Modi, the NEP is oriented to enable the education system to motivate youths for a creative, curiosity-filled and commitment-driven life. He said the emphasis of the NEP was on education based on enquiry, discovery and discussion.
The NEP focuses more on an inter-disciplinary approach where a student of science can also study subjects from the humanities stream.