Methanol suspected in Bihar hooch tragedy
46 people died in four separate incidents within a span of eight days that shook the dry stete during the festival season earlier this month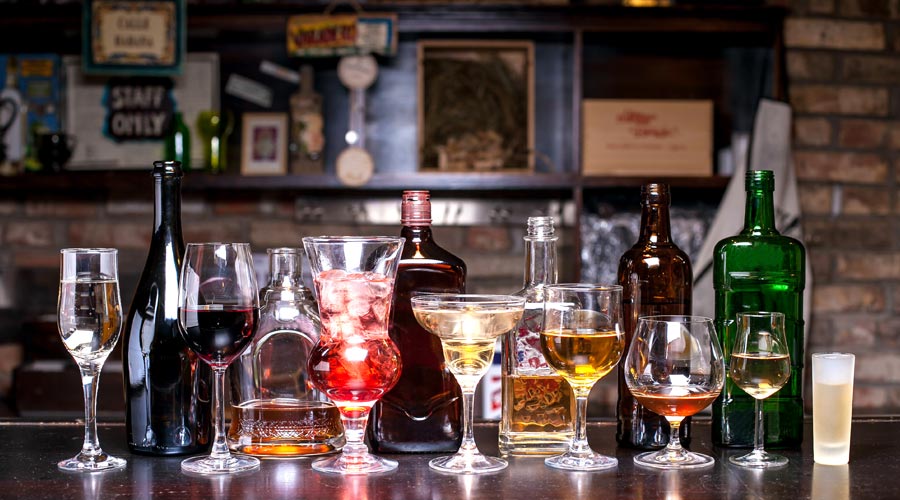 Representational image
File picture
---
Patna
|
Published 12.11.21, 12:21 AM
|
---
Preliminary investigations indicated that methyl alcohol or methanol has been used in making hooch that led to 46 deaths in four separate incidents within a span of eight days that shook dry Bihar during the festival season earlier this month.
The deaths occurred in rural areas in Gopalganj, West Champaran, Samastipur and Muzaffarpur districts.
Though chief minister Nitish Kumar is going to review the situation on November 16, experts are wondering whether the loss of so many lives in quick succession across a large swathe of the state could be solely because of the failure of liquor ban or has some conspiracy also mingled with it.
"We have got inputs about the use of spirit at Telhua village in West Champaran where the hooch tragedy occurred. This is a new and alarming thing and we are verifying it, because its availability in rural area means an outside hand in it," Champaran range deputy inspector general (DIG) Pranav Kumar Praveen told The Telegraph.
Total 16 people had died in and around Telhua village during Diwali after consuming spurious liquor. Several others had to be hospitalised of which a few lost their eyesight.
Similarly, 19 people died at Muhammadpur and neighbouring villages in Gopalganj district last week after allegedly consuming hooch.
Gopalganj district magistrate Nawal Kishor Choudhary, while conducting raids with superintendent of police (SP) Anand Kumar in its aftermath, suspected the use of spirit or methyl alcohol, despite seizing fermented jaggery and substances used in brewing liquor.
Altogether 275 people were arrested, a station house officer (SHO) and seven village chowkidars were suspended, 105 FIRs registered, 2100 litres of liquor, Rs 8 lakh cash and 34 vehicles were seized in the raids.
"We strongly suspect the use of methyl alcohol to be the reason behind the hooch tragedy. We are trying to trace the backward linkages. The same substance was used in the hooch tragedy that happened at Vijaypur in the district in February," Gopalganj SP Anand Kumar told this newspaper.
The police and excise officials in Samastipur and Muzaffarpur also suspected the consumption of methyl alcohol behind the deaths. Right now they all are awaiting post-mortem and viscera reports to arrive at the final conclusion.  
Methyl alcohol or methanol is considered highly toxic. If consumed, it leads to vomitting, vision loss, irreversible damage to the central nervous system and various organs of the body leading to death. Industrially, it is used in manufacturing a vast number of compounds that are used in synthetic dyes, paints, resins, pharmaceuticals, perfumes, antifreezes, and as a general solvent.
Methanol is also used to render ethanol (the main ingredient of alcoholic beverages) unfit for human consumption so that it could be used for industrial purposes only.
"There is no way any person could have died due to the consumption of country liquor or illegally, locally brewed liquor from mahua flowers, jaggery or rice. These have been used in Bihar since ancient times without anybody losing his life. The only reason behind the recent deaths could be the use of methyl alcohol," said Nawal Kishore Singh, a former liquor trader and a well-known name among the erstwhile liquor manufacturers, suppliers and traders in Bihar and Jharkhand.
Singh also asserted that the back-to-back hooch incidents indicated that somebody deliberately supplied methyl alcohol in different parts of Bihar — either out of greed or to discredit prohibition.
"If we consider a longer time frame, seven or eight hooch tragedies have happened in the state in the last 20 days and around 60 or more people have died in them. The most pertinent aspect is that the people who sold spurious liquor did not get ethyl alcohol, which they would have got easily from so many sugar factories or molasses and would not have caused deaths or blindness. They got methyl alcohol instead," Singh added.
Arguing that it is next to impossible for any layman to differentiate between ethyl and methyl alcohols – hence they would not have known what they were using.
Another liquor source, who had been active in the pre-prohibition era (liquor was completely banned in Bihar in April 2016), pointed out that the ban was being flouted across the state with impunity by the nexus of mafia, police, excise officials and patronised by some politicians.
"They are minting money through liquor. Why would they harm their own interests by providing poisonous liquor? They would rather like to preserve their trade. One or two hooch incidents in a year could be understood, but so many incidents suddenly? Maybe someone or some group passed on methyl alcohol to them without being suspected," he said.
The source hinted at the need to investigate the former liquor barons and even some vested interests in the Opposition parties or disgruntled elements in the government to get to the bottom of the deaths.
Around 100 persons died in hooch tragedies in Bihar this year.