Mehbooba runs into ridicule
Social media users tore into the PDP chief, whose popularity dipped after the death of civilians while she was CM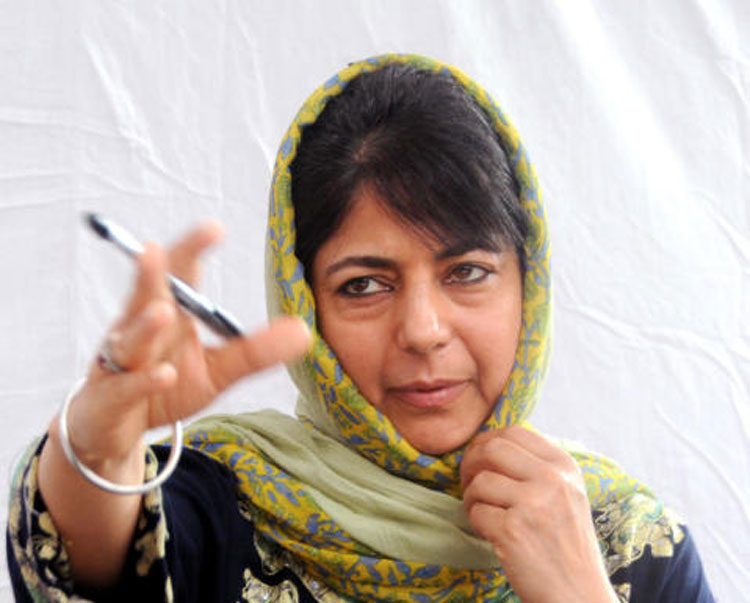 Former chief minister Mehbooba Mufti
Telegraph picture
---
Srinagar
|
Published 18.03.19, 10:06 PM
|
---
Former chief minister Mehbooba Mufti has called her party workers "the real Mujahid", drawing ridicule in Kashmir where the term is used reverentially for militants.
"You perhaps don't understand your power," Mehbooba told her party workers in North Kashmir's Kupwara on Sunday.
"You are not workers. If somebody tells me who is the real Mujahid, (I will tell him) it is the PDP worker…. You don't have stones or guns in your hands but the kind of service you rendered in short time, nobody did it for 50 or 60 years," she added, referring to the ranks of her People's Democratic Party (PDP).
Social media users tore into the Muftis, whose popularity has dipped after the death of scores of civilians and pellet-induced mass blinding while she was the chief minister.
Many said in derision that if the PDP workers are the real Mujahid, then Gulzar Peer is a Taliban. Peer was a faith healer who is in jail for allegedly raping several minor girls.
"Who then is Riyaz Naikoo?" quipped a social media user, referring to Hizb operational chief Riyaz Naikoo. Another said she was a Mujahid of the RSS, apparently because her party was in alliance with the BJP.
Kashmiri journalist Gowhar Geelani asked: "If the PDP workers are the 'real mujahideen', will the SOG (Special Operations Group) and other forces kill them in 'encounters'?"
Security forces have zero tolerance for militants and the army's Valley chief, Lt Gen. J.S. Dhillon had recently sent out a blunt take-no-prisoner message, saying "anybody who has picked up the gun in Kashmir will be eliminated unless he surrenders".
"Go and wash your hand full of blood of the innocent," a Kashmiri scientist working at the King Fahd University in Saudi Arabia posted on Facebook.
A meme that circulated widely on WhatsApp groups showed Mehbooba aide and former education minister Naeem Akhtar dressed as a fidayeen, asking people to join "Hizbul PDP".
Many believe Mehbooba's party took the help of the Hizb to win elections.
In 2015, former RAW chief A.S. Dulat, who served as adviser on Kashmir to Atal Bihari Vajpayee when he was Prime Minister, had written in his memoir that New Delhi knew about Mehbooba's alleged militant connections very early on.
Mehbooba, after losing power last year, has since ruffled many feathers by visiting the families of some militants in south Kashmir.