Mamata seeks to keep focus on regional parties
Bengal chief minister Mamata Banerjee on Wednesday cautioned those trying to belittle the power of regional outfits, saying the combined strength of these parties would pulverise any opposition.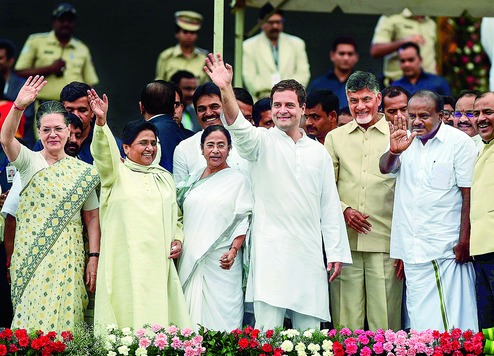 ---
Bangalore
|
Published 24.05.18, 12:00 AM
|
---
Bangalore/Calcutta: Bengal chief minister Mamata Banerjee on Wednesday cautioned those trying to belittle the power of regional outfits, saying the combined strength of these parties would pulverise any opposition.
"Like farmers say, 'whoever fights us will perish', regional parties cannot be taken lightly," she said in a brief statement at Bangalore airport before heading for Janata Dal Secular leader H.D. Kumaraswamy's swearing-in.
The Trinamul leader, who was accompanied by her Andhra Pradesh counterpart N. Chandrababu Naidu, said regional parties were important to build a strong nation.
"If regional parties become strong, it benefits the nation as that too becomes strong," she said.
Naidu, who heads the Telugu Desam Party, echoed Mamata. "We want to strengthen regional forces. That is Mamataji's mission and ours too. That is how we are working," he said.
Among those who attended the 4pm swearing-in were leaders of the Samajwadi Party, Bahujan Samaj Party, Rashtriya Lok Dal, Lalu Prasad's RJD and the NCP, apart from the Left twins CPM and the CPI.
Asked about Amit Shah's view that regional outfits would have no impact on his party, Mamata said the BJP national chief was free to say what he wanted.
"It's their prerogative to say what they want to say, we can only say what we have to say.... We are not scared, nor will be cowed down."
The BJP's Bengal minder, Kailash Vijayvargiya, said Mamata should focus on governance in Bengal instead of nursing national ambitions.
"This dream will remain unrealised next year, just as it did in 2014," Vijayvargiya said.
Mamata and Naidu both claimed that the outcome in Karnataka was a victory of the "regional" JDS, although it is the Congress with 78 MLAs that has won more than twice the number of seats than its post-election ally.
The JDS has won 38 seats in the 224-member House.
"Our meeting here gives strength to regional parties. It is a coalition government here, but we are here to give support to Kumaraswamy as he is leading a regional party," she said.
"We will stay in touch with all regional parties so that we can work for the development of the nation, the development of its people and the development of a federal set-up," she said.
Naidu said they were here in solidarity with Kumaraswamy and his party. "They (the BJP) can't afford to confront regional parties. The nation will be strong when regional parties are strong."
Trinamul sources said Mamata was averse to the idea of the Congress leading a united Opposition and allowing it to call the shots over regional satraps.
Mamata, they said, believes that the Congress is now a regional force and should "behave accordingly".
The Trinamul chief outlined the mission of those seeking to consolidate the national Opposition in the fight against the BJP's advance led by Prime Minister Narendra Modi and Shah.
"Our mission and our vision are very clear, that we meet each other, we talk to each other. We go to every state and talk to each other. That will give us more strength for the future of this nation," Mamata said.
That she would intensify her anti-Centre stand in the lead-up to next year's parliamentary elections became clear from her party's announcement of protest programmes between Friday and Sunday against the surge in fuel prices.
Trinamul secretary-general Partha Chatterjee said the party's youth wing would take out a major protest rally in Calcutta from 2pm on Friday between Wellington Square and Park Street.
Similar programmes have been lined up on Saturday and Sunday in every district, Chatterjee added.
In Bangalore, Mamata mingled freely with leaders from other secular parties who attended the swearing-in at the Vidhana Soudha, the southern state's seat of power.
Kumaraswamy, who addressed a media conference after taking oath, said Mamata had given him tips on running the government.
"I spoke to Mamataji and she explained to me how to run the government and politics," the JDS leader said. "I will try and make it work."