Malayalam film on students' protest blocked
The motion picture portrays a Delhi institution but does not name JNU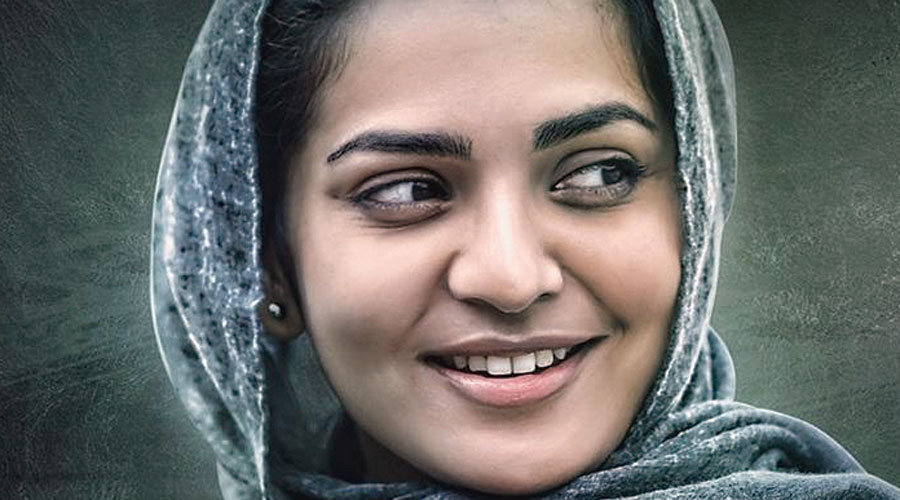 Parvathy, who plays a Muslim student in the film
Sourced by The Telegraph
---
Bangalore
|
Published 29.12.20, 03:38 AM
|
---
The Kerala regional office of the Central Board of Film Certification has withheld clearance to a Malayalam film on a students' protest, apparently after at least one pro-BJP board member linked the movie to JNU and dubbed it "anti-national".
V. Sandeep Kumar, board member and state vice-president of the BJP's Scheduled Caste Morcha, later posted a tweet attributing his objections also to Varthamanam (The Present) being produced and written by Aryadan Shoukath, a Congress politician and filmmaker. Kumar later deleted the tweet.
Shoukath said the CBFC had in a notice conveyed that the film, directed by Siddarth Siva, had been referred to its reviewing committee but not stated any reason or any date.
"As a member of the censor board (CBFC) I watched the film Varthamanam today," Kumar's now-deleted Malayalam tweet, posted on Thursday, said.
"The topic is the attack on Muslims and Dalits in JNU. I objected to it because the scriptwriter and producer is Aryadan Shoukath. The film's content is definitely anti-national."
The film portrays a Delhi institution but does not name JNU.
Shoukath expressed shock at the board's decision and at his film on communal harmony being labelled "anti-national". He suggested the objections were linked to his religion. Shoukath is a Muslim.
"Is a film certified based on the scriptwriter's race and lineage? How can a students' agitation on a Delhi campus and democratic struggles become anti-national?" Shoukath wrote on Facebook.
"He (Kumar) is openly declaring that the film relates to attacks on Dalits and Muslims at JNU and that he objected because its scriptwriter and producer is Aryadan Shoukath. We are still living in democratic, secular, socialist India."
Varthamanam revolves round a Muslim student from north Kerala, played by Parvathy Thiruvothu, who goes to a Delhi college to research freedom fighter Mohammed Abdurahiman Sahib who served as president of the Congress's Malabar unit in 1939. The film does not name JNU.
Roshan Mathew and Dain Davis play pivotal roles in the film, shot in Delhi, Uttarakhand and Kerala.
"I can't imagine this film about communal harmony being portrayed as anti-national. I have information that two of the four members raised objections while the other two backed the film," Shoukath told The Telegraph on Monday.
"It's based on the theme of communal harmony and decries both Hindu and Muslim fundamentalism. It focuses on the philosophy of Mahatma Gandhi, Rabindranath Tagore and Subhas Chandra Bose."
Shoukath added: "Abdurrahiman Sahib was a true nationalist who dissuaded those Muslims who wanted to go to Pakistan. The film is about the values upheld by a man like him, based on the secular-democratic principles of the founding fathers."
This newspaper could not contact Kumar for his comments since the state BJP office in Thiruvananthapuram said it didn't have his phone number.
Actor and filmmaker Murali Gopi condemned the CBFC decision and called for an end to the board's being used to further the ruling party's agenda.
"Censorship is the crutch of dictatorship. If that has become the practice in a democracy, it can only mean that democracy has failed," Murali, son of the legendary Malayalam actor Gopi, said in a Facebook post on Monday.
"Patriotism and nationalism are not words that should be limited to the vocabulary of a particular group. Since this is the reality, every artiste has the responsibility to raise their voice against such a tendency."