Azad's rallies banned till Jan 2, with Bhima-Koregaon in mind
Dalit leader says he was detained in Mumbai hotel by police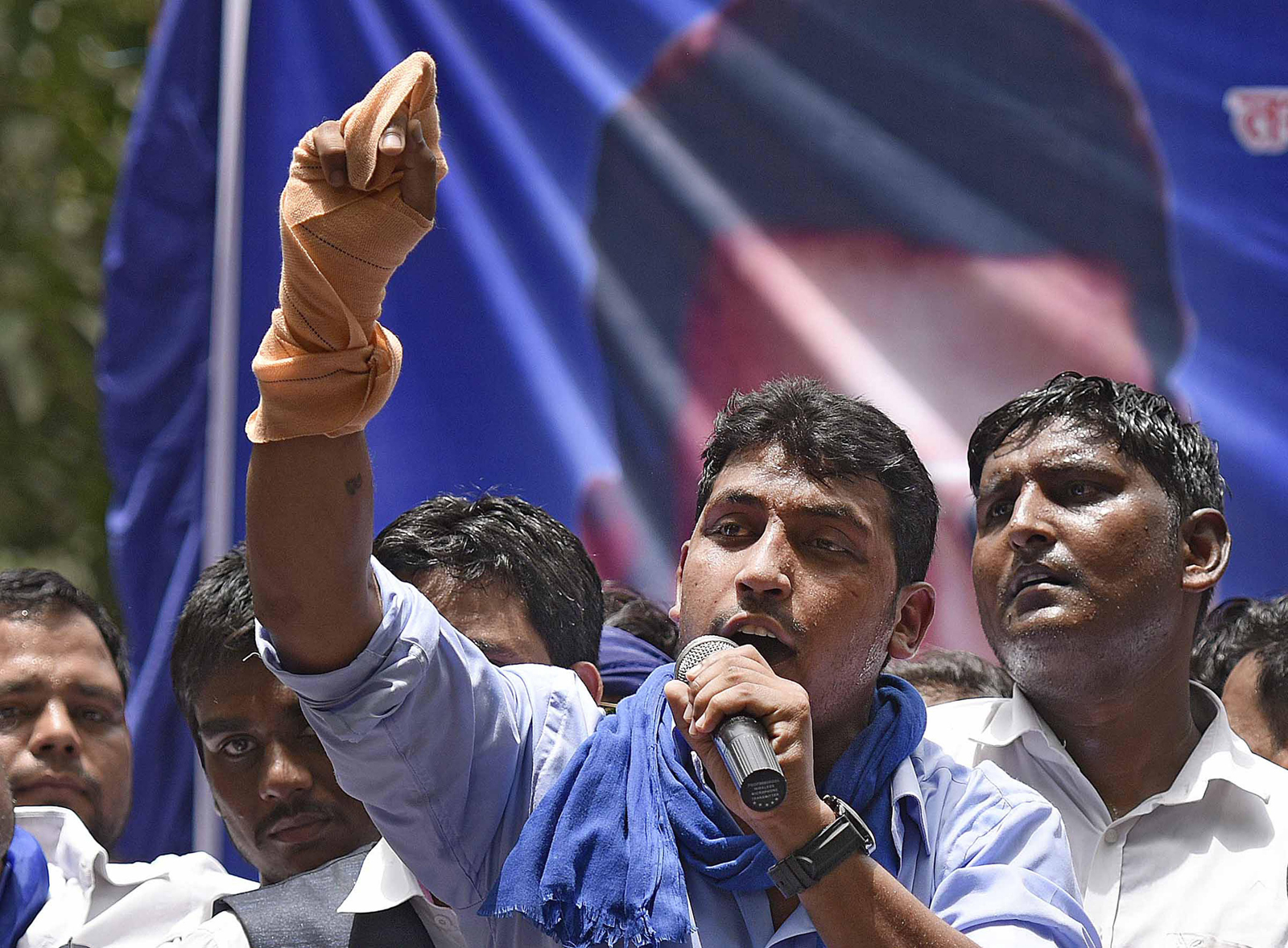 Chandrashekhar Azad on his first visit to Maharashtra to attend the 201st anniversary of the Bhima-Koregaon battle — a symbol of the victory of the Mahar Dalits over the Peshwas of Pune
The Telegraph file picture
---
Mumbai
|
Published 31.12.18, 10:23 PM
|
---
Maharashtra minister Deepak Kesarkar on Monday said Bhim Army chief Chandrashekhar Azad wouldn't be permitted to hold rallies in the state till January 2, the ban coinciding with the first anniversary of the Bhima-Koregaon violence that left one person dead this year.

"Chandrashekhar Azad can come to Maharashtra anytime after January 2 and hold as many rallies as he wants. Considering last year's incident, police's priority is to maintain law and order. They acted accordingly," Kesarkar, minister of state for home, said.
Azad, who had arrived in Mumbai last Friday, has alleged that police kept him under detention in a hotel in the western suburb of Malad East.
Worli police station had denied him permission to address a rally in Jamboree Maidan.
The Dalit leader left on Sunday for Pune, where a scheduled meeting at the Savitribai Phule Pune University was denied permission.
"I will leave for Bhima-Koregaon on Tuesday morning. All our members will go to Bhima-Koregaon. They cannot stop us," Azad said.
The Bhim Army chief is on his first visit to Maharashtra to attend the 201st anniversary of the Bhima-Koregaon battle — a symbol of the victory of the Mahar Dalits over the Peshwas of Pune.
Eight hundred and thirty four mainly Mahar troops of the East India Company had defeated the 28,000-strong Peshwa army in Bhima-Koregaon, 28km from Pune, on January 1, 1818.
For Dalits, the commemoration has become an annual pilgrimage. But violence had marred celebrations this year on January 2, leaving one person dead. This time round the Maharashtra government is keen to avoid any possible flashpoint.
"We have denied permission to Sambhaji Bhide and Milind Ekbote too," said a senior officer in Pune (rural) police.
Several complaints had been filed against Bhide and Ekbote for instigating the violence but no action has been taken against the right-wing leaders.
Pune police denied they had placed Azad under arrest or detention when a petition filed by the Bhim Army's Pune unit chief, Datta Pol, came up for hearing before a vacation bench of Justice C.V. Bhadang in Bombay High Court.
The bench refused to issue any orders to the Pune police in the matter. The next date of hearing has been scheduled for January 4.
Pol had appealed before the high court to instruct the police to allow the Dalit outfit to hold rallies in Pune.
"My client has repeatedly sought permission from the police to hold rallies in Mumbai and Pune which were announced in advance. The police did not inform us. We learnt from the media that permission was denied. So we appealed to the court to direct the police to grant us permission," Nitin Satpute, the counsel for Pol, said.
The high court has directed the police to file an affidavit before the next hearing.