Letters to the Editor: Finding newness in the mundane
Readers write in from Calcutta, Jamshedpur, Kannur, Nellimarla, Chennai and Mumbai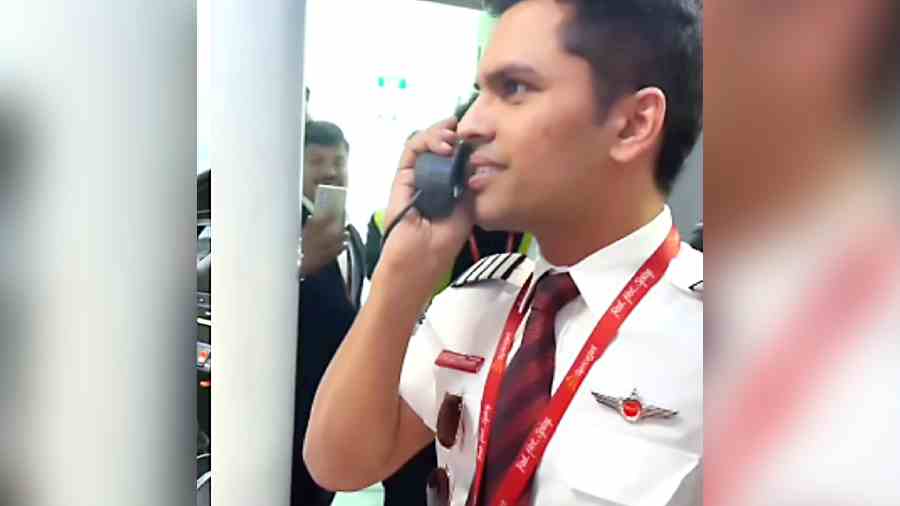 ---
Published 04.01.23, 04:25 AM
|
---
Touch of novelty
Sir — Anyone who has been on a flight knows how boring welcome and safety announcements can be. But the SpiceJet pilot, Mohit Teotia, decided to spice things up by welcoming his passengers and explaining flight protocols through poetry. A video of this has won several hearts on the internet. It would not be wrong to say that his poetry may have soothed the nerves of anxious first-time flyers and made even jaded travellers sit up and take notice of important safety instructions. Like the pilot, who found a unique way to do his routine job, we too must find newness in the mundane. The modern phenomenon of burnout is caused not just by excessive work but also by the sameness of that work. A touch of novelty can go a long way towards breaking the monotony.
Simran Dutta, Calcutta
Case closed
Sir — People experienced many practical difficulties when the government demonetised high-value banknotes in 2016 — standing in long queues in terrible weather to exchange devalued currency was just one of these ("Valid points", Jan 3). People even lost their lives from stress and exhaustion. One of the judges of the fivejudge Supreme Court bench hearing a clutch of petitions on the legality of demonetisation has thus rightly declared it invalid. However, the majority decision of the bench, which will prevail, found the reasoning behind demonetisation "flawless". Surely, there could have been a better way to rid the market of black money.
Sravana Ramachandran, Chennai
Sir — A Supreme Court bench upholding the radical step of demonetisation is a relief for the Centre. Although demonetisation is now a thing of the past and the verdict would not have had any effect, the declaration will help the government justify its act, which was previously considered illogical and even illegal. However, in spite of its legal rationale, demonetisation will be remembered as an ill-prepared, drastic step.
D.V.G. Sankararao, Nellimarla, Andhra Pradesh
Sir — At this juncture, the only good that the apex court judgment on demonetisation could have done was to provide legal closure to one of the most disruptive and painful economic policies in recent memory. But the 4:1 majority judgment has found demonetisation to be constitutionally valid. The court held that the Reserve Bank of India and the government followed the mandated procedure in issuing the notification for demonetisation. It stated that the court's role was to confine its inquiry to procedural irregularities, rather than to look at the substance of the economic policy. If the petitioners were looking to the courts for a cathartic moment, this was not it.
Bikiran Das, Calcutta
Sir — Reading the judgment of the Supreme Court on the legal validity of demonetisation, one is left with a sense of futility. There is no clarity on how it could have been avoided. The majority judgment highlights how all procedural rules were followed while subverting the applicable norms themselves. As the judgment implies, procedural safeguards provide effective checks only if all parties are equally invested in following them in spirit. It is safe to say that this was not the case with demonetisation.
K. Basu, Calcutta
Shameful conduct
Sir — It was shocking to learn about the abuse of power by the hockey star, the former Olympic champion and incumbent sports minister of Haryana, Sandeep Singh. Chandigarh police are currently investigating the charges of sexual harassment filed against the minister by a national-level woman athlete and coach. She has alleged that the minister demanded to see her certificates for official purposes and attempted to harass her at his residence-cum-office, adding that the police were nonchalant about her complaint. There must be a thorough investigation of the charges against Singh and, if found guilty, his tenure in the assembly must be terminated and appropriate punishment meted out to him.
Bhagwan Thadani, Mumbai
Difficult transition
Sir — If the former president of Brazil, Jair Bolsonaro, indeed had the support of his people as he claimed, why did he leave the country without fulfilling his responsibility of handing over the reins to Luiz Inácio Lula da Silva? Lula had pledged accountability and promised to focus on the preservation of the Amazon rainforests, which witnessed a 60% increase in deforestation under Bolsonaro. The latter's policies saw climate change as a mere deterrent to industrialisation. Lula is working on troubled terrain and faces several challenges.
Jang Bahadur Singh, Jamshedpur
Drive safely
Sir — Over-speeding, drunk driving, distracted drivers and lack of road maintenance are the primary causes of automobile accidents. A study by the Central Road Research Institute claims that exhausted drivers who doze off at the wheel are responsible for about 40% of road accidents. Inadequate rest endangers lives. It is thus important to spread awareness about the need to take frequent breaks during and proper rest prior to driving. Experts have also concluded that most accidents take place either between midnight and 4 am or during the post-lunch period. Night patrolling, limiting the speed of heavy vehicles, anti-sleep devices in drivers' cabins and strict measures against driving under the influence could reduce road accidents. Resting zones for drivers must be built to help them. 
M. Pradyu, Kannur, Kerala
Parting shot
Sir — In spite of their anti-Christian propaganda, members of several rightwing Hindutva organisations try to admit their children to prestigious convent schools. It is hypocritical to criticise a certain group and then reap benefits from them.
Anthony Henriques, Mumbai