Over 5 lakh migrants ferried to their native states in special trains: Govt
More than 2 lakh return to UP; 9,000 from Tamil Nadu sent back home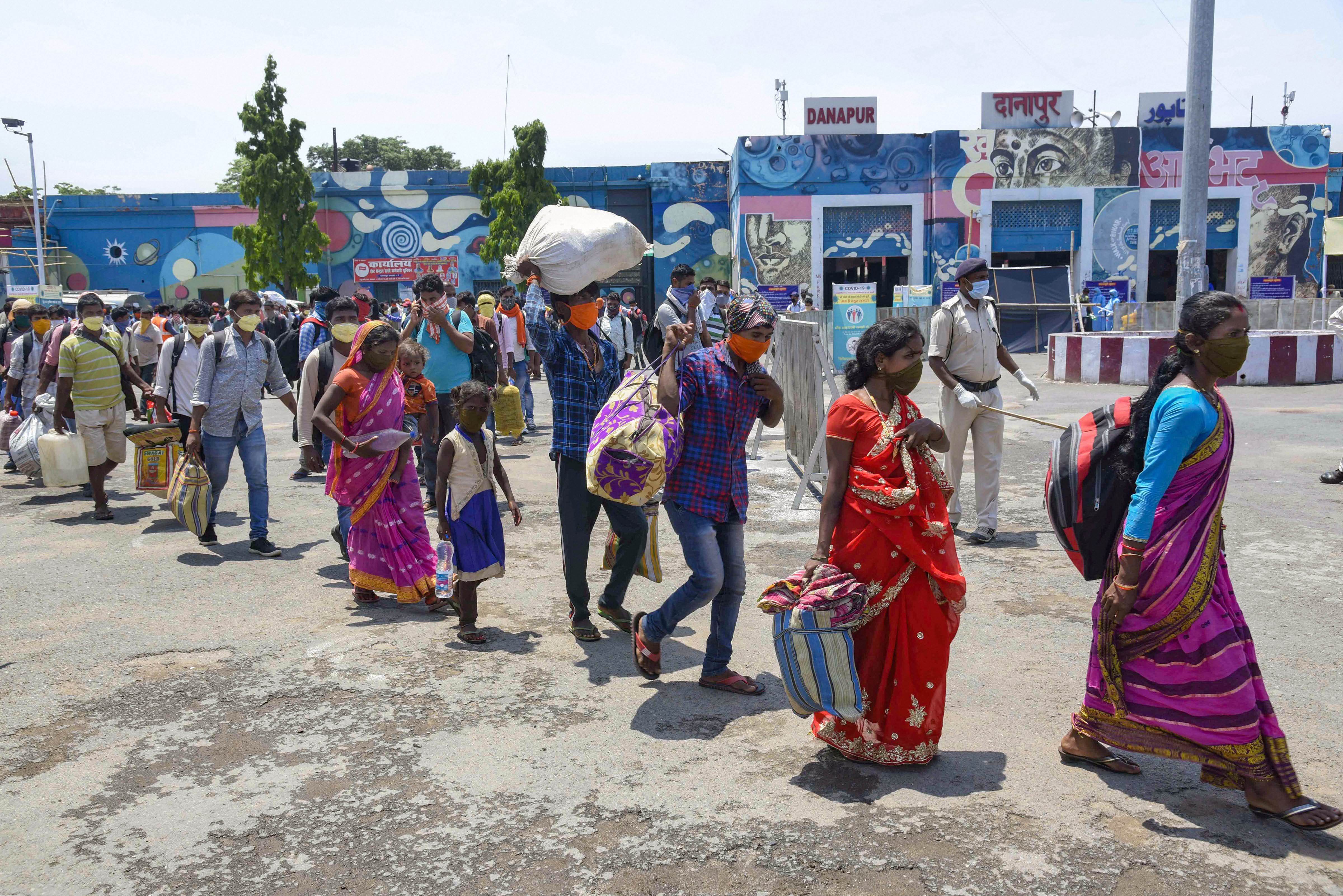 Migrants arriving by a special train, wait in a queue to board buses to reach their homes, during the nationwide lockdown in the wake of coronavirus pandemic, in Patna, Monday, May 11, 2020
PTI
---
New Delhi
|
Published 11.05.20, 12:33 PM
|
---
Taking a note of the unconventional means of travel, the Centre, earlier in the day, asked the states to ensure that the migrants travel home on the special trains being run for them from various parts of the country.

Union home secretary Ajay Bhalla said that in case the labourers are found in such condition, they should be appropriately counselled, taken to nearby shelters and provided with food, water etc. till such time they are facilitated to board the Shramik Special trains or buses to their native places.
Sixteen migrant workers, who were walking back home to Madhya Pradesh were mowed down by a goods train in Maharashtra's Aurangabad last week after they fell asleep on railway tracks.
9,000 migrants from TN sent to native states: CM
Tamil Nadu chief minister K. Palaniswami on Monday said 9,000 guest workers have been sent to their native states by special trains and assured facilitation for the rest of migrant labourers to return home in a week.
The government has been taking all steps for staggered departure of guest workers if they choose to go home and also based on the concurrence of their home states, Palaniswami said.
'So far 9,000 guest workers have been sent to their respective states on eight trains and following the concurrence of concerned State governments,' the chief minister said in an official release.
Efforts were afoot to send the remaining workers to their homes in a week after getting the nod of their respective state governments, he said.
'Till such time, I appeal to guest workers to stay put in their respective camps,' he said, following recent reports of some workers trying to reach railway stations out of anxiety.
Chennai police commissioner A. K. Viswanathan on Sunday visited guest workers from northern states housed at Pallavaram and inspected the amenities there and assured them that they will soon be sent home.
'Thermal screening of passengers done and social distancing ensured while boarding and on board,' Southern Railway general manager said on his twitter handle.

With the Centre allowing movement of stranded people, various migrants, especially labourers, have now returned to their native states.
The migration became possible after the government on May 1 allowed special trains to ferry those stranded in different states to go back. At least 468 trains, named Shramik Special, have ferried over five lakh people since it began running, the Centre said on Monday, adding that it will now run 100 such trains daily to facilitate faster movement of workers. 
From Monday, these trains started carrying around 1,700 passengers each instead of the earlier 1,200 to ferry as many workers home as possible.

However, in a desperate bid to go back to their native places, many migrants took to walking, cycling or other measures. Reports showed people cycling, walking or using trucks for travel.
Over 2 lakh workers back in UP in special trains till now: Official
Over two lakh workers stuck in other states due to the coronavirus lockdown have been brought to Uttar Pradesh in special Sharmik trains till now, an official said on Monday.
Besides, over one lakh workers have returned to the state through other modes of transportation in the past four days, he added.
Till Monday morning, 184 trains arrived in the state with 2,20,640 migrant workers. Sixteen trains arrived on Monday and 55 more will be coming later in the day with 70,000 workers, additional chief secretary Awanish Awasthi said.
Awasthi said details about them along with their skill set are being collected.
In recent days, the UP government has said it is working on plans to generate about 20 lakh jobs for migrants returning home from other states due to the nationwide lockdown imposed after the coronavirus outbreak.
Awasthi said strict instructions have been issued to provide conveyance to even those who arrive at state borders on foot. Stranded Indians who arrived in Mumbai quarantined 
As many as 827 Indians, who landed at the Mumbai international airport from abroad so far since Sunday, have been kept under institutional quarantine as per the guidelines for Covid-19, a civic official said.
However, none of them has been shifted to any isolation facility, he said.
Isolation separates sick people with a contagious disease from those who are not sick, while quarantine separates and restricts the movement of people who were exposed to a contagious disease to see if they become sick.
So far, four flights have landed in the city—one each from London, Singapore and Manila on Sunday and one from San Francisco on Monday—a Brihanmumbai Municipal Corporation (BMC) official said.
Excluding the crew members, the flight from San Francisco had 105 passengers onboard, and the flights from London, Singapore and Manila carried 329,243 and 150 passengers, respectively, he said.
'None of them has been shifted to an isolation facility,' the official said.
Out of the total passengers who landed here, those belonging to Mumbai were kept under mandatory institutional quarantine in hotels near the airport, while those hailing from other cities were taken to their respective places by state transport buses and tourist cabs, sources said.
The civic body has reserved over 3,340 rooms in 88 hotels for keeping these passengers brought back to India under 'Mission Vande Bharat', under institutional quarantine.