Fodder scam: Lalu arrives in Patna
The case in the CBI court pertains to the illegal withdrawal of Rs 46 lakh from Banka district treasury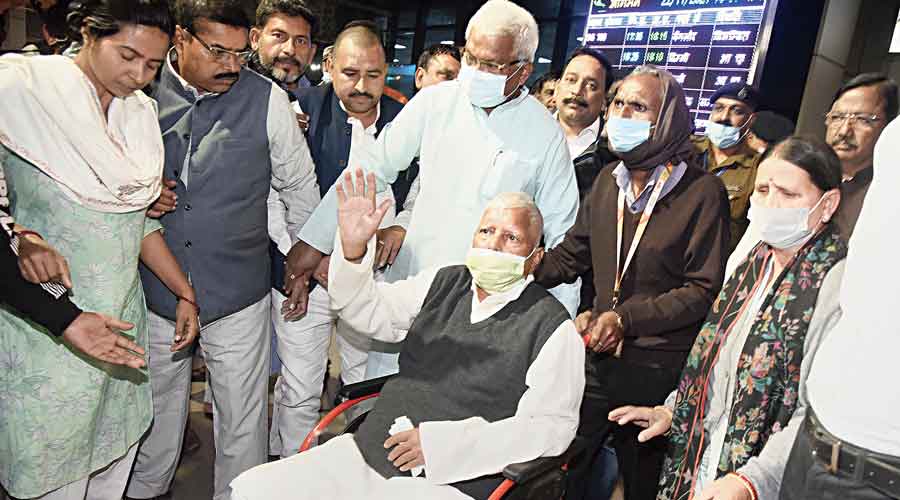 Rashtriya Janata Dal chief Lalu Prasad arrives at Jai Prakash Narayan airport in Patna on Monday.
PTI Photo
---
Patna
|
Published 23.11.21, 02:41 AM
|
---
Rashtriya Janata Dal (RJD) national president Lalu Prasad arrived in Patna on Monday. He has been summoned by the CBI court here to be physically present in hearing for one of the Rs 1,000 crore fodder scam cases on Tuesday.
The case in the CBI court in Patna pertains to the illegal withdrawal of Rs 46 lakh from Banka district treasury.
The RJD chief faced altogether six fodder scam cases — five in Jharkhand and one in Bihar. He has already been convicted in four cases in Jharkhand and came out on bail in April this year after serving around three-and-a-half years in jail.
He had come to Patna previously on October 24 to campaign for the bypolls to the two Assembly seats and returned to Delhi on November 3 after falling ill. He is a diabetic and suffers from various ailments related to heart and kidneys.
Before leaving Delhi, the RJD chief attacked Bihar chief minister Nitish Kumar over prohibition, hooch tragedies and police raids at weddings in search of liquor. "This is what is happening in Nitish Kumar's rule. Prohibition has failed and people are dying after drinking spurious liquor. The state lost revenue and people lost their lives. Home delivery of liquor is also happening in the state," Lalu said.
The 74-year-old leader, famous for his rustic charisma, asserted that he had told Nitish in 2016 about how prohibition would succeed because of the geographical location of the state.
"I had pointed it out to Nitish that Bihar was like an island surrounded by Uttar Pradesh, Jharkhand, Bengal and Nepal and asked him how he would succeed in implementing the ban on liquor. I had suggested him not to ban toddy (fermented palm tree sap) to which he said that he would get neera (unfermented sap) and other products made from it. This project also failed," Lalu said.
The RJD chief also revealed that he had asked Nitish to consider ending prohibition, but now it was for the government to think about it. He said that his party and the Congress were still together and suggested that Lok Janshakti Party chief Chirag Paswan should also join them.
Apart from attending the court, Lalu will also light and inaugurate a six-tonne stone lantern at his party's state headquarters to mark silver jubilee year of the foundation of the party. It will run on gas and burn continuously. Lantern is the RJD's election symbol. This is the silver jubilee year of the foundation of the party.