Ladakh: Bond seeks to muzzle Sonam Wangchuk
Magsaysay Award winner asked to not make any statements for a month over the recent happenings in Leh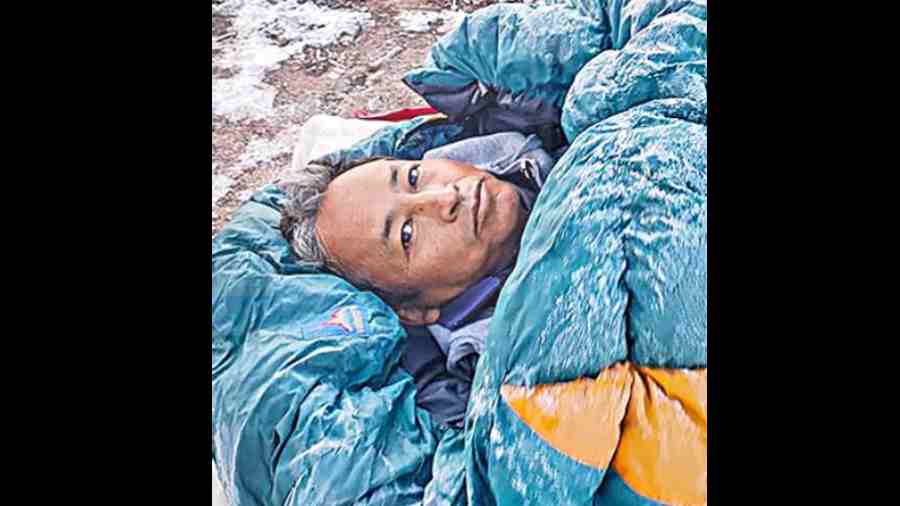 Wangchuk on his fast in Phyang on Saturday.
PTI picture
---
Srinagar
|
Published 29.01.23, 03:55 AM
|
---
A dreaded bond that helped the government silence Kashmiris after the 2019 scrapping of the special status has reached the cold desert of Ladakh to muzzle dissent in the region.
The Ladakh administration on Saturday wielded the bond against Magsaysay Award-winning environmentalist Sonam Wangchuk, whose life had inspired Aamir Khan's character in the 2009 film 3 Idiots and who is now fasting to press for special status for the region.
The bond asks Wangchuk to promise not to make any statements for a month over the recent happenings in Leh.
It also asks Wangchuk not to participate in any public gatherings, for a month, over the recent developments in Leh, now bristling with protests demanding special status under the Sixth Schedule of the Constitution.
Wangchuk, 56, began his five-day fast on Thursday at Phyang, Leh, where the night temperature is minus 20 degrees Celsius. Videos and pictures showing a blanket-wrapped Wangchuk sleeping on an open field have earned him support and admiration.
On Saturday, Wangchuk posted images of the bond — issued under "section 107 CrPC read with section 117 CrPC" — which he has been asked to sign. He asked "lawyers of the world" to take notice.
"The #Ladakh UT administration wants me to sign this bond even when only fasts & prayers r happening. Pls advise. How right is it, should I silence myself ! I don't mind arrest at all," he tweeted.
The bond reads: "That I undertake that I will not make any comment(s) or issue statements(s) or make public speech(es), hold or participate in any public assembly(s)/ any activity related to recent events in Leh district, at the present times, since it has the potential of endangering the peace and tranquillity and law and order in the district or any part thereof for a period of one month."
The bond allows Wangchuk, an engineer turned innovator, to hold his fast at a place called "Heil/Secmol campus" under certain conditions, including a promise that he would not create any lawand-order problem or "incite anti-government sloganeering activity".
It warns him of "legal action" for any violation and says he would be "fully responsible for any eventuality".
There is no direct threat of arrest but he will have to shell out Rs 1 lakh for any breach of the bond.
Wangchuk had planned to hold his fast at Khardung La pass, one of the world's highest motorable roads, but he said the government's denial of permission and adverse weather put paid to that.
Unlike Kashmiri leaders such as Farooq Abdullah, Omar Abdullah and Mehbooba Mufti, Wangchuk can count himself lucky that he can at least throw the government a dare.
Thousands were arrested in Kashmir after the constitutional changes of August 2019 and many were asked to sign a similar bond — tweaked to impose harsh restrictions — if they wanted to be released. Many relented but some did not.
Legal experts have described these bonds as a violation of the fundamental right to free speech and expression.
Ladakhis, who had cheered when Article 370 was diluted and Jammu and Kashmir split into two Union Territories in August 2019, are now fighting for statehood and special status for Ladakh. They fear that outsiders might otherwise take away their jobs and land following the August 2019 changes.
Wangchuk argues that without special status, Ladakh would face an ecological disaster.
His fast comes at a time two major alliances in Ladakh have refused to participate in the proceedings of a high-level panel that the Centre has formed to discuss job and land safeguards for the region. They want specific discussions under the Sixth Schedule, which allows a certain degree of autonomy.