Kumbh Mela axe on Allahabad weddings
At least 2,000 wedding functions will now have to be cancelled, the head of an association of marriage halls in Allahabad estimated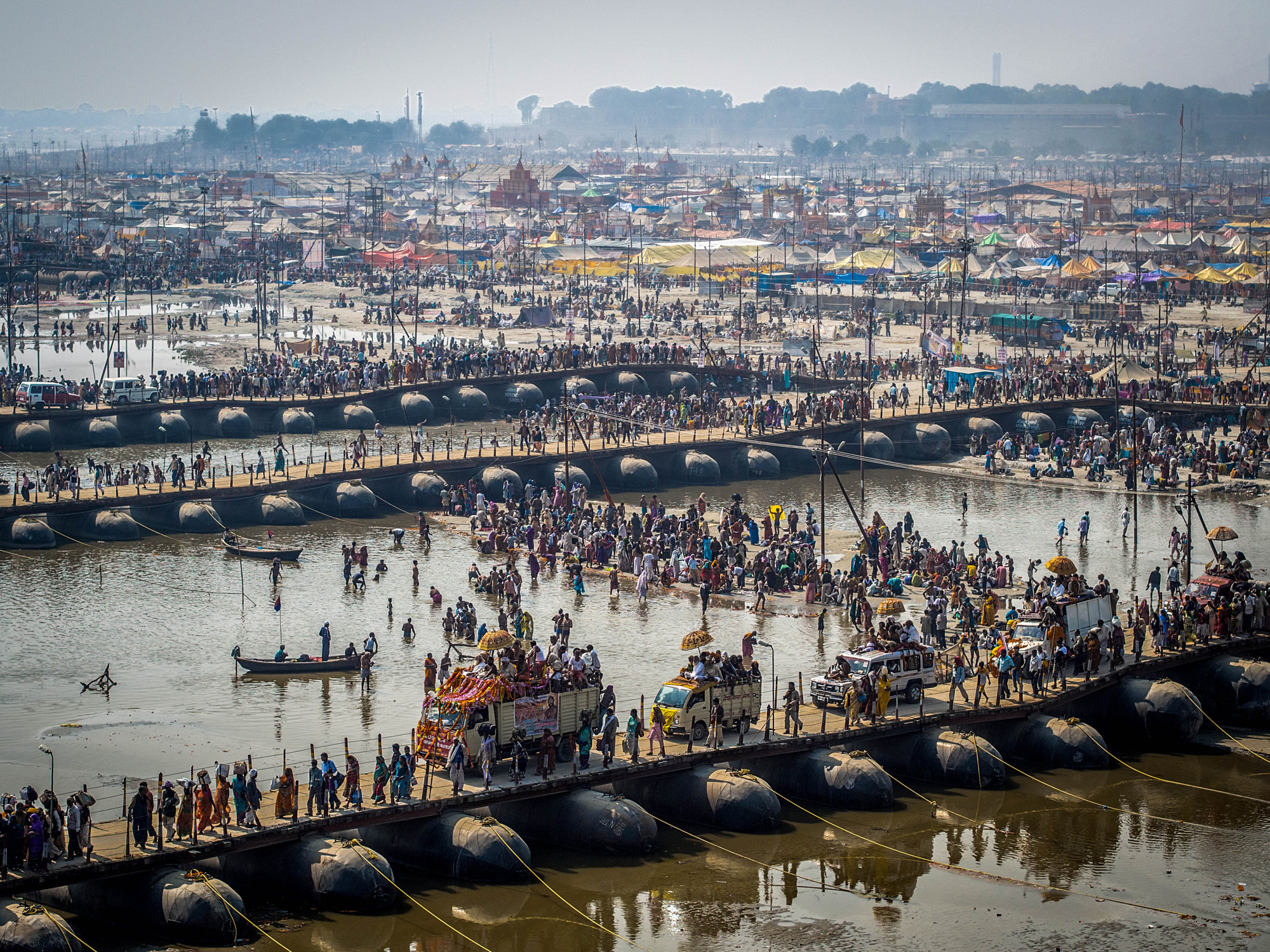 Thousands of Hindu devotees crossing the pontoon bridges over the Ganges River at Kumbh Mela festival in Allahabad, India, the world's largest religious gathering.
Shutterstock
---
Lucknow
|
Published 01.12.18, 09:17 PM
|
---
Yogi Adityanath's administration has allowed a pilgrimage to interfere with people's private lives, ordering hotels and marriage halls in Allahabad city to cancel all bookings for weddings during the Ardh Kumbh Mela days earmarked for bathing in the Ganga.
At least 2,000 wedding functions will now have to be cancelled, the head of an association of marriage halls in Allahabad estimated, asking not to be identified.
"Many of these families had booked the halls a year ago. I don't know how they will handle the situation, and how we'll bear the blow of having to refund the advance they paid," he said.
"A fifth of these weddings are Muslim marriages," he added.
The Ardh Kumbh is scheduled from January 14 to March 4, with the holy dips earmarked for Makar Sankranti (January 14-15), Paush Purnima (January 21), Mauni Amavasya (February 4), Basant Panchami (February 10), Maghi Purnima (February 19) and Maha Shivaratri (March 4).
According to the order from the district administration, no hotels or community halls can host weddings on the days of the holy bath and the day before and after. Since one of the six holy dips is spread over a two-day window, altogether 19 days of bookings must be cancelled.
Being auspicious days, these dates coincide heavily with weddings. In Uttar Pradesh, most weddings are held in community halls and hotels.
The administration's argument is twofold. One, weddings invariably mean band parties, processions and crowds, and the police cannot handle these as well as the pilgrimage. Two, the hotels and halls need to be free to accommodate the influx of pilgrims.
However, never before had bookings for weddings been cancelled during a Kumbh or Ardh Kumbh.
"At least half of all Hindu marriages during this (Ardh Kumbh) period are scheduled on Basant Panchami, February 10," the head of the association of marriage halls said.
"Being a bachelor, the chief minister has perhaps failed to grasp the importance that weddings hold for people's personal, family and social lives."
Local MLA and state minister Nand Kumar Nandi said: "Parents of young people whose weddings had been fixed on these dates met me on Friday and requested that the order be withdrawn. We'll hold a meeting with senior government members and officials."
Allahabad district magistrate Suhas L.Y. said the order applied only to the city's "holding areas" where crores of devotees would gather on the bathing days. "It's in view of traffic management and law and order," he said.
But a source in the Ardh Kumbh administration clarified: "A 20sqkm area around the Sangam (the confluence of the Ganga and the Yamuna, where Kumbh is observed) has been included in the holding area. This includes the main city area, which has 2,000 hotels and community halls."
Adityanath has already deviated from centuries of religious tradition by declaring this edition of the pilgrimage would be called the Kumbh Mela, for "there's nothing ardh (half) about it".
Allahabad, Haridwar, Ujjain and Nashik hold a Kumbh Mela each every 12 years. Allahabad and Haridwar also hold an Ardh Kumbh in between their Kumbhs. Since a Kumbh was held in Allahabad six years ago, next year's event is an Ardh Kumbh.
The Opposition has accused the Narendra Modi and Adityanath governments of trying to use the pilgrimage, which witnesses huge congregations, to garner votes in the general election.