Kerala journalist wife fears tricks to block bail
ED charges against Kappan just when family hoped the court would grant him bail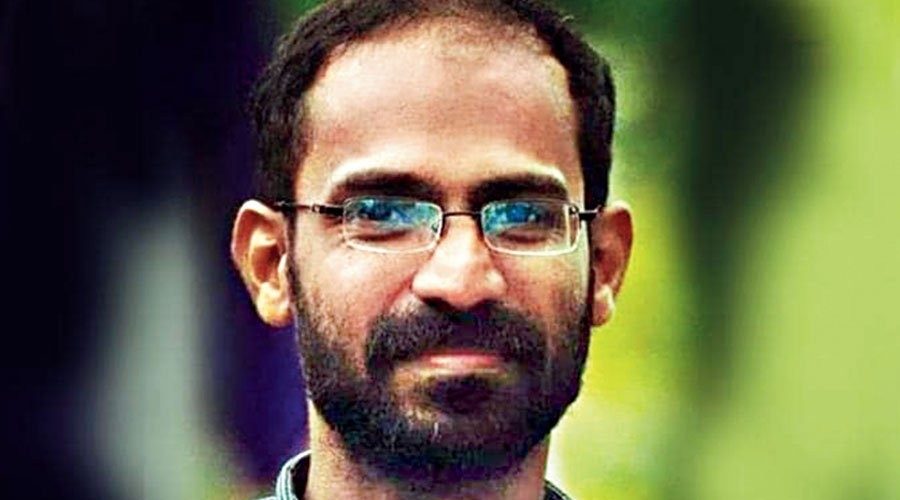 ---
---
Imprisoned journalist Siddique Kappan's wife Raihanath fears the Enforcement Directorate is cooking up charges against her husband to try and block his bail.
Raihanath on Monday asked how the agency had concluded that a leader of the Popular Front of India had funded Siddique's trip to Hathras in Uttar Pradesh, during which he was arrested on October 5. She feared Siddique might be entangled in a money-laundering case, too.
"This ED allegation has come just when we were hoping the court would grant him bail. Now I don't know what will happen next," she told The Telegraph.
On Saturday, the ED had arrested K.A. Rauf Sherif, a leader of PFI student wing Campus Front of India, from Thiruvananthapuram airport and told a Kochi court he had funded the Hathras trip by Siddique and his three companions. The agency has accused Sherif of money-laundering, among other offences.
"I just saw news reports that the ED is now trying to involve Siddique in some money-laundering case. Why don't they check his bank account to see if he had ever received any money from such groups?" Raihanath said. "They are assuming things with the sole purpose of denying him bail."
Uttar Pradesh police had arrested Siddique and three PFI activists accompanying him on their way to Hathras, where a Dalit girl had been fatally brutalised. The state government claims Siddique was travelling under the "cover" of being a journalist, held a post in the PFI, and planned to disturb peace in Hathras.
The PFI, which describes itself as a socio-political movement that seeks to empower Muslims and other marginalised sections, is accused of violence but has not been banned.
The Kerala Union of Working Journalists (KUWJ) has told the Supreme Court that Siddique, booked under sedition and anti-terror laws, is a Delhi-based journalist with the Malayalam news portal azhimukam.com and is not connected with the PFI.
Sherif was arrested while trying to catch a flight to Oman. The ED has told the principal sessions court in Kochi that Sherif had received Rs 2.5 crore in foreign remittances during the lockdown period and had funded the Hathras trip by transferring some money to Ateequr Rahman, one of the PFI activists arrested with Siddique.
Raihanath said: "The only amount that gets credited to his (Siddique's) bank account is his monthly remuneration (from azhimukam.com). He then transfers some money to my bank account for our household expenses."
Siddique, 41, had told his office he was heading to Hathras to write a report on the brutal gang rape and murder.
Raihanath has impleaded herself in a habeas corpus petition filed in the Supreme Court by the KUWJ since Siddique's whereabouts were not known after his arrest. Siddique had to wait 43 days to talk even to his lawyer.
The habeas corpus plea has brought some relief, with Siddique being allowed to call home. "He has been allowed to call a few times. At least, I now know he is alive," Raihanath said.
Asked how Siddique was being treated in jail, she said: "I hope and pray he is not being beaten and is getting his medicines regularly. He has very high sugar levels."
Siddique's lawyer had quoted him as saying the police had beaten him with a baton, slapped him in the face and deprived him of sleep.
A native of Malappuram in Kerala, Siddique has been based in Delhi for several years, writing for several publications. He is the secretary of the Delhi unit of the KUWJ.