Kashmir: Supreme Court passes normality order with security rider
SC bench asks Centre to file an affidavit detailing the situation in the state and the various measures the govt had initiated to restore normality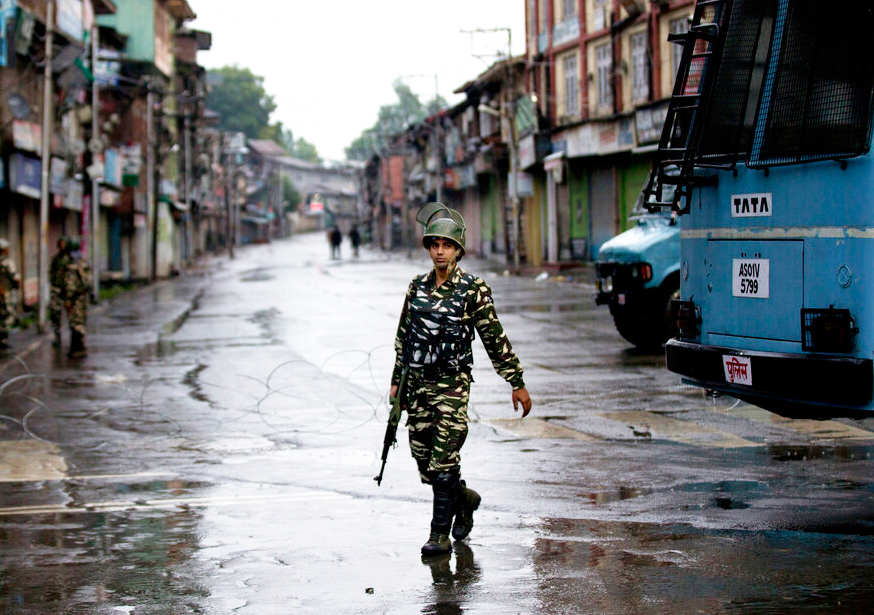 In this Wednesday, August 14, 2019 file photo, a paramilitary soldier patrols the streets during security lockdown in Srinagar.
(AP)
---
New Delhi
|
Published 16.09.19, 10:06 PM
|
---
The Supreme Court on Monday said "the state of Jammu & Kashmir, keeping in mind the national interest and internal security, shall make all endeavours to ensure that normal life is restored in Kashmir".
A three-judge bench, hearing nearly a dozen petitions — mostly from Kashmiris challenging various aspects of the six-week-old lockdown — asked the Centre and the state government to file responses before the next hearing, on September 30.
The bench of Chief Justice Ranjan Gogoi and Justices S.A. Bobde and Abdul Nazeer also asked the Centre to file an affidavit detailing the situation in the state and the various measures the government had initiated to restore normality.
Chief Justice Gogoi said he would visit Jammu and Kashmir, if necessary, to verify a petitioner's allegation that the state high court had become inaccessible to the people since the August 5 lockdown. He, however, warned that the complainant would be held "accountable" if the allegation was "found to be false".
PTI reported that the Jammu and Kashmir administration requested the Supreme Court not to "reverse" the decisions and the best possible steps taken in "national interest" for preventing any loss of life or property in the state after the abrogation of its special status.
The court said as it heard complaints about the lack of mobile, Internet, hospital and medical facilities in Jammu and Kashmir: "It is not about just one or two newspapers (being unable to publish). They are saying that there is a general communication shutdown. We would like to know whether it is a breakdown or shutdown and if so, what are the reasons."
The operative part of the order said: "The state of Jammu & Kashmir, keeping in mind the national interest and internal security, shall make all endeavours to ensure that normal life is restored in Kashmir; people have access to healthcare facilities and schools; colleges and other educational institutions and public transport function and operate normally."
It added: "All forms of communication, subject to overriding consideration of national security, shall be normalised, if required on a selective basis, particularly for healthcare facilities."
Some of the issues on which the court passed directives or made observations:
Abdullah
The court asked the Centre to respond to MDMK leader Vaiko's petition challenging the house arrest of former Jammu and Kashmir chief minister Farooq Abdullah, 81.
The bench rejected the plea of solicitor-general Tushar Mehta that Vaiko's petition for Farooq's production had become infructuous since the birthday celebrations in Chennai of late Tamil Nadu chief minister Annadurai, to which he had been invited, had ended on Sunday.
On Sunday night, Farooq's detention was turned into formal arrest and he became the first top pro-India politician in Kashmir to be booked under the draconian Public Safety Act.
Media
Advocate Vrinda Grover, appearing for Kashmir Times editor Anuradha Bhasin, pleaded that her client was unable to publish the newspaper because of the lack of Internet, mobile and other facilities.
Attorney-general K.K. Venugopal and Mehta contested her claim, saying all the media houses were functioning in the state and that the government was making every effort to help journalists carry on with their work.
Venugopal said the government was providing Internet and telephone services to journalists at a media facilitation centre in Srinagar from 8am to 11pm every day, and providing vehicles to ferry reporters to and from the centre.
The Telegraph has reported how the limited cellphone and Internet connections available at the media centre are forcing hundreds of journalists to queue for hours. It has also reported how the travel curbs and communication blockade has left local newspapers unable to publish much other than the government's version of events.
A first-person account from Anantnag by British Kashmiri journalist and writer Murtaza Shibli, carried in Monday's edition of this newspaper, described how "Kashmiri newspapers that started to publish from the third week of the siege… seem to have been emasculated into extended official bulletins…."
Azad visit
The court allowed Congress veteran and former Jammu and Kashmir chief minister Ghulam Nabi Azad to visit Srinagar, Jammu, Baramulla and Anantnag to meet his relatives and others while directing him not to participate in political activities or rallies.
Tarigami return
The court allowed CPM leader Mohammed Yusuf Tarigami, discharged from the AIIMS, New Delhi, to return to Kashmir if his condition permitted the journey.
Tarigami, who was allegedly in house arrest in the Valley, had been admitted to the AIIMS following an earlier top court directive on a plea from party leader Sitaram Yechury.
Senior advocate Raju Ramachandran, appearing for Yechury, said Tarigami, who is now at the Jammu and Kashmir government guesthouse in Delhi, should be released unconditionally after his return since the government had failed to respond to pleas challenging his detention.
He said Tarigami had been in detention for the past 40 days without any formal order being served on him.
When the bench wondered why Tarigami was still in Delhi if his condition was stable, Ramachandran said the Centre had restricted his movements and reduced his security.
High court
The bench wondered whether to direct the petitioners to approach Jammu and Kashmir High Court instead.
"Mr Attorney, we want to know what is the situation today in the state? Is it the same situation today? Because, we are saying that if it is just some local issues, then it would be better if the high court deals with it. It is easier for the high court to know what is happening in the state," it said.
Earlier, Mehta had pleaded that the petitioners were making statements without any basis and added: "Not a single bullet fired; not a single life lost…."
When Asrar Ahmad Khan, 18, died earlier this month, the army's Valley chief and a senior police officer had described him as a victim of stone-throwers despite medical records mentioning "pellet injury with shell blast injury".
But state police chief Dilbagh Singh said on Wednesday that the security forces' restraint had rendered civilian deaths "absolutely nil barring an incident where a stone-pelter got injured in downtown and subsequently succumbed to the injuries".
Mehta said that of the 108 police station areas in Kashmir, general restrictions had been removed in 93, adding that all the curbs had been lifted in Jammu and Ladakh.
Venugopal said: "There is a complete stock of all medicines. Ninety-nine per cent of medical shops are open. Food grains' and essential commodities' supply is available for three months."
He said that 10.52 lakh people had been provided with outpatient facilities. He rejected the allegation from senior advocate Meenakshi Arora, who appeared for a group of petitioners, that over 10 lakh people in the state were in desperate need of medical facilities.