Kashmir detainee released
Mubeen Shah is perhaps the only Kashmiri whose detention has been challenged in the SC through a habeas corpus petition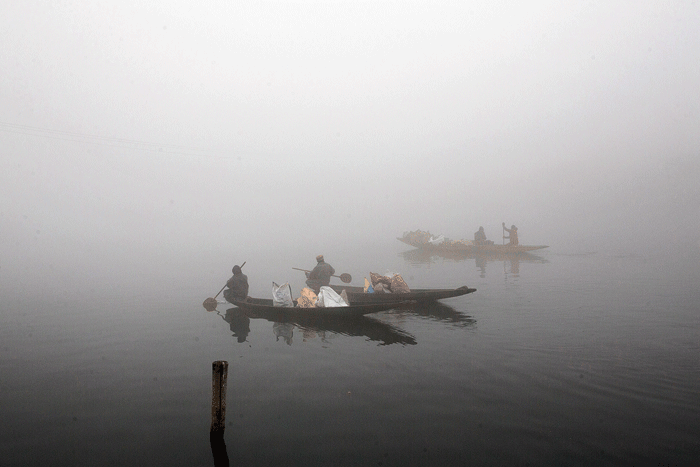 Boatmen on the Dal Lake on a cold Saturday morning in Srinagar
AP
---
Srinagar
|
Published 07.12.19, 09:22 PM
|
---
A prominent member of Kashmir's civil society, arrested as part of the four-month-old clampdown, has been granted temporary release weeks after being mentioned at a US congressional hearing on human rights.
Relatives said Mubeen Shah, 60, former president of the Kashmir Chamber of Commerce and Industry, had been released for three months from Agra jail on Saturday afternoon.
Shah is perhaps the only Kashmiri whose detention has been challenged in the Supreme Court through a habeas corpus petition, his brother-in-law Shoaib Shahdad told The Telegraph.
Shah, member of a prominent business family, was among the thousands detained during the pre-emptive crackdown ahead of the August 5 revocation of Jammu and Kashmir's special status.
A large number of these detainees have been released. But many of the most prominent among them — including former chief ministers Farooq Abdullah, Omar Abdullah and Mehbooba Mufti, other senior politicians and eminent citizens — are still in jails in Kashmir and outside.
Shah, who runs a business in Malaysia, has always taken a pro-azadi stand, which apparently led to his detention on August 4 evening. He was booked under the Public Safety Act, which allows detention without trial for months, and was lodged in Srinagar's central jail before being sent to Agra.
His wife Asifa had challenged his detention in the Supreme Court.
The family has taken Shah to Delhi for treatment of his kidney and heart ailments, Shahdad said.
"He has lost several kilograms in detention and is suffering from various ailments," he said.
Shah's son is a US citizen based in Seattle. Shah's arrest had figured at a US Congress hearing on human rights in South Asia last month.
A Democratic lawmaker had broached his detention, and the US assistant secretary of state for South and Central Asian affairs, Alice G. Wells, had replied that the matter had been taken up with the Indian government.
The Jammu and Kashmir government had earlier assured the Supreme Court that Shah would be released. A release order by the Jammu and Kashmir home department has granted him "temporary" release from "December 7, 2019, to March 6, 2020" subject to conditions laid down in "the bond".
Sources said Shah had signed a bond pledging not to engage in any separatist activity.
Shahdad, however, wondered why Shah had been arrested in the first place since he was neither a politician nor a stone-thrower.
"One reason for his release is the stand taken by the Supreme Court," he said, without elaborating.
"The solicitor-general had committed that the government was in the process of releasing him. The hearing is listed in the Supreme Court on Monday, and the case will go on."
No jailed Kashmiri politician from the pro-India camp has challenged his or her detention in the courts, apparently deterred by the fear of being booked under the PSA and sent to a jail outside the Valley. Many politicians, however, have been released after allegedly signing a bond not to disrupt peace.
Among the prominent Kashmiris booked under the PSA and sent to jails outside are Mian Qayoom, president of the Kashmir Bar Association, and Yaseen Khan, who heads a business body.