Karnataka BJP lawmaker spills 'cash' offer, retracts a day later
Shrimant Patil claimed he was offered money to leave Cong two years ago when the saffron camp toppled Kumaraswamy's Congress-JDS government through defections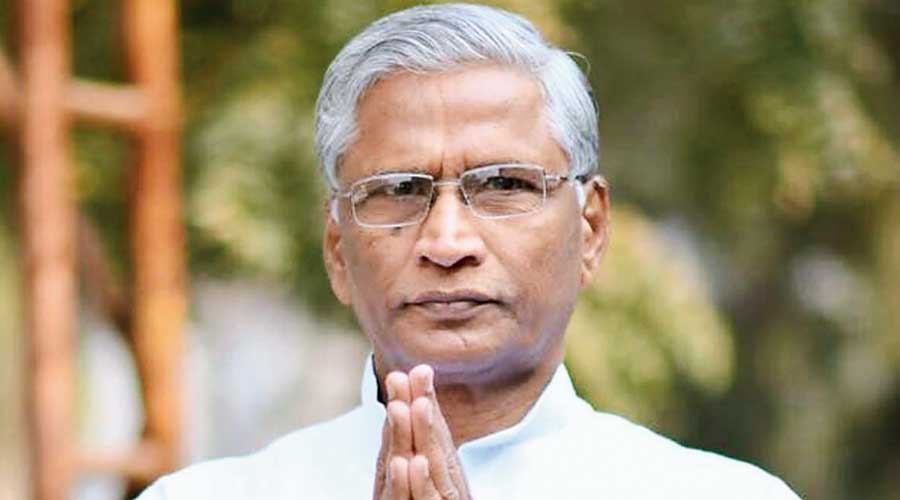 Shrimant Patil.
File picture
---
Bangalore
|
Published 14.09.21, 01:47 AM
|
---
A BJP lawmaker in Karnataka has claimed he was offered money to leave the Congress two years ago when the BJP toppled H.D. Kumaraswamy's Congress-JDS government through defections, only to do an about-turn a day later.
The Congress has pounced on Shrimant Patil's initial statement, claiming vindication of its allegation that the BJP had brought down Opposition governments in Karnataka and elsewhere through bribery, and demanded a police investigation.
Patil, the MLA from Kagwad in Belgaum, about 500km from Bangalore, had on Saturday told reporters he had been offered money to defect to the BJP along with other Congress and Janata Dal Secular lawmakers in 2019.
"They had asked me how much money I wanted. But I refused to accept a single paisa and sought only a good position (a cabinet berth) to serve the people," Patil had said at Ainapur in his constituency.
But after the Congress played up his statement and his BJP colleagues expressed surprise at his remark, Patil claimed on Sunday that no money had been offered to him.
Asked about his reported initial statement, he merely said it was a "mistake" without clarifying whose mistake it was.
"I had met BJP leaders on my own. When they asked me about my expectations I told them I needed only a position and nothing else," he told reporters in Belgaum.
"No money was offered to me…. I joined the BJP because I was impressed by Modi's style of governance."
Patil has been nursing his wounds after being dropped from the cabinet following Basavaraj Bommai's anointment as chief minister in July in place of B.S. Yediyurappa. He has since been lobbying to be taken back into the cabinet.
On Saturday, Patil had said: "I don't know why they dropped me, but they have promised to re-induct me during the next expansion."
Kumaraswamy's government had collapsed in July 2019 after a month-long rebellion, with 17 lawmakers quitting the Congress and the JDS and 16 of them joining the BJP. Only Roshan Baig, who quit the Congress, could not join the BJP because of a pending corruption case.
Most of the defectors had been flown to Mumbai and sequestered in a top hotel, while the BJP continued to deny it had engineered the defections. As promised by Yediyurappa, most of the turncoats were inducted into the cabinet after they won the December 2019 by-elections.
Patil's about-turn on Sunday came shortly after senior BJP leader Laxman Savadi told reporters: "Patil should identify those who offered him money. I don't know why he made such a statement."
Former chief minister and senior BJP lawmaker Jagadish Shettar denied his party had offered money to the defectors. "I don't know in what context he said so," Shettar said.
State Congress president D.K. Shivakumar said: "Patil has revealed the truth, at least now. I thank him for that."
State Congress spokesperson V.S. Ugrappa demanded a police investigation into Patil's original claim "since taking and offering bribes is a crime".
"He had made it clear there was an offer, but then made a U-turn because of pressure from his party," Ugrappa, a lawyer by profession, told The Telegraph on Monday.
"Even if it was an inadvertent admission, Patil has only reiterated what we have been saying about the BJP using money and other allurements to poach our MLAs."