Karnataka: BJP battles Basavaraj Bommai ouster theory
These baseless claims strengthens my determination to take decisions on behalf of people, says CM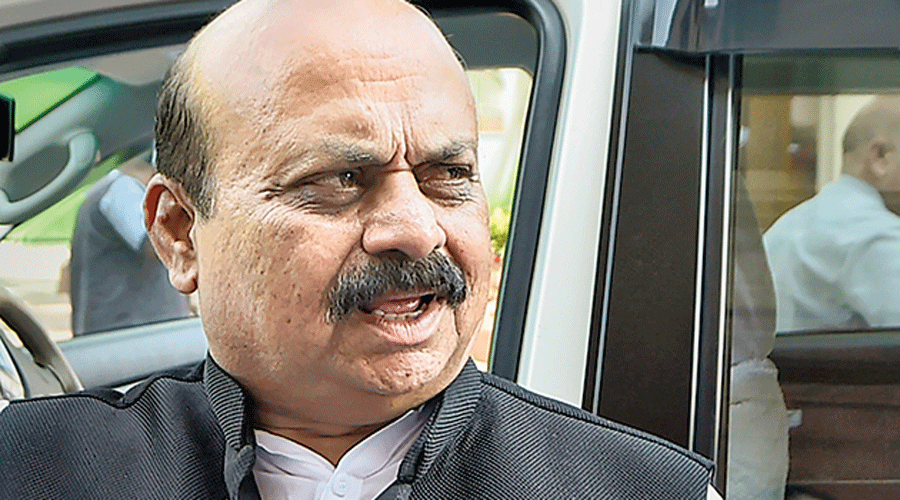 Basavaraj Bommai.
PTI file picture
---
Bangalore
|
Published 12.08.22, 01:04 AM
|
---
The BJP in Karnataka has been forced to battle a perception that chief minister Basavaraj Bommai will be ousted soon, after an ally of his more popular predecessor B.S. Yediyurappa floated such a theory and the Congress fanned the claim.
While it was former BJP MLA Suresh Gowda — a staunch loyalist of Yediyurappa who was allegedly forced to quit in July 2021 — who sparked the discussions around Bommai's future by predicting he would be replaced before Independence Day, the Congress has since grabbed the opportunity by claiming an impending leadership change in the government.
Bommai dismissed all talk of being replaced and rejected the Congress's claims as baseless.
"I know these are baseless and politically motivated claims. It only strengthens my determination to take decisions on behalf of the people," Bommai told reporters on Thursday before setting out on a tour to Mysore and Mandya districts.
Gowda had recently claimed that Bommai would be replaced before August 15. "Bommai has done good work, but still the party is going for a change (in leadership)," he said.
His claim came days after Union home minister Amit Shah held discussions with Bommai and Yediyurappa while on a short visit to Bangalore recently.
Gowda also hinted at Union minister Shobha Karandlaje, a protege of Yediyurappa, replacing Bommai.
This is being seen as a possible comeback of sorts for Yediyurappa after his unceremonious exit.
Although many in the BJP had cited Yediyurappa's age, now 79, as reason for replacing him as chief minister, there was a strong buzz about many ministers and state leaders being unhappy with him over his son's purported meddling in matters of governance. Yediyurappa is considered influential because of his clout among the powerful Lingayat community.
The Congress leveraged on Gowda's assertions with a series of tweets on Wednesday claiming Bommai would be removed.
"The chief minister of Karnataka is a puppet for the BJP high command. They boot them out and drop them. When a leader like @BSYBJP (Yediyurappa) can be sent home, what is @BSBommai, after all," the state Congress tweeted.
The Congress pointed out how Yediyurappa was removed the moment he completed two years in office in 2021 and how Bommai would meet the same fate since he has just completed a year as chief minister.
"@BSYBJP was sent home in tears on completion of two years in office. Now the state is set to take @BSBommai down after completing his first year," the Opposition party said in another tweet.
The response to the 75th birthday bash of leader of the Opposition P.C. Siddaramaiah in Davanagere on August 3 had rattled the BJP, with over six lakh people flooding the northern town.
Another Yediyurappa loyalist and former minister, M.P. Renukacharya, recently urged the BJP leadership to organise a political event in Davanagere ahead of the 2023 Assembly polls to counter the impact created by the Congress's programme.
Yediyurappa dismissed any possibility of a leadership change. "There is no question of a leadership change. Bommai will continue to be chief minister," he said on Thursday.
Karnataka BJP president Nalin Kumar Kateel accused the Congress of deflecting attention from its own problems by claiming a discord in the ruling party.
"Their internal squabble over who should be the next chief ministerial candidate, the reply Siddaramaiah gave to (state Congress president) D.K. Shivakumar with the birthday rally, and the humiliation faced by (Mallikarjun) Kharge (who was questioned by the Enforcement Directorate in the National Herald money-laundering case) are all coming out in the open. Talking about the BJP is a Congress strategy to hide their own issues," Kateel told reporters.
"The 2023 state elections will be fought under the guidance of Yediyurappa and leadership of Bommai," he added.
Anger has been building against Bommai from within the party's Yuva Morcha for "not protecting" them. Although the Sangh parivar has often been accused of targeting minority communities, suspected retaliatory strikes allegedly by some Muslim Right-wing groups have cornered the chief minister, especially after Yuva Morcha worker Praveen Nettaru, 31, was hacked to death in Dakshina Kannada district recently.
Although police haven't linked it to the June 19 fatal attack on an 18-year-old house painter named Masud in the same district, Yuva Morcha workers had protested, blaming the government for Nettaru's death.