Chartbuster singer tests positive, sets off chain scare
Concern revives demand for Parliament closure, which Modi had rejected despite advocating social distancing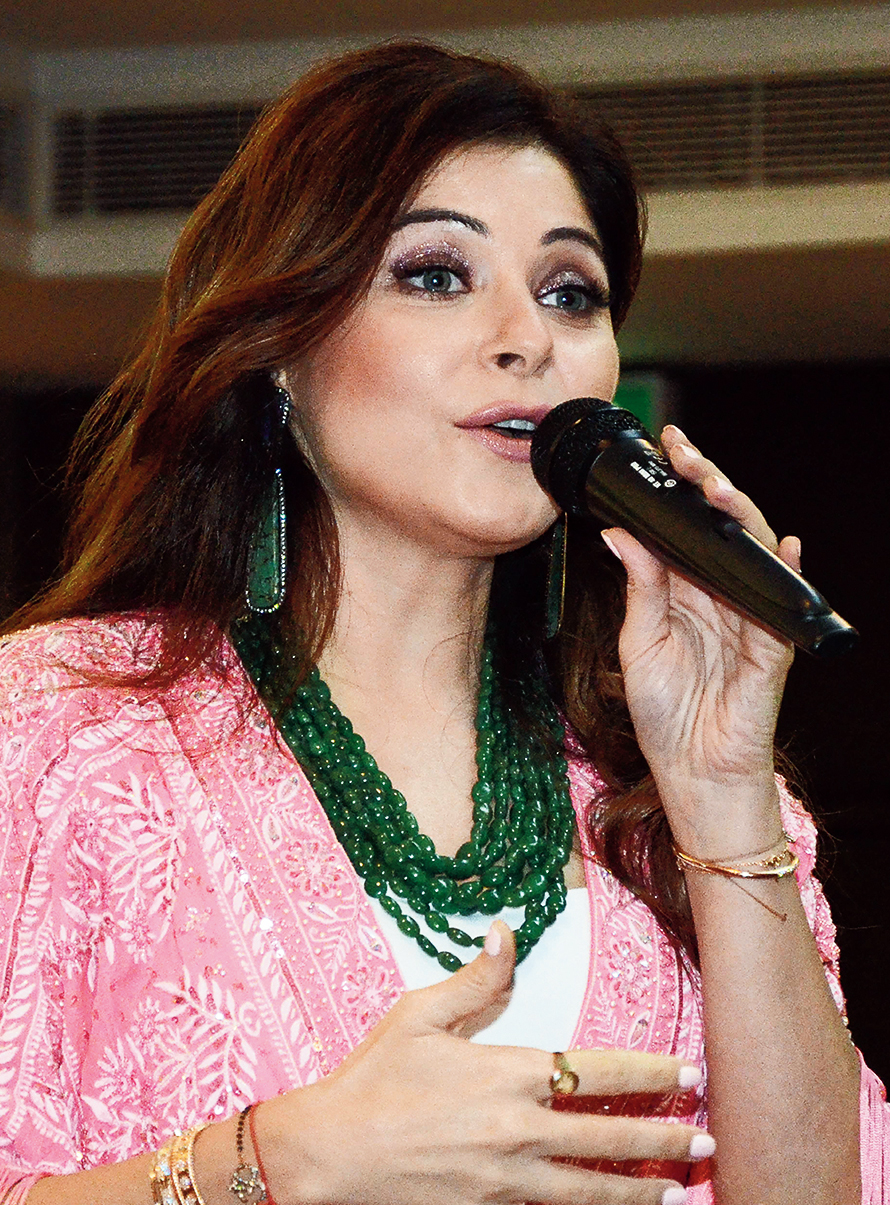 Kanika Kapoor tweeted the picture in September 2018 with the following caption: "Happy birthday @narendramodi Ji."
---
Lucknow
|
Published 20.03.20, 10:57 PM
|
---
Kanika Kapoor, who sang the chartbuster Baby Doll and performed at a spectacle attended by Prime Minister Narendra Modi in London in 2015, has tested positive for Covid-19, triggering a chain scare that has reached Parliament, Rashtrapati Bhavan and the Uttar Pradesh cabinet.
The ripple effect has also shed light on the active social life of some BJP figures while their leaders, who usually preach the virtues of an ascetic lifestyle, have been advocating social distancing because of the virus outbreak.
After Kanika tested positive on Friday, it emerged that MP Dushyant Singh and his mother and former Rajasthan chief minister Vasundhara Raje had been at a Lucknow party attended by the Bollywood singer.
Dushyant had recently interacted with fellow members, ministers and President Ram Nath Kovind at Parliament and elsewhere. MPs Derek O'Brien and Anupriya Patel acknowledged coming in contact with Dushyant and tweeted they had quarantined themselves.
The scare revived demands for the closure of Parliament, which Prime Minister Modi had stoutly rejected despite advocating "social distancing" to the nation on Thursday. Modi had argued that shutting Parliament, whose current session is scheduled to end on April 3, would send a wrong signal to citizens.
Kanika had arrived in India from London on March 10, travelled to hometown Lucknow on March 15 and attended at least three parties till March 17, Uttar Pradesh health officials said.
One of these parties, held at the home of former Azamgarh MP from the Bahujan Samaj Party, Akbar Ahmad Dumpy, was attended by Lok Sabha member Dushyant and his mother who belong to the Scindia family.
By then, public figures had begun to discourage others from taking part in social gatherings. Prime Minister Modi had taken the lead in skipping Holi Milan which fell on March 10, days before the three parties took place.
Ironically, the Scindias found themselves in the news on a day the action of another Scindia had driven the last nail in the coffin of the Kamal Nath government in Madhya Pradesh. The defection of Jyotiraditya Scindia, the nephew of Vasundhara and cousin of Dushyant, from the Congress to the BJP had set the ball rolling in the toppling game.
President event
Dushyant attended a breakfast hosted by President Kovind for MPs from Uttar Pradesh and Rajasthan on March 18, and was at Parliament on March 18 and 19.
Uttar Pradesh health minister Jai Pratap Singh, who too was at Dumpy's party, later attended a state cabinet meeting headed by chief minister Yogi Adityanath.
In a picture of the breakfast meeting tweeted by Kovind's office, Dushyant, an MP from Rajasthan, can be seen standing just behind the President, who is seated beside defence minister Rajnath Singh (an MP from Uttar Pradesh).
While sources said the President had adhered to the coronavirus protocol and avoided handshakes, the photo suggested that adequate social distancing may not have been maintained.
Dushyant would have come in contact with many more ministers, MPs and even journalists at the Parliament complex. He is also believed to have been to a dinner party at a high-profile MP's place on March 19, where the guests included several ministers and other parliamentarians.
It was a tweet from Vasundhara, posted around 4.30-4.45pm on Friday after news of Kanika's positive test came out, that kicked off the scare.
"While in Lucknow, I attended a dinner with my son and his in-laws. Kanika, who has tested positive for #Covid19 was also a guest. As a matter of abundant caution, my son and I have immediately self-quarantined and we're taking all necessary precautions," she wrote.
Trinamul MP O'Brien tweeted: "Am in self-isolation and following all protocol, as I was sitting right next to Dushyant (an MP) for two hours at a #Parliament meeting on March 18." O'Brien said he was at his Delhi residence.
The meeting he referred to was that of a parliamentary panel on transport and tourism, held, ironically, to discuss the impact of the pandemic on the tourism industry.
Anupriya, a Madhya Pradesh MP from BJP ally Apna Dal, tweeted she had been at an event along with Dushyant on March 19. It appears this was the dinner party at an MP's place.
No official statement had come from Rashtrapati Bhavan till late evening although sources said "medical protocol" would be followed.
Speaker Om Birla's office remained tight-lipped about a possible closure of Parliament, which the Congress has been demanding for some time.
On Friday, Birla had inspected the virus-shield measures adopted in the Parliament building and read out a statement in the Lok Sabha expressing solidarity with the anti-pandemic strategy the Prime Minister had advocated on Thursday.
In the Rajya Sabha, Congress member Anand Sharma asked why Parliament was being made to violate the government's advisories over the pandemic.
"I am above 65, so are you, but we are coming here," Sharma, 67, said in the House. The government has advised people aged 65 or above not to step out of home unless to seek medical assistance.
Even after Vasundhara's tweet, Jal Shakti minister Gajendra Singh Chauhan, who had attended the breakfast meeting at the President's House, was seen speaking in the House.
Many other MPs who had come in contact with Dushyant too were seen in Parliament on Friday.
Case against singer
Lucknow police have registered a case against Kanika for "disobedience to order duly promulgated by public servant" and "malignant act likely to spread infection of disease dangerous to life".
Kanika had performed at the mega show for the Indian diaspora at London's Wembley Stadium in November 2015. Prime Minister Modi was the star of the show.
She posted a statement on Instagram on Friday saying "For the past 4 days, I have had signs of flu". Uttar Pradesh health department officials said she had visited a hospital — a private one in Lucknow — on March 18 evening.
It appears the hospital collected some samples for testing from her but did not admit her. The health officials said they learnt about the hospital visit, went to Kanika's flat and "brought her" to the King George's Medical University and Hospital and admitted her there. King George's is the only Lucknow hospital capable of testing for the novel coronavirus.
However, the positive test report erroneously mentions her gender as "M" and age as "28", which appear to be a clerical error. Kanika is aged 41.
It's unclear where Kanika spent the initial few days after arriving in India on March 10. Lucknow airport authorities said she had touched down in Mumbai on an Air India flight.
She travelled to Kanpur on March 14 and attended a party there the following day, Uttar Pradesh health officials said.
She arrived at her flat in Lucknow's Mahanagar locality on March 15 and attended a series of parties till March 17, they added.
The party at Dumpy's home was held to celebrate the birth of a grandson. Kanika attended a party at the Taj Hotel and another at the home of an anti-corruption ombudsman, sources said.
She sang at several of these parties and attended some of them with her father Rajiv Kapoor, the sources said.
(A PTI report quoted Rajiv as saying Kanika had arrived in Lucknow on March 11 and attended three parties between March 13 and 15.)
Minister Jai Pratap, who attended a government event in Gautam Buddha Nagar on March 18, told a reporter over the phone on Friday: "I am not hiding anything. I have yet to get tested but I have isolated myself (at home)."
Rajiv told reporters that six members of his family were undergoing tests.
"We are all in isolation," he said. There were over 350 people collectively at the three parties his daughter had attended, he added.
Some news channels alleged that Kanika had hidden her travel history but the singer denied this in the Instagram post on Friday afternoon.
"For the past 4 days, I have had signs of flu. I got myself tested and it came positive for Covid-19. My family and I are in complete quarantine now and following medical advice on how to move forward. Contact mapping of people I have been in touch with is under way as well. I was scanned at the airport as per normal procedure 10 days ago when I came back home, the symptoms have developed only 4 days ago," she wrote.
"At this stage I would like to urge you all to practise self-isolation and get tested if you have the signs. I am feeling ok, like a normal flu and a mild fever, however, we need to be sensitive citizens at this time and think of all around us. We can get through this without panic only if we listen to the experts and our local, state and central government. Wishing everyone good health. Jai Hind."
A state government spokesperson said the health department had been asked to identify those who had been at the parties attended by the "coronavirus-infected lady singer" and keep them in isolation.
Officials said the restaurants, lounges and bars at the hotel where Kanika had performed were closed down on Friday afternoon. The entire hotel would be vacated and closed on Saturday morning.
As news of Kanika's infection spread, shopkeepers downed shutters in the Mahanagar area. Gradually, the neighbouring Indira Nagar market and Bhutnath market too closed.
So far, 23 people have tested positive for the novel coronavirus in Uttar Pradesh, of whom eight including Kanika are from Lucknow.
Lucknow district magistrate Abhishek Prakash has ordered all "bars, café/lounge, hair salons and beauty parlours" closed till March 31.