JNU Najeeb's file closed, no closure for mother
Najeeb, a biotechnology student disappeared from his hostel a day after a brawl with ABVP over a poll campaign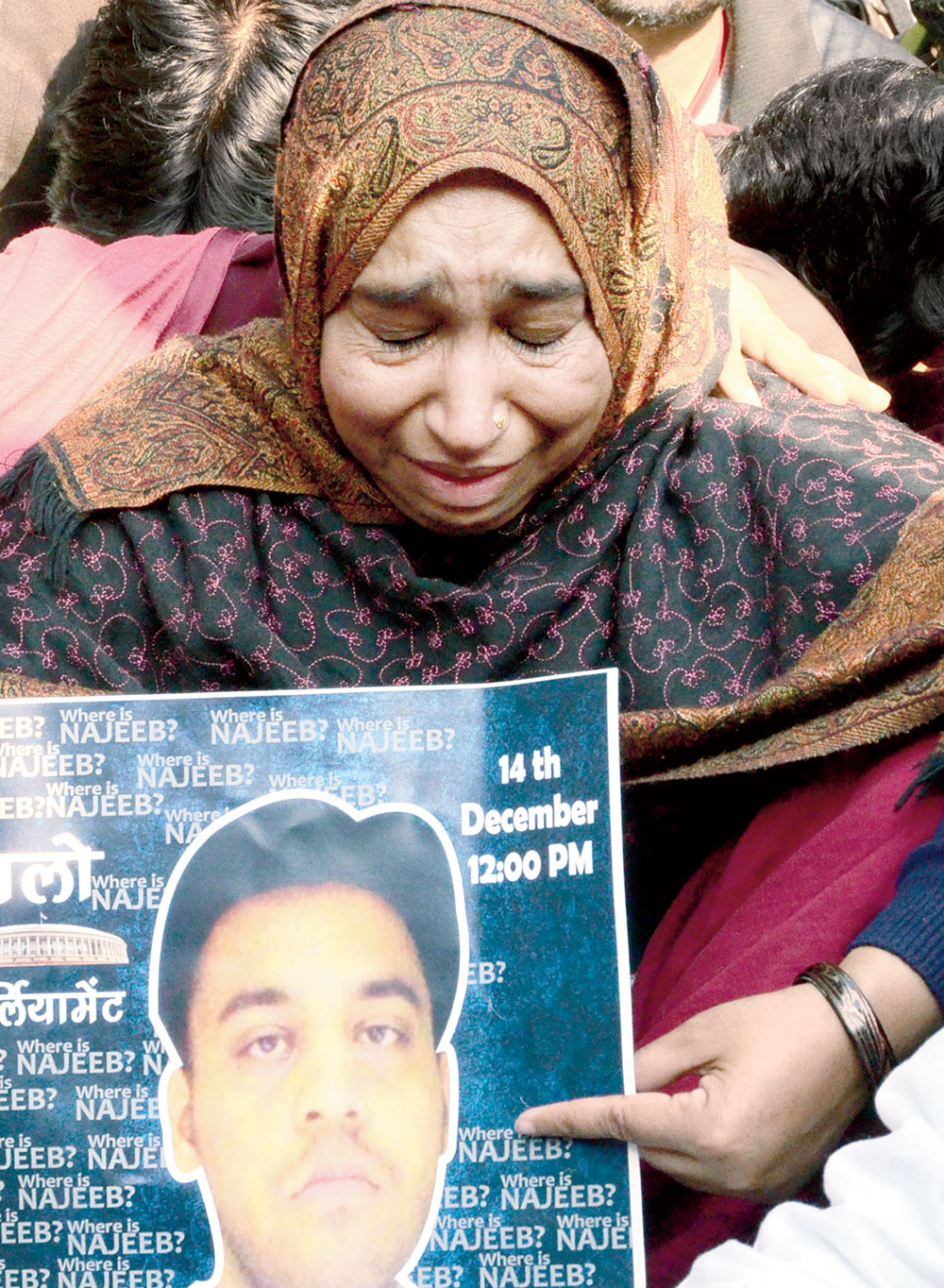 Najeeb's mother Fatima Nafees at Sansad Marg in New Delhi
File picture
---
New Delhi
|
Published 08.10.18, 10:28 PM
|
---
Delhi High Court on Monday allowed the CBI to file a closure report in the mysterious disappearance of JNU freshman Najeeb Ahmed, who had vanished two years ago after a hostel clash with ABVP members.
The high court, which was hearing a habeas corpus plea from Najeeb's mother Fatima Nafees, did not agree with her that the CBI wanted to close the case because of "political compulsions".
It rejected her allegation that the inquiry had been "tardy and slow" and refused a special investigation team probe. The CBI said it believed that no offence had been committed against Najeeb.
The bench of Justices S. Muralidhar and Vinod Goel said Nafees could raise her grievances before the trial court.
"This court has monitored the investigation of the CBI up to the stage where the CBI is in a position to file a report before the concerned criminal court. What should happen hereafter is for the criminal court concerned to decide and not this court," it said.
Nafees said she would petition the Supreme Court. "I am sad at the judgment, (which comes) after two years. I expected something to be said against the CBI or something in favour of remand (of those who had assaulted Najeeb)," she told a news conference.
"I am despondent but I have not lost hope. I will fight…. They ask me not to politicise my son going missing. You have forced me to be political. The courts, the police are all under your pressure. I still trust the Constitution. It may be late, but justice will be done."
Nafees called for a march through Lutyens Delhi on October 15 — the anniversary of the disappearance — with the JNU students' union, whose office-bearers have faced punishment and police complaints for their militant protests calling for Najeeb to be traced.
She alleged that soon after Najeeb's disappearance, she had been coerced by sub-inspector Sandeep Kumar at Vasant Kunj North police station not to name in her police complaint those who had assaulted her son.
"He promised to bring my son back in 24 hours if I did not name anyone. He said that if I named anyone, he could not give any guarantee.... After he filed my complaint, he called up someone on the phone and said he had not allowed any names in the complaint."
Police officers did not respond to this newspaper's queries on the subject.
Najeeb, a biotechnology student, had hardly been a week into his course when he disappeared from the Mahi-Mandavi hostel a day after a brawl over a hostel poll campaign.
The JNU administration said Najeeb had initiated the fight. Sometime later, then chief proctor A.P. Dimri finished his probe and found four ABVP members — Vikrant Kumar, Ankit Roy, Sunil Singh and Vijender Thakur — guilty of assaulting Najeeb.
Dimri resigned after the four were merely transferred to other hostels, and as a temporary measure.
Nafees petitioned the high court in November 2016 after Delhi police's crime branch claimed that an auto-rickshaw driver had told them he had picked Najeeb up from JNU and dropped him near Jamia Millia Islamia on October 15.
On the high court's orders, the 1,000-acre JNU campus was searched with detection dogs and mounted police two months after the disappearance.
The case was handed over to the CBI in May 2017. The agency submitted last November that auto driver Amreeka Mahato's statements were false and had been made under pressure from the police.
In May this year, the CBI said the mobile phones of nine ABVP suspects had yielded no evidence as they were damaged. The trial court and the high court refused to allow polygraph tests on the nine suspects.
The university's ABVP unit said in a statement on Monday: "It is now judicially established that the 9 JNU students, who were falsely implicated in this case by Left political organisations, have been found to be innocent."
It demanded an inquiry into the role played by the Left activists.
The files of a defamation case Nafees had filed against several TV channels, an English daily and ABVP leader Saurabh Sharma were reported lost from the Patiala House Courts last month.
"I will tell those mothers whose children are going missing, who are facing police encounters and being killed, come stand with me. I will become their strength and they will become mine," Nafees said.
"Our prayers and curses will affect directly, and this BJP government will end soon…. Other mothers of children whom they lost — Rohith Vemula and Junaid — will march with me. We will wake up this barren government."
She added: "I hope he is safe wherever he is, and will return some day."
Nafees's counsel, senior advocate Colin Gonsalves, had contended that under the Minnesota Protocol his client was entitled to go through the status reports filed by the CBI.
But the court said the status reports might contain details of the case diary, which are not shared with anyone --- suspect or complainant.
"It is to be perused only by the court. There is no requirement of sharing the details in the case diary with the complainant," the court said.