JMM sends minister to Bharat Jodo Yatra
State water resource minister and Garhwa MLA Mithilesh Thakur chosen to represent the party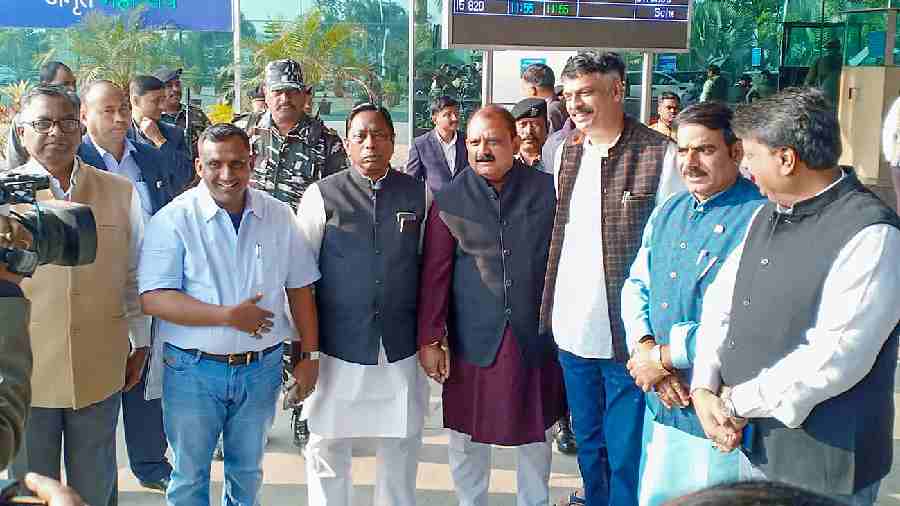 Jharkhand minister and JMM MLA Mithilesh Thakur (in maroon kurta) flanked by Congress leaders at Ranchi airport on Monday.
Manob Chowdhury
---
Jamshedpur
|
Published 29.11.22, 04:43 AM
|
---
The JMM will join the Congress's Bharat Jodo Yatra at its Indore leg in Madhya Pradesh. The Nationalist Congress Party (NCP) and the Shiv Sena (Uddhav Balasaheb Thackeray) have already joined the march.
The JMM, which is leading a coalition government in alliance with the Congress and the RJD in Jharkhand, has sent its state water resource minister and Garhwa MLA Mithilesh Thakur along with senior Congress leaders. He is considered close to chief minister Hemant Soren.
"It was a spontaneous decision taken with the approval of the chief minister Hemant Soren. We wanted to show our solidarity with the issues raised during the Bharat Jodo Yatra. He would be returning back with other senior Congress leaders after the Indore leg is over," said JMM central general secretary and spokesperson Supriyo Bhattacharya.
JMM senior leader and a member of the recently formed advisory panel, Vinod Pandey, said that the name has been decided by the party.
"The name has been decided by the party. We might send other leaders from our party to other legs of the Bharat Jodo Yatra. No decision has been taken as yet on future," said Pandey.
Significantly, Shiv Sena (Uddhav Balasaheb Thackeray) leader Aaditya Thackeray and NCP leader Supriya Sule and others joined the Yatra when it reached Maharashtra earlier this month.
"Our state president Rajesh Thakur, JMM leader and cabinet minister Mithilesh Thakur, Congress legislative party leader and minister Alamgir Alam, agriculture minister Badal Patralekh, health minister Banna Gupta, along with Jharkhand convener of Bharat Jodo Yatra and former Union minister Subodh Kant Sahay along with other leaders left for Indore on a flight from Ranchi on Monday noon," said Congress state spokesperson Rakesh Sinha.
"They will be taking part in the Bharat Jodo Yatra at Indore on Tuesday and Wednesday and return back to Jharkhand as the Yatra leaves Indore," added Sinha.
Bharat Jodo Yatra began in Kanyakumari under the leadership of Rahul Gandhi in September and so far has traversed 2300 km and reached Madhya Pradesh after crossing Tamil Nadu, Kerala, Andhra Pradesh, Telangana, Maharashtra.
This yatra plans to cover a total of 3,570 km, passing through 12 states and two Union territories.
"Bharat Jodo Yatra programme has received immense public support. In this, farmers, labourers, youth, mothers, sisters, small businessmen, sportspersons, artists and people from all sections have shown their support. The way politics of hatred is being promoted in the country today to fulfil political interests and efforts are being made to mislead people by keeping important questions like inflation, and unemployment in the backseat. The support shows that people are fed up," said Thakur, Jharkhand Congress president.
"Rampant misuse of constitutional institutions and central agencies with the intention of ousting the democratically elected governments of the Opposition is also causing anger among people in Jharkhand. After returning from Indore, the state Congress will start the fifth phase of the yatra," said Thakur.